Miracles Are Not For Sale—Rev. Dr. Mensah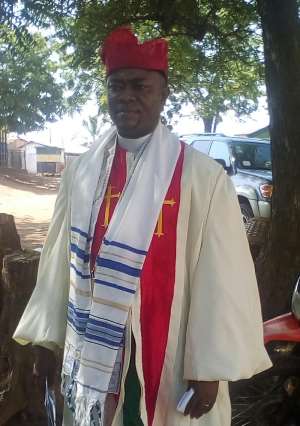 The Founder and President of Elim Evangelical Church, Ghana has taken a swap on false prophets who extort monies from their congregation in the name of performing miraculous healing from the 'Holy Ghost saying real miracle ordained by the Almighty were not for sale.
" It's pity that most of the later prophets who claimed have been ordered by God through the Holy Ghost collect huge sums of money from their members in the name of healing them from spiritual attacks.
I can't imagine the creator of Heaven and Earth collecting money from us before giving us air to breath or rainfall for instance, so why on earth should so-call 'Men of God' collect monies before performing healing?
I wonder the kind of powers they used in healing the people. It's equally an eye sore to see these self acclaimed prophets ordering their Church members to bring their used clothing to be used as a ponit of contact to drive away all satanic attacks on them.
I wonder again the kind of training they got and the Bible they are using. This attitude is gradually tanish the image of Christiandom "
Rev. Dr. J. R. K Mensah stated these at induction service held to ordained Rev. Paul Kwaku Addei as an Apostle and General Overseer of the Great Word of God Church at Awutu Ofaakor in the Awutu- Senya East Municipality of the Central Region.
He cautioned Ministers of God against deluting the gosple adding only false prophets do that to deceive the people.
Rev. Dr. Mensah charged Apostle Paul Kwaku Addei to be truthful in propagating the word of God without human doctrine. That's the task every Man of God is ordained to do.
We serve God in spirit so whatever we do ought to be in line with the spirit of God but not from acquire spirits which does not conform with the teachings of the Holy Bible"
Apostle Paul Kwaku Addei who was the General Secretary of The Word of God Church was first ordained into the Ministry as pastor in 2011. He succeeded his late father and was inducted in 2015 to steer the affairs of the church.
A journalist by profession, Apostle Kwaku Addei has been instrumental in the expansion of the Church through crusade and evangelism..
In an interview with newsmen, Apostle Kwaku Addei expressed his gratitude to the Church and numerous people who had prayed for him unto his present level.
" Knowing the responsibility that go along with this highest calling if the church, I will not rest on my oars but strive hard to ensure its growth and development.
I consider it as a heavy burden that has been placed on my shoulders to carry for the over 5,000 Members of the Church in all the six Districts namely Swedru, Bawjiase, Ofaakor, Kasoa, Adeiso and Senya.
I want to plead that all of us will overcome our individual differences so that we can expand the Kingdom of our dear God. We must all put our resources together to ensure that The Great Word of God Church is well-resourced to undertake many projects.
I accordingly with the auction of God shall continue to lead this Church as a Shepherd and a father for all"
The Member of Parliament for Awutu-Senya East, Hon. Hawa Koomson who attended the Induction Service commended Apostle Paul Kwaku Addei for his service and commitment towards the growth of the church and the country as a whole.