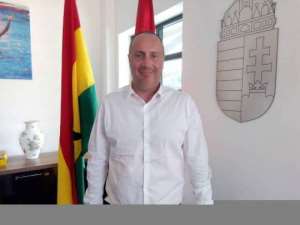 Mr Peter Szijjarto, the Minister of Foreign Affairs and Trade of Hungary is to visit Ghana from November 30 to December 01, as part of activities towards a business forum and the official inauguration of the Hungary Embassy in Ghana.
Hungarian business persons operating in various sectors such as agriculture, agro processing, water management and water sanitation, Information and Communication Technology (ICT), energy, infrastructure, construction and health who wish to establish new contacts would be part of the ministerial delegation.
'After 30 years, His Excellency Peter Szijjarto is back with a strong enthusiastic team ready to work with Ghanaians,' Mr Andras Szabo, the Hungarian Ambassador, has said.
In an interview in Accra with the Ghana News Agency on Tuesday, Mr Szabo said the business forum on December 1, would formally be the prime of promoting commercial and economic cooperation between Hungary and Ghana.
He said Hungary, being one of the emerging economies of East-Central Europe that joined the European Union (EU) 13 years ago, had the intentions of setting up an independent Ghana-Hungarian business council that would help promote partnership between the two countries.
He said: 'Our mission in Ghana is fully business focus; we seek to promote Ghana's economy with our focus being water and sanitation, ICT, construction, waste management, houses, food processing, agriculture and renewable energy.
'Ghana is an open, solid, friendly country with no obstacle and our mission here is to see more and more Hungary-Ghana business companies in Ghana helping to transform the economy.'
Mr Szabo said Hungary was not only promising but 'we will do what we plan to do.'
He told the GNA that the merging of the two countries' cultures was also another way that would help promote the bilateral relations of the two countries adding; 'We are going to organise a Hungary music festival every year in Ghana, as culture is something very important that will help the two countries to get to know and understand each other very well.'
On sports, the Hungarian Ambassador mentioned that Hungary, being a sports super power especially in Aquatic sport, was going to share her experiences and capacity with Ghana as well as build sports infrastructures for the country.
Dr Lawrence Tetteh, the Founding President of the Worldwide Miracle Outreach, who expressed happiness about the bilateral development, said Hungary had attracted one of the largest Foreign Direct Investments (FDI) in the region and had managed to develop a highly diversified high-tech base in economics for the past 20 years.
He, however, expressed worry at the limited knowledge amongst Ghanaians about Hungary, in terms of language and proximity.
Dr Tetteh expressed appreciation about Hungary's assistance to Ghana over the years, especially in educational scholarships, and urged Ghanaians to take advantage of the upcoming business forum to build on the country's developmental goals.
There would be series of meetings between President Nana Addo Dankwa Akufo-Addo and some ministers in the two-day event with Vice President Dr Mahamudu Bawumia gracing the inaugural ceremony.
Ghanaian companies that would like to attend the business forum and business to business meeting are requested to register by sending their areas of activity and contact details to [email protected] or call +233(0)556488650.
Hungary, which is located in East Europe with a population of 10 million and half the size of Ghana, joined the EU in 2004.
GNA
By Elsie Appiah-Osei, GNA