Congratulations To Dr. Lord Oblitey Commey!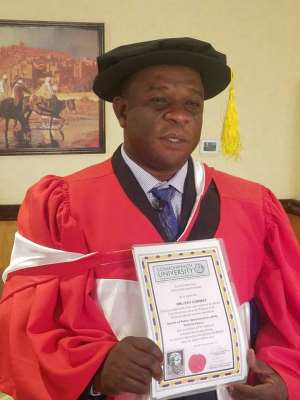 The adage says that; Behind every successful man there is a woman". The recent socio-economic and political successes being chalked by President Akufo-Addo could be traced to the hard work and effective organisational skills exhibited by no mean a person than Lord Oblitey Commey.
But, how many of us are aware. This man is a grassroot person and does not blow his own horns.
A former National Organiser of the New Patriotic Party and currently, the Director of Operations at the Presidency, Lord, as I affectionately call him, is the brain behind all the good things happening under the Akufo-Addo regime.
It is therefore not surprising that today, the Commonwealth University has given him an Honorary Doctorate Degree (Doctor of Public Administration - DPA) Honoris Causa. Prior to this honour, the London Graduate School has also granted Dr. Commey, the Master Class Certificate.
Dr. Lord Oblitey Commey, the NPP fraternity, Ghanaians and all your staunch supporters, including myself, are so proud of you. Continue to work for God, Country and mankind.
Go, go higher..., boss.
Katakyie Kwame Opoku Agyemang
Asante Bekwai-Asakyiri
"Vision, coupled with persistency, results in true success"