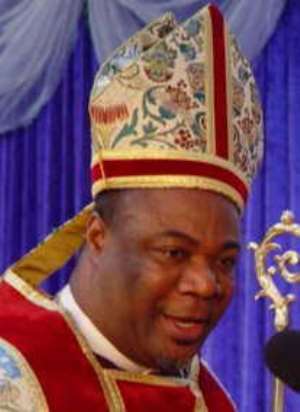 Even as Christendom began to imbibe the full import of the public outing of the breakdown in the marriage of Ghana's most popular and controversial 'Archbishop' Nicholas Duncan Williams, 47, one of his peers from the clergy, the Reverend Father George Neequaye took a direct shot at him straight from the pulpit at a wedding sermon at the exclusive Ridge Church in Accra on Saturday.
The Reverend from the Tema branch of the Anglican Church, calmly reached into his pocket, fetched a cutting of the front page of the staid Daily Graphic, which broke the troubling news and launched a blistering critique of the content of the letter of Duncan Williams, which was read to the congregation of Christian Action Faith Ministry. The letter announced his separation from his wife of 28 years, Francesca Duncan Williams now living in Maryland, USA as an itinerant preacher and mother. It was also available on the worldwide web.
Neequaye's angry shot at Duncan Williams is certain to open the floodgates to an attack on the portly, colourful self-proclaimed Archbishop as he angrily observed that Duncan Williams wants to keep away from the public what he (Duncan Williams) says is a private matter, but prophesied that even though he failed to tell the reason for the separation 'it will be a stigma to his Ministry.'
The flamboyant Duncan Williams has raised and installed a good breed of young pastors and disciples led by the resident Bishop, an alumnus of the School of Communications Studies, Legon, Mr. James Saah, to restore whatever is left of the psychedelic Ministry that was founded by Pastor Nick at a young age, but now floundering. It is experiencing stunted growth in branches but boasting only of a magnificent structure, set in Spintex Road, Accra.
Reverend Neequaye started his frontal rebuke of Duncan Williams by starting from the second paragraph of his text to the bewildered congregation which read: 'After much prayer and counseling, I accepted her back with the understanding that we would give ourselves an additional two years to make the marriage work. Instead of two years, we have remained together for four years.'
Raging at what he saw as unchristian and unbiblical, the Reverend noted that it was a major problem to set date, deadlines, time frame and conditions in marriage.
Turning to the couple whose wedding he was officiating, he gave an example of a couple who had been married for fifty years but whose wife always gave her husband another chance at each and every infraction of her husband for fifty long years. Peering through his glasses at the newly wed couple he was 'bonding,' he intimated that Mr. Richard Alabi the young Ghanaian-Nigerian oil trader who was going through the wedding to his Ghanaian sweetheart Maame Efua DeGraft Aidoo, had confessed to him about fears he was entertaining about marriage. He averred that Richard had been affected by what people tell him about the fights, quarrels, arguments and dissent that seem to be a rite of passage among married people.
He therefore advised the London-based accounting major, to give her husband Richard another chance each time they encountered problems and prayed that they lived to see their grandchildren as one united couple. She should learn to submit to her husband in love and mutual respect. He counseled and implored Richard to love and show respect and understanding, and not translate submission to enslavement. Father Neequaye then went back to Duncan Williams as a point of reference and submitted that the pastor knows that, because he acknowledged that and had indeed advised that people should not use his experience as a point of reference.
He expressed dismay that 'the man is not even giving reasons for the collapse of the marriage but is 'apportioning blame' and making inferences that faulted the wife when no one had heard from the wife.
Independently, Chronicle learns that it was Duncan Williams who initiated the divorce of the wife and that indeed his wife accompanied him to the airport with their children. A major global investigation is on the way and is already winging its way to Bishop T.D. Jakes, the famed black American evangelist who counseled Duncan Williams against divorce and a model of the once swinging pastor.
The wedding and the amazing sermon was attended and heard by other men and women of God, including Mrs. Gifty Affenyi-Dadzie, the national prayer Director of Women's Aglow and member of the Council of State, Professor S.K Adjepong of the Methodist University College, Accra, Rev Kwesi and Amy Newman of Takoradi , Mrs. Anamua Mensah, wife of the Vice-Chancellor of the University of Education, Winneba.
Continuing his sermon on how not to be a faithful and God-fearing husband, lesson from the Duncan Williams 'apostasy', Rev. Neequaye rhetorically asked whether as a preacher Duncan Williams wanted people to believe that he knew from the start that his wife was a wrong partner for him before the couple took the marriage vows, pointing out that if people preach reconciliation, they should be truthful and steadfast about it. He lamented that if there is a wound that needed healing "he is not telling usâ-oehe is not giving us the reason but asking that we stay away!"