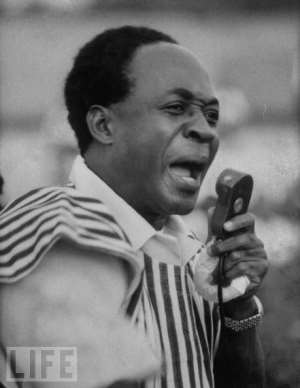 Let me begin my piece with a statement the Greatest African (Nkrumah) made after his overthrow
"I hate going back to my words. But it is wishful thinking to sit back and hope that some miracle will overthrow the notorious Liars Commission whose everyday act seems designed to turn back the clock" said Nkrumah. He also said,
"They first removed me the head and now they are bent on cutting off the arms and legs"
The Great African,also said They should have brought caterpillars to uproot the bridges, the Tema and Takoradi harbour, pulled down the Volta Dam. They should brought in experts to reintroduce an educational system that negates the free education which the CPP had introduced "
Nkrumah went through same ordeal former President Mahama endured his four years. We were told that we don't eat roads, hospitals,school buildings etc. Borrowing was described as an economic crime and the President was labelled as evil for borrowing to reduce our infrastructural deficit. What are we seeing today? What did Dr Bawumia say about the China loan? What about the $2.25 controversial bond.
Let me suspend the issue about the notorious liars and focus on the man John Mahama. I always read beautiful posts by NDC supporters on facebook and coherent submissions about the great leader on radio. They equate their situation to what Nkrumah and his Cpp went through in the hands of the Notorious Liars and take solace from that sad historical facts. We have began reading negative articles from some people who hitherto preached the Mahama gospel with dexterity. Must that surprise us? Komla Gbedemah,was a trusted ally of Nkrumah and one of the few comrades who had the opportunity of standing on the same platform with Nkrumah to declare our independence.He later operated as an agent of the CIA to overthrow Nkrumah and this was what he said👇🏻👇🏻👇🏻👇🏻👇🏻👇🏻👇🏻👇🏻👇🏻
"I would be sorry to have to do it but country Ghana has had enough of Nkrumah's arrogance, whims and madness" this was after he has been cited in many corrupt deals. Ametewe told those who investigated his case that Amaning disclosed to him that Krobo Edusei another close confidant of Nkrumah, supported the assassination of Nkrumah.
Adamafio and Kweku Akwei youngmen Nkrumah recruited into his government, later joined the assassins. Henry Djaba, FY Asare and James Quartey loyalists of Nkrumah and young men Nkrumah brought to limelight turned against him because Nkrumah had allowed the system to punish them over their involvement in the famous two (2) million pound kick back case.
After Nkrumah's overthrow, some of his loyalists betrayed and implicated him when the appeared before the commission of enquiry. Krobo Edusei, Ayeh Kumi and Kweku Boateng implicated Nkrumah when they appeared before the commission. We heard what W.O Tettey said about some top CPP starlwarts before jumping from the fourth floor of the police headquarters.
When some officials from Ghana visited him at Conakry, he refused seeing some of the Cpp members who accompanied the team. He did so because of how they carried themselves after the coup. Few years after this painful betrayal, these judaslike elements started pushing for different agenda to bring Nkrumah back.
Mr Mahama may go through same ordeal looking at the dynamics. But his supporters must take a cue from the ordeal Nkrumah went through and the aftermath events. Few months after his overthrow, Ghanaians started calling for his return, some soldiers attempted coups to remove Afrifa and his men and later Busia for Nkrumah to be brought back.
President Nixon a close friend of Busia advised him to go back to some of Nkrumah's policies.After betraying his close friend, Gbedemah in the 1968/69 election campaign, centered his message and policies on the ideals of Nkrumah. Many years after his,death, Kojo Bostio and others trumpeted the uniqueness of Nkrumah.
Ghanaians,including those who weren't born during his time, mention his name daily, the youth who read about him in history books etc pray that he resurrects,Africa and the world continue to celebrate him.
How different is Mahama's case from that of Osagyefo. Ghanaians have started chanting for his return, countries on the continent celebrate his achievements, international organisations pulling him closer to their programmes.
What is going to be the difference is that, this time we aren't going to sit idle whilst the notorious liars plunge the nation into crisis. We are going to be guided by what Nkrumah said : no miracle will remove these liars. We shall and must bury all differences and act in concert as comrades and progressives to save this country from the plunders.