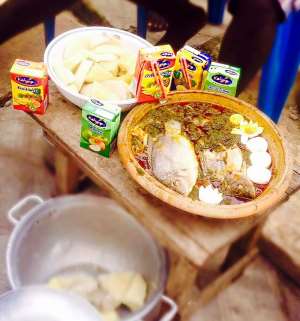 "Too often we underestimate the power of a touch, a smile, a kind word, a listening ear, an honest compliment, or the smallest act of caring, all of which have the potential to turn a life around"
Leo Buscaglia
KALYPPO, my grandchild would shout. Nannies and grannies make sure to stock the children's school bags with the stuff. Some of them did not know they were missing something cool, juicy, succulent, and luscious when they gave the stuff to their grandchildren without tasting it. Until…
Until it became a new craze in the country – after Nana Addo Dankwa Akufo Addo had been 'caught' by a rogue who, with guttersnipe rashness had taken the snap in 2008 and had decided to 'float' it on the 'net' at this auspicious moment. And the NPP stalwarts gave support to their flagbearer by sucking the Kalyppo on the political platform.
After sucking the Kalyppo, some people took the trouble to look closely at the container: it is prepared by Aquafresh Limited, KM8, Light Industrial Area. Spintex Road, P.O.Box 439, Accra, Ghana. It is the juice of: guava, strawberry, pineapple, banana, mango, sucrose, Citric acid, natural aroma, and Vitamin C. it is 250ml and it costs something cool.
All the big men of the NDC: President, Vice-President, Chief of Staff, Ministers, Members of Parliament Party Officers– name them– have left their offices and are on the campaign trail. In Brong Ahafo, Julius Debrah, the Chief of Staff, who should be in his office, signing documents, or be out there trumpeting the achievements of his government, had turned nutritionist and medical doctor and proclaiming: "There is a new disease called Kalyppolitis and if I come here, I need to speak to you adults here, if you take Kalyppo, the sugar content can leave you with some sickness, so please, don't take it".
At an NDC campaign rally in Kumasi, Yaw Boateng Gyan, former national organiser of the party proclaimed: "Now that he (Nana Addo) has started taking Kalyppo, a local product, he will soon be sucking breast which is meant for babies".
Concerned Ghanaians for Local Products are demanding an apology from people attacking those patronizing Kalyppo, a local product. But Kwadwo Owusu Afriyie (Sir John) on Adom F.M.'s 'Dwaso Nsem' has something for the detractors: "Why would Julius Debrah and his government collapse our businesses which are already suffering under Mahama. In fact, Kalyppo would have collapsed if Mahama were the one seen sipping it. They are just envious of businesses in the country. But let me tell them today that we will continue drinking Kalyppo because the symbolic aspect of it is that it will let our businesses grow under an Akufo Addo government." Those who are finding it difficult to sell their wares should pray that Nana Addo would advertise them for them! A boost for local industry, for local stuff—quite unlike what the owner of the NDC did to 'Apino soap' some years gone by.
Ghanaians are waiting with bated breath to listen to the new song entitled 'Kalyppo' by Golden Muzik of Samuel, Yung Eagle and Airmass.
On the Kalyppo craze, Agya Kwaku Ogboro writes: "Clearly the Chief of Staff reacted on impulse. He needs our prayers, not condemnation. Nana Addo acknowledges this fact that is why he did not condemn Efo Debrah. Nana Addo only expected the deficiencies in his ill –conceived statement, Listen to him: "If indeed, sugar was bad, why have they set up a Komenda Sugar Factory, a factory they have made so much noise about? To them, sugar is bad and yet, they spent so much money on Komenda Sugar Factory, which is not even working. This propaganda will not work".
Kwaku Ogboro concludes: "Indeed, the 'mutum banza' trait can be found in many zu –za activists. They can be found at the Presidency, party headquarters and in the Council of State…"
Whilst Nana Addo is concentrating on his Kalyppo – sucking tour of the nation, President John Mahama is blaming a 'certain group' for blocking his transformation message. He rants: "It is populism, a certain group has taken control of the media in Ghana and it makes it difficult for people to discern the truth. So as much as you are putting out the information, it is either being blocked or distracted" What! (Note the use of only one exclamation mark! Never 2, 3, 4, et cetera). My brother and friend, I.K. Gyasi would exclaim: 'Haba!'
How many journalists are in the Jubilee House, otherwise known as Flagstaff House? Is it a question of the message or the messenger? Can't government pay the government communicators? One would have thought the complaint was being made by the Opposition parties.
Some media agents have used the word 'cabal' for the 'certain group' that President Mahama says is blocking his message. What is 'cabal'? It is a group of people united in some close design together, usually to promote their private views or interests in an ideology, state, or other community, often by intrigue usually unbeknown to persons outside their group. 'Cabal' carries with its definition strong connotations of shadowy corners, back rooms, and insidious influence. The word originates from the Jewish 'cabala' meaning 'reception' or 'tradition'. Another view is that it was formed from the first letters of the names of a group of ministers of King Charles II of England: Clifford (Sir Thomas), Arlington (Lord), Buckingham (Duke of), Ashley (Lord), and Lauderdale (Lord). They were signatories to the secret Treaty of Dover that allied England to France in a prospective war against the Netherlands.
It is doubtful whether the opposition is so strong as, or has the wherewithal, to capture the information being churned out by the President and block it. The President! Well was it said by Cassius: "The fault, dear Brutus is not in our stars, But in ourselves, that we are underlings". Some people have digested the innocuous saying by Bohdi Sanders: "Never respond to an angry person with a fiery comeback, even if he deserves it… Don't allow his anger to become your anger".
The President may care to answer the question: if a story about President Mahama inaugurating a classroom block at Mempeasem is told and this story has to compete with another which says Koku Anyidoho calls Dr Mumuni Bawumia 'mutum banza' which one will get space in the newspapers, especially the private ones? Call it sensationalism. But which of the stories will be news -worthy in the present scheme of things? The first one will be "a recipe for mediocrity" just as President John Mahama said in 2008 in reply to NPP' s assertion that the 2008 election would be based on the records of the two parties in government. The second one will be an exercise in negative pedagogic language delivered in opprobrious cacophony.
AFRICANUS OWUSU ANSAH
[email protected]