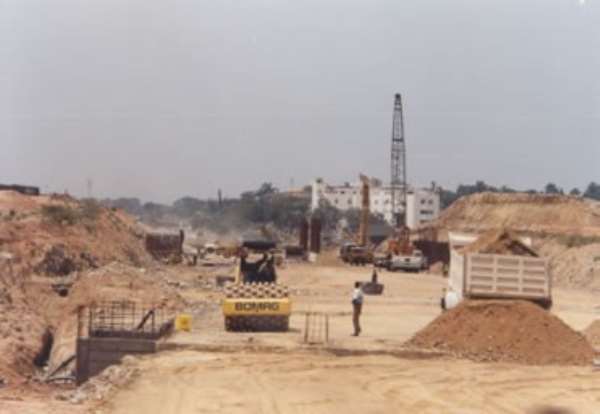 Accra, Feb 27, GNA- The 80- billion cedi Tetteh Quarshie Interchange on the Airport-Legon- Madina Road opened on Sunday morning to vehicular traffic, with mixed reactions from both motorists and pedestrians. The was no traffic jam at the Interchange, then called Tetteh Quarshie Roundabout, where vehicles used to clog before Sonitra-RCCN, began the Government of Ghana contract, two years ago, to expand the facility to make it modern and accommodate more vehicles.
However, with exception of the under-the-bridge Liberation Road, where vehicles from Legon to Accra freely moved without letup or difficulty, traffic wardens from the Motor Traffic and Transport Unit (MTTU) of Ghana Police Service were all over the place to direct motorists to make the right detours on the six leg interchange from Accra, Legon, Achimota, Tema, Spintex Road and HIPC Junction. Obviously confused, motorists, who had run into wrong lanes shouted for help from policemen and pedestrians. Also, with only few of the stops completed, passengers in transit complained about long distances to walk before getting on other vehicles to their final destinations.
The most confusing parts of the Interchange were from lanes from Achimota to Spintex Road, and Spintex Road to Accra. Chief Director of the Ghana Highways Authority Mr Eric Oduro-Konadu, in a chat with the Ghana News Agency (GNA) described the Interchange as a "great separation" and said 96 per cent of the work on the project had been completed. He said the Interchange would reduce the conflict points of vehicles and the cost of travelling time, adding, the Authority was carrying out a study and would soon come out with the volume of vehicular traffic at the Interchange. He gave an assurance that the Authority was liaising with the Police to put in more directional signs and speed limits at the Interchange.
Mr Cecil Garbrah, President of the National Association of Driving Schools, said the Interchange was quite good, a positive way of improving the traffic situation, but pointed out that traffic congestions would ease by only 40 per cent because of vehicles on double or three lanes entering a single lane at the Interchange. He also reiterated the need for more education of the users and directional signs at the Interchange.
The scope of work on the Interchange involves a bridge on the motorways, three lane dual carriageway on the Liberation Road, four loops, four slip boards, one roundabout pedestrian crossing and four staircases to and from the overhead bridge. Other features of the contract are street lightning, vegetation development, drains, kerbs, guardrails and road furniture. Work on the project was busily going on, with streetlight, more directional signs, bus stops, staircases and beautification yet to be done on the project, which was to be completed finally on May 5, 2005.
PIC: Interchange under construction<