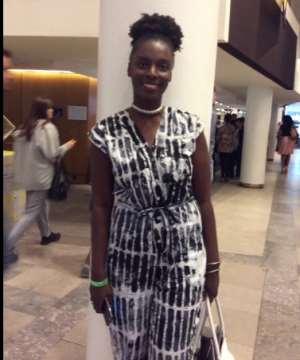 Ghana-born actress and film producer Maame Adjei is off to South Africa to film the next season of her travel web series 'Girl Going Places'.
Adjei is better known for co-producing 'An African City' and starring as Zainab in the production dubbed the African version of 'Sex and the City'. But the Ghanaian-American is also carving a name for herself as a bit of a travel guru. Her aim is to encourage more Africans to visit destinations within their home continent.
Travelling culture
Adjei believes Ghanaians do not tend to travel internally for pleasure or leisure because "it is just not part of our culture," she said. "My mother would never go to the north unless it's for work or a funeral. You don't just get up one day and say: 'hey let's take a trip…' And that's an issue because when we have someone from say Norway who drops in Ghana gets on a trotro and next thing you know is in Tamale and tells a story about Tamale that you don't like, you can't blame them. They're telling it from their perspective – so how about you as a Ghanaian go to Tamale so you can tell your own story and own that story."
Destination Ghana
'Girl Going Places' first hit the web earlier this year and has already attracted a growing following. The first series consists of six episodes featuring a mix of Ghanaian destinations Adjei visited for the first time, her favourite eateries and spots for buying locally-made fashion. "It is something like a guide for coming to Ghana," she said.
Although born in Ghana, Adjei moved to the UK in her teens and then to the US for university. She has a BA is Psychology and a MS in Healthcare/ Finance Administration. After over a decade in the US, she decided to return home for good, touching down on home soil in December 2012. From there, she cultivated a love for exploring the country of her birth.
"I decided to take the rest of 2013 off after I moved and the only thing I wanted to do was travel around Ghana," she said. "As I started travelling, I started thinking I should document this because I was travelling around, I was telling my peers, my friends, my family who had no idea that these places existed - no idea where they were. So I thought it was a good idea to document it and reemphasise the importance of us travelling our own space first."
Favourite destination
Her first and favourite trip so far has been her visit to Likpe – a town in Ghana's Volta region. "I loved it because I had no idea what to expect," she said. "I knew that I was going to see caves but when I got there, I didn't realise it was a hike – an hour hike! When I finally got up the mountain, the views of Ghana from there were the most amazing views that I've ever seen. And I just remember I kept standing there and thinking – I'm in Ghana…this is my country…this is my country for real! It was actually my first trip so that always stays with me - just recognising that there are just so many amazing, beautiful and dynamic spaces in my own country."
African cities
The first season has been well received and has already spurred some Ghanaians to explore their country.
"Somebody actually got in their car and drove from Accra to Likpe to go and see the caves," she said. "And I remember when I saw that I actually cried. This is the purpose. This is what I want. Even if one person says, this is crazy, I've never been to Aburi and just after the show they do that – I feel my job is done."
Adjei is currently preparing for season two but viewers can expect a little twist. "Next season, I will be going to eight different African cities. Ghana was sort of a pilot season now I want to it's about the continent." she said.
She will be travelling to Durban in South Africa on 8 November as the first port of call with the other destinations following after.
Adjei has a lot of plans for 'Girl Going Places' and although she wants her web series to continue having an online home, she hopes to turn it into a TV series.
Artistic handiwork
She also dabbles in reupholstering furniture, a hobby she cultivated as a 'mental health release' while living in Philadelphia, US.
"I am a big fan of vintage so I was thrifting a lot and it's something that I kind of fell into," she said. "I started reupholstering furniture for myself throughout my house and people would come, see what I'd done and ask me to do things for them. So when I came to Ghana, I think not too long after that the Chale Wote festival came around, an architect friend who was participating in the festival approached me about collaborating on something."
Chale Wote is an alternative platform that brings art, music, dance and performance out of the galleries and onto the streets of James Town in Accra.
"For the 2013 event, I made giant chairs and then for 2014, I found these wooden crates that were used to hold mineral bottles back in the day. I found a whole crate of them that some lady was going to burn for firewood and I used those to create benches and put plants in them."
Adjei hasn't ruled out pursuing a project that harnesses these creative skills ... once she has more time on her hands. But for now, she is busy with 'An African City', which is entering its third season.
Dynamic characters
The programme, which is a co-production with Nicole Amarteifio launched in 2014. It charts the experiences of five successful and professional women who return to Ghana from the West to settle. The cast includes journalist Nana Yaa, Harvard graduate and marketing manager Sade, Ngozi, who works for an international development agency, Oxford graduate and lawyer Makena, and of course entrepreneur Zainab.
Adjei remains tight-lipped on what fans can expect moving forward, however.
"Now we are in the process of writing season three. Hopefully we will start production soon. I can't tell you anything but it is going to feature more dynamic stories, new characters. Every season we want to introduce new characters that mingle within the dynamic of the five girls," she said.
Home sweet home
Like the characters in 'An African City', Adjei does not regret returning to Ghana. She said the turning point came when she landed in the US from a previous trip to Ghana and saw her car parked at the airport covered in ice. "I was in tears," she said. It is from there that she decided to return home. Her advice to others considering returning to their roots is simple.
"Be clear on what it is you want to do," she said. "What in your wildest dreams would you want to accomplish in Ghana. "Once you know that just hit the ground running, fear nothing, if things are not moving at the pace that you are used to do not discouraged because you know we move at a different pace. Things take three times longer. Network, find people who are interested in what you are doing. But I think the biggest thing is not to give up because it is so easy to get frustrated and think, I can't find the money for this, I can't find somebody who can do this. So you just have to focus, don't give up and I think you will be fine."
Kirsty Osei-Bempong is a journalist and blogger at MisBeee Writes .