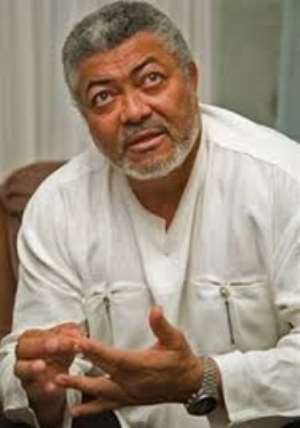 Founder of the National Democratic Congress (NDC) and former president of the republic of Ghana, J. J. Rawlings has cautioned members of the party not to mimic behaviors of the New Patriotic Party (NPP) or risk run into problems.
Mr. Rawlings, who was speaking at the NDC's election campaign launch at the newly constructed sports Stadium in Cape Coast over the weekend said, "the NPP cannot be underestimated", therefore, the NDC must ensure that the necessary steps are taking to pre-empt the party from falling into a dungeon just as the NPP did some years back.
"Let me just give you one point. The NPP cannot be underestimated, you know it and I know it. They've been in existence for a long time and have been changing their names up till this day. The nature of who they are, what they are and where they've come from, it's something they are happy with and they will be there for a long time."
"The calculation I want to put before you is that, by virtue of who and what they are, their mannerisms, their character, will necessarily give rise to what you and I are in the NDC. In other words, by virtue of who we are; where we've come from, how we came about into being, I keep saying, we cannot afford to fight them on their terms." He continues
He has, therefore, urged members of the NDC to avoid mimicking behaviors of NPP, which have resulted in widespread internal wrangling within the party. "It's important that we fight them on our terms. What are those terms? In other words, let's not mimic their behavior.
According to the Mr. Rawlings, NDC would be invincible if party members were to observe principles and values upon which the party was birthed. "Let us reach into the principles and values that emerged out of the circumstances that gave birth to us. And if we can hold onto those principles and those values, we will move way into the future and no one can ever defeat us. We will ride and override any obstacle as we did in the past."
However, failure to take lessons from what happened to the NPP some years back, according to Mr. Rawlings would only create troubles that may take several years to repair. "Mimic them as some of them are doing and we will run into problems."
He prayed for a clean, clear and stable election come December 7 election devoid of troubles. "Let's have a clean, clear and stable election. I wish you all the best, get back home in one peace, no accidents"