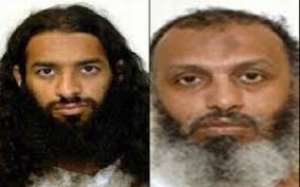 In the same week that Ghana's interest rates soared to an eye watering 17.7%, a US Embassy official admitted Ghana would be sharing the upkeep costs for two Guantanamo Bay ex-detainees.
Yemeni Mahmud Umar Muhammad Bin Atef and Saudi-born Khalid Muhammad Salih Al-Dhuby were transferred on 6 January by the US to live in Ghana for two years.
The transfer followed an agreement between the two countries that reportedly have been going on for a year.
Truth and lies
Daniel Fennell, head of public affairs at Ghana's US Embassy, said on TV3's 'Hot Issues' programme that upkeep expenses were being shared by the two countries.
No sooner was that information circulating then Fennell reportedly retracted his statement, falling in step with the official government line in Ghana. The country's president John Dramani Mahama has denied that Ghana is footing any part of the bill or that he received $300 million for the detainees' stay.
More revelations are emerging, namely that these men's involvement in terrorism was downgraded to a minimal threat. According to the Wall Street Journal, the US misled recipient countries. It seems Ghana wittingly or unwittingly accepted this advice without conducting independent checks.
No doubt most Ghanaians are outraged. Ghana enjoys an international image as a friendly and safe country compared to some of its neighbours. In such uncertain times when countries such as Burkina Faso and Egypt most recently, and latterly Nigeria and Mali face terror attacks, preserving that haven of relative tranquillity is paramount.
Whether you believe the men, who were interred for almost 15 years without trial, pose a threat to Ghana or not - the process taken to agree their transfer to Ghana is dubious. These men are reportedly self-confessed terrorists with Atef believed to have trained at an Al Qaeda camp, according to Joy FM and Wall Street Journal reports.
Yemen in particular, where Atef is from, is considered to be a hot bed of terrorist activity. This is probably why Obama recently signed a defense authorisation bill barring detainees from being transferred to Yemen.
Republicans v Democrats
The Republicans are currently trying to push through a moratorium to prevent more detainees leaving the prison because they are considered a risk. And yet the official line from Ghana's government remains that these men pose no threat and are under 24 hour surveillance.
Seems contradictory….. Why monitor them if they are considered low risk? And if they are so low risk why hasn't the US taken them in? US law prevents the country from accepting these detainees. On top of that, there would be a public outcry.
Closing the Guantanamo Bay detention facility has been an Obama pledge. So it is unsurprising that he is keen to dispense of the prisoners even if - to some - it looks as though he is exporting terrorism.
The two prisoners, the first to be sent to a sub-Saharan country, are also the first of 17 due to leave the prison in early 2016. Obama is under pressure to reduce prisoner numbers below 100. With 17 due to go, the total facility population will drop to 90, according to online publication defenseone.com
Some have been already been sent to Uganda and Cape Verde off the west coast of Africa, and Georgia and Slovakia in Eastern European, according to multiple media reports. But where are the rest going to and can Ghana expect more?
Keeping mum
Those with authority in Ghana have been economical on these details. Under Ghana's laws, people considered to have terrorist connections are barred from entering the country. So why would Mahama not only flout this legislation but also deny Ghanaians the right to this knowledge?
Most Ghanaians learnt about these revelations through US' Fox News. Even with the cat out of the bag, the Ghanaian government is inadvertently stoking up fears and conspiracy theories by saying very little.
Joy FM revealed that those in Ghana's security council (the interior and foreign ministers) were not fully aware of Mahama's plans. Many have questioned why the Ghanaian public was not deemed important enough to be told. Possibly because the government knew the response would have been not too far away from the current reaction...Sound familiar? Didn't Ghana follow a similar route in its reported involvement in Ebola testing in the country?
Friend or foe?
So what's in it for a Mahama? Well, UN Secretary-General Ban Ki-moon has commended Ghana for its role in helping to combat Ebola. Taking on these ex-detainees may be another way Mahama can curry favour with the West and the international community .....even if it is at the expense of Ghanaians. Afterall, this may be his last few months as president....elections are scheduled for 7 November 2016.
Of late, Mahama has been saying the decision to take in the ex-prisoners is out of human compassion and because of Ghana's alliance with the US. But wasn't Ghana's first president Dr Kwame Nkrumah a founding member of the Non-Aligned Movement (NAM) in 1961? And wasn't one of the tenets of that organisation that members were not for or against any major power bloc?
With evidence emerging that the US may be have misled recipient countries, I wonder how Ghana's decision will impact national security and that of her neighbours. Could the presence of these men have repercussions for Ghana politically or dissuade current or future investment?
It is unclear how much access these men have to the wider Ghanaian public or what level of surveillance there is on their telephone and internet activities? We are not clear what happens after their two years expire. Do they gain Ghanaian citizenship? Do they go home? Or can they invite their families over?
What we do know is that Ghanaians are struggling to survive as utility and fuel costs soar and Dumsor (frequent power outages) continues to blight the country.
Don't Ghanaians deserve to be put first in their own country? Afterall, doesn't charity begin at home?