"Engulfed In Debt" How Sustainable Is Ghana's Debt? Public Debt Dynamics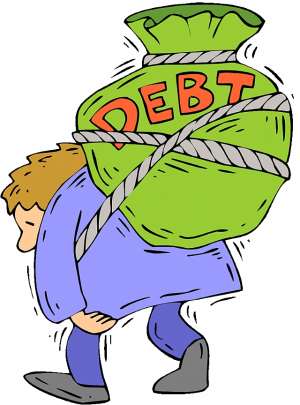 The landscape for sovereign debts has changed since Monterrey Consensus in 2002. Heavily Indebted Poor Countries (HIPCs) and Multilateral Debt Relief (MDRIs) programs have led to a substantial decline in the vulnerability of many countries to sovereign debt crises. Despite the improved efforts at debt sustainability and crisis prevention, sovereign debt distress continues to occur. Public debt in Ghana has reached unsustainable limit rising from GHC 4,904 billion in 2006 to GHC 90 billion in June, 2015.
Domestic bond issuance is often more expensive due to little developed domestic markets and uncertainty on inflation rates in Ghana. Currently, Treasury bill rate for 91-day, 182-day, 1 year, 2- year is 25.2%, 25.8%, 22.5% and 23% respectively. The Bank of Ghana served notice of government's intention to borrow Ghc25.42 billion from the domestic market within the first six months of 2015. The amount is twice the Ghc12.72 billion the government borrowed through the issuance of government's securities in the same period last year.
The Bank of Ghana stated in the issuance calendar of government of Ghana for January to June that in January alone government intended to borrow Ghc3.5 billion, which is the least amount to be borrowed from the domestic securities market - with the highest being Ghc4.84 billion in March and June 2015.
Between July and December, this year, Government intends to grab a whopping GH¢25.328 billion from investors both local and abroad in borrowings.
The amount will cover the repayment of the 2017 Eurobond, with an outstanding amount of $530 million, which was partially repaid using the proceeds of the $1 billion Eurobond raised in international capital markets in an amortizing Eurobond in September 2014.
The remainder will be used to amortize and pay down short-term debt, with a further GH¢2.8 billion in external debt billed to mature this year and finance capital expenditure.
According to Seth Terkper, Finance Minister, in his mid-year budget review to Parliament on 21st July, 2015, total revenue and grants for the 2015 fiscal year were revised downwards by GH¢1.9 billion from GH¢32.4 billion (24.0 percent of GDP) to GH¢30.5 billion (22.8 percent of GDP).
It was targeted mainly on account of the lower oil revenue projections.
Government needs an additional GH¢1.83 billion, equivalent to $524 million to repay its external debt through additional external borrowing.
Dwindling grants and concessional financing has come about as a result Ghana's middle-income status. The country will gradually lose substantial access to grants and concessional financing over the medium-to-long term, the government has decided to channel these resources to finance mainly social infrastructure, development and social protection programs.
IMF BAILOUT
In April, 2015, the Executive Board of the International Monetary Fund (IMF) approved a three-year arrangement under the External Credit Facility (ECF) for Ghana in an amount equivalent to SDR 664.20 million (180% of quota or about $918 million) with no interest rate and a repayment period of 10years to support the government medium-term economic reform program. The program aims at a sizable and frontloaded fiscal adjustment to restore debt sustainability, rebuild external buffers to increase resilience to shocks and enhance the effectiveness of monetary policy by limiting fiscal dominance. Will the bailout save Ghana from this huge public debt?
EXTERNAL DEBT
Ghana this year issued its fourth Eurobond. On 23rd July, 2015, the parliament of Ghana approved the request by the government to raise US$ 1.5 billion from the European Bond Market to support the 2015 budget and refinance domestic and external debts. US$500 million of the money raised will be used for liability management while the remaining US$ 1billion will be used to support programmes and projects under the 2015 budget.
On the uniqueness of the 2015 bond, the bond would be backed by sinking fund to be funded from the portion of the excess of the Stabilization Fund earmarked for debt amortization. The amortization and Sinking Fund plan is backed by the Petroleum Revenue Management Act, and will smoothen the redemption obligations between 2023 and 2026. Again, the 2015 bond issue would be backed by the World Bank policy Based Guarantee which would enable the bond to be issued with higher rating than the current sovereign guarantees thereby reducing the interest rate. The table below shows the public debt stock of Ghana since 2006.
PUBLIC DEBT STOCK
YEAR
2006
2007
2008
2009
2010
2011
2012
2013
2014
APRIL 2015
JUNE
2015
External Debt
2,010
3,484
4,886
7,161
9,193
11,866
16,649
25,216
41,498
51,610
Domestic Debt
2,894
3,705
49,02
6,143
8,280
11,841
18,431
26,666
34,621
36,543
Total Public Debt
4,904
7,189
9,788
13,304
17,473
23,707
35,080
51,882
76,119
88,153
90,000
As % of Total Public Debt
External Debt
41.0
48.5
49.9
53.8
52.6
50.1
47.5
48.6
54.5
58.5
Domestic Debt
59.0
51.5
50.1
46.2
47.4
49.9
52.5
51.4
45.5
41.5
As % of GDP
Total Public Debt
26.2
31.0
34.8
36.0
38.9
41.6
48.4
55.3
67.1
65.5
67.0
External Debt
10.7
15.0
17.4
19.4
20.3
20.8
23.1
26.9
36.6
38.3
Domestic Debt
15.5
16.0
17.4
16.6
18.6
20.8
25.3
30.5
27.0
Source: GoG Budget Statement, various Sources, Bank of Ghana, Quartely Economic Bullentin, Various issues
On Ghana's public debt maturity profile, 75% of domestic debt is short to medium term with short-term debts constituting 39% as of December, 2014. On Eurobonds, the three profiles are of October, 2017- US$ 531 million; August 2023- $ 1 billion and January 2026- $ 1 billion. Indeed, the public debt maturity profile poses a number of challenges including high risks associated with frequent rollover of short and medium- term debts because of volatile interest rates and the Eurobond that matures in 2017.
GREECE LESSON
Is Ghana going to be the Greece of West Africa? The Greek government-debt crisis started in late 2009. In Greece , triggers included the turmoil of the Great Recession , structural weaknesses in the Greek economy , and a sudden crisis in confidence among lenders. In late 2009, fears developed about Greece's ability to meet its debt obligations, due to revelations that previous data on government debt levels and deficits had been misreported by the Greek government. This led to a crisis of confidence, indicated by a widening of bond yield spreads and the cost of risk insurance on credit default swaps compared to the other Eurozone countries . Greece became the first developed country to fail to make an IMF loan repayment. At that time, Greece's government had debts of €323bn.
Ghana seems to have a similar experience. GDP growth rates have dwindled over the years; an economy that grew at 15 % in 2011is recording growth rate below 5%. According to the 2015 supplementary budget, annual GDP growth projection for this year is 3.5%. On budget deficit, it is projected to be 6.9% and public debt has reached GHC90 billion. In terms of public debt to Gross Domestic Product, it has reached 67% of GDP which is unsustainable.
PUBLIC DEBT STRATEGY
Ghana's New Debt Management Policy was approved by Cabinet and Parliament in the 2013 through 2015 Budgets. Commercial and quasi-commercial projects will be fully or partially "self-financing": In contrast, non-concessional (or commercial) loans will be channeled to finance projects that must repay the loan, fully or partially, from the revenues generated. The goal is stop adding these loans to "pure public" debt that are paid by taxpayers directly through the Budget. The Ministry of Finance has started applying this rule to existing loans that were used to finance commercial projects through its On-lending and Escrow programs discussed below.
On-lending and Escrow (debt service) account policy: To operationalize the "loan recovery" policy, the Ministry has started signing On-lending Agreements and opening joint Escrow/Debt Service Accounts with State Owned Enterprises that cannot borrow on their own Balance Sheet and rely heavily on the state to guarantee or contract loans on their behalf, including, VRA, GWCL, GNGC, ECG and GRIDCO, for them to start servicing the loans that were contracted on their behalf for commercial projects in the country. Some new projects that have been placed on an On-lending platform include the Kumasi Market, Accra Dredging and Site Development, and Kpone Housing facility. These strategies are good but more needs to be done.
In conclusion, public debt management must anchor on transparency and accountability, debt and risk management strategy, institutional framework and development and maintenance of efficient market for government securities. Excessive borrowing is not the way to go because it adds up to public debt. All the new debts government is putting on has the aim of retiring maturing debts and financing capital projects but it is unfortunate that, details of the projects and disbursements are not given periodically and sometimes the intent for which those loans are secured are not been used for. Government should be proactive in raising domestic revenues, right sizing the wage bill, diversifying the economy and fix energy supply deficits to foster economic growth and development.
Amoah-Darkwah Emmanuel Ch.E, CEPA
0245-683297