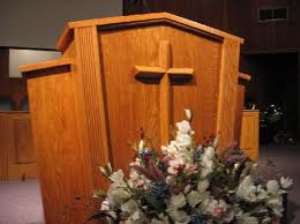 Beware that there be not a thought in thy wicked heart, saying, The seventh year, the year of release, is at hand; and thine eye be evil against thy poor brother, and thou givest him nought; and he cry unto the LORD against thee, and it be sin unto thee. Deutronomy 15.9.
Let's not take our members for a ride or for granted. Some are serving with a clean and faithful heart until you treat them like donkeys. One thing, I have learnt in ministry over 10 years, is that, members or followers loyalty and faithfulness to us as leaders, is determined by our attitude and concern to their personal and family needs.
Many members are suffering in silent because, they have been thought that, "silence is golden" so they ARE FORCED TO REMAIN silence on issues, affecting their marriages, families, business, children, health and sometimes, their Christian life so that, they are not classified as betrayal, Judas, orang-utan or disloyal. Hmmmmmm!!!!!
Yes!!!!!!!! Something must be left to God to show and deal with but, please not the things we have been given the brain and senses to change to better our lives and family, especially, when one is not in full time ministry. It is very sad, to discover how some church leaders; expect every member or worker in the ministry, to be committed fully, yet failing in their part as spiritual heads to discern, the needs of their flocks. "Be thou diligent to know the state of thy flocks, and look well to thy herds" Proverbs 27.23 Some of these individuals are not even diligent in identifying their flocks, less alone, looking after their well being.
My question is ....which flock and what state of their life, are they concern about any way? I bet, some of these are ONLY concern about the financial state and neglecting other essential states (HEALTH, MENTAL, SPIRITUAL, FAMILY, ECT) of their members. In every relationship on this planet, treating partners with respect and love make a great difference. This goes a long way to boost commitment, dedication, loyalty and faithfulness of our partners for them to serve well.
It is very sad to say that, "THE SPIRIT OF LABAN" has gripped a lot of these selfish leaders which is so unbelievable. This spirit had made or turned some great and good hearted leaders into self-centred leaders; through selfish-motivation, they oppress the members or flock through manipulation and abuse, riding on the back of these flocks ( DONKEYS) in order to build their own works or houses (HIS OWN PERSONAL NAME and GAIN) claiming that, " I am debt free and financially stable"
I have also observed over my 10 years in ministry that, these leaders neglect and ignore the concept of personal identity and destiny of their Flocks or members apart from their wife and children. They are so blind to the interest of their member in the development of any vision they have or want to pursue other than theirs.
Not only are they scared to engage some of these faithful leaders, in some activities in the church, but will not even release them into their ministry and calling, threatening them that, GOD DID NOT SPEAK TO THEM TO RELEASE THEM OR PRAY FOR THEM" as if theses members are DONKEYS,TIED TO A TREE WITH STAGNATION PRESSURE OR ROPE.
The burning question is, what are these leaders doing differently from LABAN, to change the conditions of their members or flocks positively as the pastors (a good shepherd)
It is therefore very important that, those who claimed that, they are called to be servant under shepherds in the body of Christ must take those roles seriously. In these last days, too many wolves are claiming to be shepherd (servant leadership) but demonstrate clearly that they are not qualified to be shepherds according to God's criteria.
Until, we learn to feed the lambs and the sheep, bringing them to good pasture lands and water, grooming and clipping them, delivering new lambs, leading them and teaching them to stay together, going off after the wandering lost ones and not name calling them as orang-utan and Judas; and protecting the sheep (members) in their circular jobs (fields) and in the fold (church building), we have failed in our roles as good shepherds.
But if the watchman sees the sword coming and does not blow the trumpet to warn the people and the sword comes and takes the life of one of them, that man will be taken away because of his sin, but I will hold the watchman accountable for his blood.' "Son of man, I have made you a watchman for the house of Israel; so hear the word I speak and give them warning from me. Ezekiel 33:6-7
Ferdinard Senyo Lawson is a Beffta Awards winning author (2013) of many inspirational and motivational books. African Heritage Award best Author Nominee 2014, Beffta Award Best author Nominee, 2014. He is a Life coach, mentor, publication consultant, Columnist, radio host, the C.E.O and the founder of Ferdinard Lawson publication consultancy. Ferdinard Lawson Inspiration & Empowerment Agency (FLiEA) in UK, and a faculty member of the African Professional Speakers' Academy (APSA).
Ferdinard Lawson's mandate is to Empower, Encourage, Motivate and Inspire individuals to remain focus in life by discovering of their identity in order to pursue their purposes and destiny. He is also an international advisor to The Achievers Foundation; Ghana.
He was honoured as an Extraordinary Individual in United Kingdom. Ferdinard Senyo Lawson holds a Bachelor Degree in Public Health and Social Care and full Member of Royal Society for Public Health (MRSPH) and works within the National Health Service in United Kingdom.