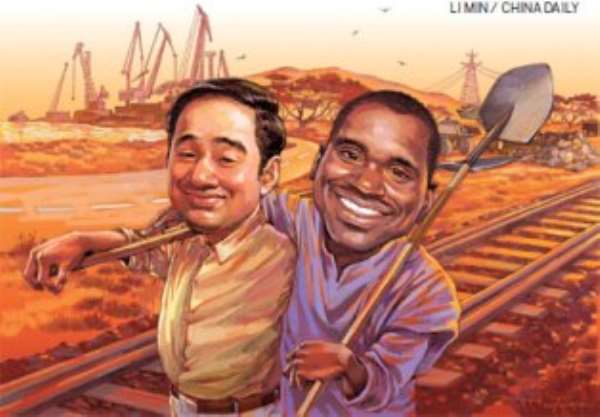 China is an Asian countrywhich is one of the biggest economies in the world, among the likes of United States of America (USA), Britain, Germany and Japan. Its economic rise has continued to capture the attention of every continent of the world, a move which have seen Africa, Asia, Europe, the Americas and Australia jostling for an interaction with this nation because of its phenomenal growth.
An analysis of the growth of the Chinese economy in this crisis-ridden world, can reveal a secret that is making her to burrow through the jungles of global economic uncertainty towards achieving socio-political and economic greatness.
It is actually surprising to note that the rise of China is fundamentally premised on the principles that are well articulated in the Bible and yet Christianity is not even the biggest religion of this most populous nation of world.
A closer look at the principles, ideologies and activities that are governing the modus operandi of building the Chinese economy can make you to appreciate the effectiveness of the wisdom from the Bible, which is the world's bestselling book and one of the oldest.
1#Media and Legal Issues
Based on the Bible communication and justice are very important for the development of the community.
This is because people always need to express their views and to have their issues addressed fairly and in time either be it among themselves or against corrupt government officials.
As such, there is need to open various platforms that makes it easy and efficient for the people to raise their concerns as well as to have them addressed as evidenced in the book of Exodus 18 vs. 13-23.
The country has registered tremendous progress in opening up the media and this development can be regarded as the backbone of China's expansion since the people have been accorded various platforms where they can table their views and concerns.
China has managed to move from just twelve television stations in 1965 to around 700 conventional stations and three thousand cable television stations with a notable number being owned by the state broadcaster.
This promotes competition in program content and helps to develop the communication between the people and the government so that issues can be quickly highlighted and be addressed before the people lose faith in those they have mandated to represent them.
Therefore, radio, television and the internet are the modern platforms upon which people's issues are beingexpressed in China even though there are still some concerns here and there but this can be a result of the fact that there is no outright perfect society.
Because of media expansion, feedback from the relevant authorities can then be quickly and effectively be relayed back to the people and thus propping development since the quicker the information is exchanged, the earlier people can respond to opportunities and threats.
As concerning legal issues, the country has anAdministrative Procedure Lawwhich is set to be amended, a move which is meant to help the people bring the government to book for the issues that they might feel that the authorities are violating.Deuteronomy 1vs.17.
Such developments are healthy and are a conducive environment for societal stability and are an incentive for both local and international investors since they are made to believe that there can be a legal framework for seeking recoursewhen offended in any aspect.
2#Outsourcing Materials and Labour
China is engaged in various initiatives to tap the skills and expertise of foreign nationals to help it measure up with world trends and to deliver a better service for its people just like what the wisdom of Solomon made him do when he was building the house of God in the book of 2 Chronicles 2 vs. 7-9.
In order to achieve that, China have a structure that is mandated with overseeing the issues to do with Foreign Experts, which is the State Administration of Foreign Experts Affairs (SAFEA).
It is responsible for certifying foreign experts to work in the Chinese mainland and organizing overseas training for Chinese technical and managerial professionals.
Under the country's Recruitment Program for Foreign Experts launched in 2008, the changes there-unto seeks to extent the permits for these experts from one year to five years and to improve their living conditions.
This has the advantage of developing the country's infrastructure and is also important for the local citizens who shall be interacting with these specialists since they will be subject to a form of apprenticeship which enables their advancement in knowledge and standard of living.
The Chinese provinces like Anhui have initiatives such as the Huangshan Mountain Friendship Awards established in 1995, which are meant to recognise the contributions made by foreign experts in the province.
3#Corporate Governance and Direct Foreign Investment
Even though there has been some reports on corruption about various Chinese nationals in the government and those who open companies in other countries, there are however outstanding achievements that can be observed in China's corporate sector.
The country's biggest enterprises such as ICBC and the China Construction Bank have made notable footprints world-wide in the area of corporate success and governance as highlighted by their standing on the Forbes List.Proverbs 27vs.23-27.
The Asian country has also opened up to foreign investment, a move which is meant to further bolster its global international standing.
China is home to a fusion of multi-million dollar corporations with the world's biggest banks, hotels, fast foods companies and coffee shops such as HSBC, Sheraton and McDonald's being found rubbing shoulders and making commercial footprints in this Asian country.
Hospitality and a warm atmosphere by the native Chinese is another factor that is seemingly contributing towards foreign investment and the subsequent development of the Chinese economy. Hebrews 13vs.2 Be not forgetful to entertain strangers: for thereby some have entertained angels unawares.KJV
In this case, these 'angels' are the people who have come back to China in the form of tourists and long-term business investors and this have enabled and afforded the same natives and the government a guarantee of food and drink on the table.
4#Contingency Alertness
China has taken precautions and loosened up on its one child policy, a move that is likely to trigger population growth and make sure that the country will not be dependent on foreign labour in the future.
This is in line with the advice offered by Solomon in Proverbs 27vs.12 A prudent man foreseeth the evil, and hideth himself; but the simple pass on, and are punished. KJV
On another note, the country is involved in a rigorous attempt to lure back its foreign trained nationals so that they can come back and develop the country.
All these are attempts to make sure that the country have enough human capital (labour force) in order to make sure that production is in line with the rising local and export demand for goods and services.
This is because of the fact that it is difficult to be efficient and productive without the requisite and sufficient manpower who must do the work as shown by 1-Chronicles 22vs.15.
Even though there are still some considerable disparities in income to the country's workforce, it is necessary to note that income disparities cannot be taken objectively as signifying poor governance since every development will start with some disparities which can be tackled when they are discovered along the way.
Yes, China is not a perfect economy but the principles that are being adopted have been proven by the Bible to be a sure way to succeed in the administration of any institution of which many poor and developing countries can also adopt the same for their own good.
Brian Kazungu is a Media Practitioner, Entrepreneur and an Opinion Leader.
+263 773 539 832, [email protected],@BKazungu-Twitter