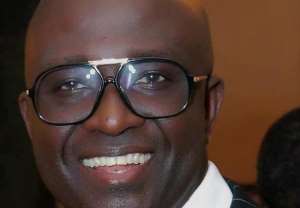 I was a student at the school of Medical Radiology at the Korle-Bu Teaching Hospital, Accra, in the late-80s when Frequency Modulation (FM) stations were first introduced in Ghana. There were no private FM stations as we have them today so the only way we had was from the stable of GBC (BBC-FM).
The station had a lot of varieties of programmes to satisfy every taste; of which was the exciting "HIGH-LIFE AGOGO" on Saturday mornings. That was the dawn of BURGER-HIGH-LIFE and we had prolific artistes as A.B Crentsil, Pat Thomas, Thomas Frimpong, Nana Tufour, George Darko, Felix Darko etc.
Kwesi Kyei Darkwah used to be the regular host of this programme. He was also the host of listeners' choice, a programme which gave listeners the opportunity to request for music to be played for friends and family; and i remember his signature tune of "KKD IS HERE, AND HAPPINESS IS NEAR".
He was also the host of "REQUEST TIME" on GBC-television which was a request programme where viewers were offered the opportunity to request for music(videos) to be played for friends and family; and you will never miss his trade-mark well-tailored suits and matching bow-ties. One of his greatest achievements at the time was the crown of AFRICA'S BEST DJ; a title which later fell onto the lap of Azigiza Junior who is now a minister of the Gospel.
And last but certainly not the least, he used to be the host of what was called "THE GREAT EMBASSY DOUBLE-DO", an annual calendar event organized by MEDIA WHIZZ-KIDS and sponsored by Pioneer Tobacco Company, the makers of embassy cigarettes. The event combined the Miss Ghana and national best dancer contests. Those were the days where personalities as Slim Buster, Gee Mann, Adjetey Sowah and Terry Ofosu-Bright ruled as Ghana's dance champions, His unique slung was something quiet extraordinarily refreshing to the ear.
He later started "THE FINEST PRODUCTIONS" and moved to settle in England. He got married over there but the marriage collapsed and he decided to return home. He was given a good job at Ghana Export Promotion Council but quit the job after a short while.Now, this is a personality with an amazing God-given talent to excel in whatever he does but it looks as if the gentleman has a personal problem which is not allowing him to be well-focused in life and seriously working against his personal progress.
I am, indeed, drawing this conclusion about my good brother KKD following today's information to the effect that he has been arrested for the crime of alleged sexual assault of a 19year-old and currently languishing behind bars at the airport police station. At this point, I will not attempt to make any comment on the case since investigations are still ongoing and it is only prudent that we keep our mouths shut to allow justice to take its normal course.
Indeed, KKD is an exceptionally decent gentlemen and a proud Ghanaian who has a lot in him to positively contribute to his nation and I believe he needs our prayers. This is the gentleman who epitomized the finest in the entertainment industry when some of us were in our late teens and therefore very much into 'break-dance' craze, funk explosion and burger-highlife storm.
KKD had a signature called "THE FINEST" a song by the SOS BAND, and whatever he did behind the console in radio studios actually cemented the point he was indeed, the FINEST. I would therefore like to take this opportunity to plead with the family of KKD to please help him seek help in order to get himself together because the guy has a great deal of talent which certainly must not be allowed to go down the drain.
LONG LIVE KKD, THE FINEST!!!
Justice Abeeku Newton-Offei
E-mail: [email protected]