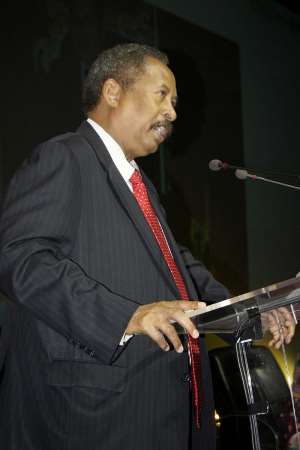 Dr. Abdalla Hamdok
Africa's capacity to feed itself now and in the future remains a major challenge, despite its enormous agricultural potentials to produce enough food for the continent and sell surplus produce.
According to Dr. Abdalla Hamdok, Deputy Executive Secretary, UN Economic Commission for Africa (UNECA), transforming agriculture into a more dynamic commercial-oriented sector will improve productivity, create jobs, generate income and enhance livelihoods.
"Increasing agricultural productivity alone is not sufficient enough to ensure food security," he observed. "Agriculture must gradually transition from subsistence to agriculture as a business in order to achieve the objective of ending hunger and alleviating poverty."
Dr. Hamdok was addressing the opening session of the Fourth Conference on Climate Change and Development in Africa (CCDA-IV) in Marracach, Morroco. The theme for this year's conference is "Africa can Feed Africa Now: Translating Climate Knowledge into Action."
To achieve the set objective, he recommends more value addition, agro-processing and agribusiness as well as improved access to markets.
"Limited access to markets, both at local and regional level perpetuates poverty and food deficiency whereas improved infrastructure would not only open up access to markets but also help address challenges of climate change and facilitating movement of food from areas of surplus to those that suffer crop failure due with impacts of climate change," noted Dr. Hamdok.
Agriculture remains the single most important sector in many African economies, accounting for at least 30percent of national incomes and forming the bulk of export earnings. But the continent continues to spend colossal amounts of money annually – between $40-$50billion – importing agricultural products, inspite enormous resource endowment, unutilized arable land, fresh water resources and human capital to produce sufficiently.
Dr Fatima Denton, Director, Special Initiative Division, noted that Africa is missing the opportunity to use agriculture as a foundation for industrial pathway.
"Agriculture has not served as a transformational hub in fuelling economic growth and propelling industrialization," she said.
She however there is a major opportunity in turning agriculture in Africa as the engine of development.
"This will require a deep reflection not just about producing more food, but also how we produce it using SMART agriculture for example," said Dr. Denton.
Dr. Hamdok wants scientific and technological interventions and innovations efficiently harnessed to transform the agricultural sector.
"The availability of reliable and sufficient energy to drive this transformation process is critical across the entire agricultural value chain," he stated.
According Ms. Yacine Fal of the African Development Bank (AfDB), the CCDA-IV is an opportunity for the Bank to hear from experts and stakeholders in designing its new agriculture strategy.
"We are convinced that the recommendations that will come from this important conference will be soon translated into actions by our respective countries. For our part, we stand ready to support any and all actions that are bankable and fall within the remit of the African Development Bank Mandate," she said.
Story by Kofi Adu Domfeh