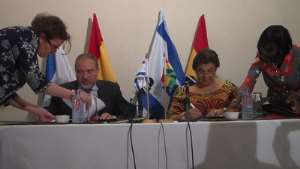 Hannah Tetteh and Avigdor Liberman signing the MOUs
Hannah Tetteh and Avigdor Liberman signing the MOUs
The level of investments by Israeli businesses in Ghana has exceeded $400 million, Sharon Bar-li, Israel's Ambassador to Ghana, has noted.
Speaking at an Israel-Ghana Executive Business Summit in Accra on Monday, she disclosed that trade between the two nations was impressive.
The summit was attended by a high-powered Israeli business delegation to Africa, led by its Foreign Minister, Avigdor Liberman and members of the Ghana Investment Promotion Council (GIPC) and other business leaders in the country.
Israel, she said, would contribute to the success of Ghana's agricultural sector by introducing new technologies.
She noted that Israel's technological advancement and Ghana's rich natural resources would make trade between the two countries mutually beneficial, adding that 'Israel will share her technical know-how with Ghana and in turn get the natural resources it lacked from Ghana.'
'Ghana has a bright future for investment and trade,' she said.
The Minister of Foreign Affairs and Regional Integration, Hannah Tetteh, assured the Israeli delegation, comprising of 50 firms, who are on a 10-day trade mission to Rwanda, Ghana, Ethiopia, Kenya and Cote D'Ivoire, of a safe business environment in Ghana.
According to her, 'Ghana is open for investments and it is open to Israeli investors, diplomacy has moved away from the political space to the economic space.'
Mr. Liberman stated that Israel would 'double its investment in the Ghanaian economy.'
He stressed the need for Ghana and Israel to constantly revive and strengthen their trade relationship.
'We need to strengthen our business relationship. Israel has a high-tech industry and we are ready to share our knowledge with our Ghanaian counterparts,' according to the Israeli's Foreign Minister.
Meanwhile, the Chief Executive Officer (CEO) of GIPC, Mawuena Trebah, in a presentation, highlighted key sectors of the economy.
According to her, the tourism and hospitality, financial, electronics, real estate, Information and Communication Technology (ICT) and the telecommunication sub-sectors of the economy, among others, were some areas Israelis investors could venture into.
Meanwhile, two Memorandums of Understanding were signed between the two countries.
The first MOU is expected to enable spouses of diplomats of Ghana and Israel work within the two countries whilst the second MOU is a joint declaration, which would summarize the outcome of the envoy's visit to Ghana.
By Melvin Tarlue