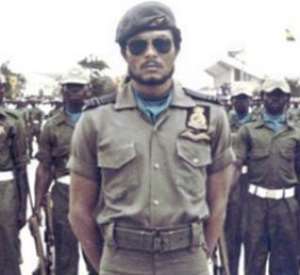 In a speech at Adidome High School a weeks ago, Ex President Jerry Rawlings described how under his chairmanship in the AFRC era, he instructed his fellow commandants to destroy the Makola Market ,in his view the epicenter of Ghanaian corruption at the time. Interestingly under his incubated NDC government, not only has Makola burned down but any almost every other major market is being destroyed through the harshest of fires, the kind of which is only seen in movies. His orders then were that no explosives be used in his instructed destruction, probably out of compassion. His method of exorcising the rage and anger was interesting enough to have found its way to modern times under the party he founded.
At least he did not require anybody's vote to hide behind technical malfunctions like we see happening now in this apocalypse. What beats me is why our anonymous "arsonists" would set their eyes on these major markets and no other places .As written about previously; rumors have been percolating for well over 10 yrs that precious lands where these local markets find themselves are needed for some form of infrastructural development. Rather than risk the wrath of our beloved traders who tend to be some of the most active persons(alities) within the citizenry during our sporting or political activities, by openly pushing them to vacate their business premises, unknown arsons have mysteriously cropped up to carry out these vile guerilla attacks.
Personally, I am pro-development and have no problem whatsoever with any plans to effect a structural change within the country's most prominent cities but destroying peoples sources of income with no forms of compensation is beyond despicable especially in a country like Ghana where most college graduates regardless of their field of studies are all ending up as tellers in banks. Beyond the traders who have lost their jobs and in some cases life-savings, are the many suppliers and wholesalers and farmers who may lose significant business by having to cut down on trade to the retailers. Also impacted would be precious jobs which may have been indirectly linked to the trading in these fire-razed souks. Again, the best way to transfer these traders, although many would resist, is to provide alternative places for their business activities whiles also compensating them in some form for the cost incurred for abdicating their current premises.
Mr Rawlings' rational for the destruction then was that the general student body and Ghanaian populace was demanding some form of accountability, hence the need for Makola to go. In his words, "the Kalabule was so strong that if we hadn't done what we did they would have killed the women". Well, there is another 'Kalabule' actively permeating all corners and halls of government with such endearing names as Gyeeda, Sada etc; and the whole of Ghana is suffering once more. Now though, the stench is highly diffused within the party he so passionately calls his. I wonder what commands he would bellow-out to his cadres now. GYE NYAME!
Fiifi Ofori
[email protected]