Ex-junior Springbok Melck relishing Germany debut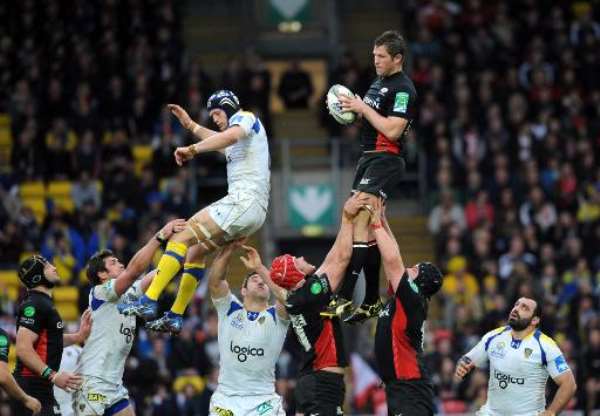 Saracens flanker Justin Melck (R) catches the ball during a European Cup rugby match in Watford, England on April 8, 2012. By Olly Greenwood (AFP/File)
Berlin (AFP) - Making an international debut in your 30s is rare, but South African-born Saracens flanker Justin Melck is relishing his chance to help minnows Germany qualify for the Rugby World Cup.
When his Saracens teammates take on Clermont Auvergne in Saturday's European Cup semi-final, Melck has been released to pull on the jersey of his ancestors in a test against Sweden in the unlikely rugby outpost of Stockholm.
Cape Town-born Melck, 31, who has a German passport and whose mother hails from Gondelsheim, near Karlsruhe, admits he knows little about his new team-mates and has taken some teasing from within the Saracens squad.
"I'm really excited about it," Melck, a former junior Springbok, told AFP.
"I am not sure the skill levels will be as high you get in professional rugby, but it'll be good, straight-running rugby, just the way I like it.
"There has been some banter from the Saracens boys, you could hear the German national anthem at a training session for example.
"But there are guys like Chris Wyles, who plays for the United States, and Jacques Burger of Namibia, who play for the smaller nations.
"You see these guys come back from playing, the effort they put in and their passion to help their countries. I'm looking forward to being a part of that."
Melck played for South Africa Under-21s, alongside the likes of future stars Bryan Habana and Ruan Pienaar, which finished third at the 2004 Under-21 World Championships, as it was then known.
He captained Western Province and played Super 14 rugby for the Stormers before joining England's Saracens in 2009 after a brief spell with Munster.
Having made 77 appearances for Saracens since making his debut against London Wasps in 2009, Melck is one of only a handful of professional players in the Germany squad.
- German lessons on the farm -
Lengthy visits from his German relatives to his family's farm in South Africa as a youngster helped him learn the language and he is relishing representing Germany.
"I spoke to my agent about it at the start of the year and he got in touch with the German Rugby Union (DRV) and it all went from there," explained Melck.
"I've been around the block a few times and we have a few guys back from injury, so I wasn't needed for the European Cup semi-final."
A bonus point victory for the Germans in Stockholm will secure promotion to the European Nations Cup 1A, the top European tier beneath the Six Nations which includes Georgia, Romania and Russia, as winners of the 1B division.
Germany can still qualify for next year's World Cup, but must finish top of their group, then beat the Netherlands, followed by Russia in May to progress to the repechage stage.
From there, the Germans would need to beat one of the African qualifiers just to progress to the final play-off.
Germany have never previously qualified for a World Cup, but Melck is unperturbed.
"You have to believe, there are some tough games ahead of us, but it's knock-out rugby," he said.
"I've had a lovely career and it would be unreal to play in a Rugby World Cup in England.
"I don't know how much longer I have left in the game, there have been offers to play in France and my wife and I have one eye on one day moving back to Cape Town.
"But sport is a funny business and you never know what can come up."