MOBA 1984 Gives GH¢100,000.00 For Dispensary Expansion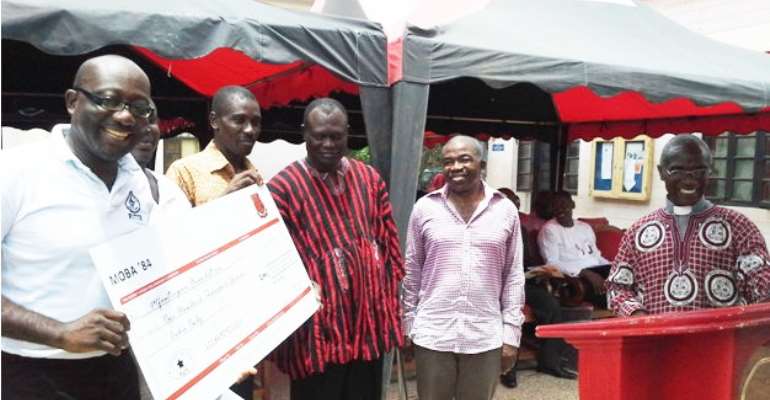 The Mfantsipim Old Boys Association (MOBA) 1984 Year Group has presented a cheque of one hundred thousand (GH¢100,000.00) Ghana Cedis only to the School as part of their pledge towards the School's Infirmary Expansion Project at the last Founders' Day celebrations.
The highlights for the day also included another presentation by the MOBA 1978 Year Group of twenty (20) pieces Flat Screens desktop computers for the School's ICT Centre.
Another related event was the inauguration of various committees, including the Sponsoring Year Groups' Speech Day Committee; Publicity / Media & Events Brochure Production; Joint Committee for School Planning Committee; and National Fund-Raising Dance, Speech Day Cocktail & Saturday Dinner Committees for the 138th Speech Day, scheduled for Saturday, 8th November, 2014 under the theme: "DEVELOPING A KNOWLEDGE-BASED ECONOMY FOR GHANA: ROLE OF SENIOR HIGH SCHOOLS".
Later in the day, a delegation of Old Boys of the School (MOBA) paid a courtesy call on the Oguaa Omanhen and President of the Oguaa Traditional Area, Osabarima Kwasi Atta II and the family of John Mensah Sarbah.
The delegation which was led by Mr. E. Ernest Kwesie, included Nana Kobina Nketsia V, Omanhen of Essikado Traditional Area; Mr. J. K. A. Simpson, Headmaster of Mfantsipim School, Mr. Jojo Ronald Duncan, Chairman of the PTA; Mr. Ekow Budu-Manuel, MOBA 1983; and Mr. Magnus RexDanquah, member of the School Board.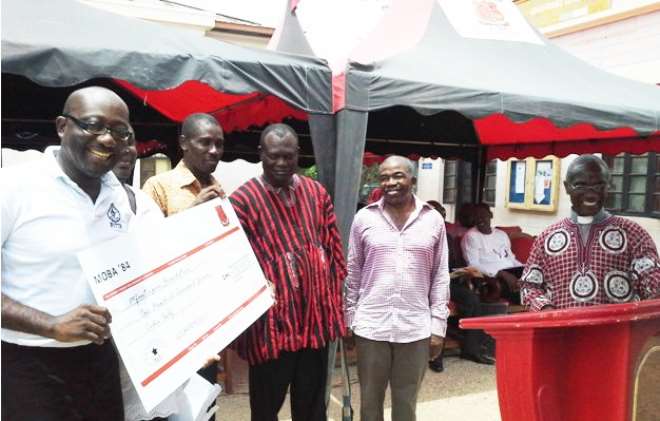 Mr. Menser Ben Crentsil, MOBA 1984 (Left) With The Dummy Cheque For GH¢100,000.00, Whilst(From Right) The School Chaplain, Rev. George Affum; Mr. Magnus Rexdanquah, Member Of The School Board; Mr. J.K.A. Simpson, Headmaster; And Mr. S.K. Yeboah, Assistant Headmaster, Administration