ARISE GHANA YOUTH SERIES: EPISODE 1
GHANAIAN YOUTH AND THE INTERNET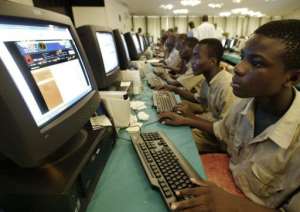 The Ghanaian youth is becoming sophisticated with the use of internet especially social media. Social media is the interaction among people in which they create, share or exchange information and ideas in virtual communities and networks. According to Nielsen, internet users continue to spend more time with social media site than any other type of site. Mobile social media refers to the combination of mobile devices and social media. The internet has many uses and the business community is using social media for market research, communication, sales promotions, discounts, relationship development and loyalty programs, E-commerce etc. What is the Ghanaian youth using the internet for?
According to Internet Users, Population and Facebook statistics for Africa 2012; Of Ghana's 25,292,392 population, internet users by the end of June 2012 was 3,568,757. The population penetration was 14.1% and facebook users were 1630,420. Growth in Africa's internet and Broadband sector has accelerated in recent years due to improvements in infrastructure, the arrival of wireless access technologies and lower tariffs. Consumers continue to spend more time on social networks than on any other category of sites-roughly 20% of their total time online via personal computer and 30% of total time online via mobile. Enter any internet café on campus or even outside campus and check the websites they are browsing. You will be surprised how we use the internet.
Moreover, every Ghanaian youth wants to use a smartphone which can support mobile applications. But ask yourself these questions; how many hours do you spend on social media? How many hours do you spend on downloading sites? How many hours do you spend on search engines? The rate at which the Ghanaian youth is abusing the internet is alarming. Some of them have turned to online gambling and so you see them browsing websites like Supabet and Safaribet just to mention a few. I get discouraged when students who should be agents of change in society are now gambling online. What has gone wrong? It might interest you to note that, some tertiary students across the country spend a lot of time with their phone and personal computers browsing websites that does not directly benefit them.
Another disgusting thing is the use of the internet for online fraud or scamming. This is where people dupe foreigners and at times nationals just to make money. This is becoming normal phenomenon among Ghanaian youth and has contributed to the blacklist of Ghana from using Paypal which is an online payment system. Some Ghanaian youth are also found of using people's credit card to shop online.
Majority of us Ghanaian students are on the numerous social media platforms, what are we using it for? The Ghanaian youth is faced by so many plights of which the greatest is unemployment. Issues of corruption in recent times have dominated our airwaves and how is the Ghanaian youth using his or her social media platform to curb this menace. The platform can be used to report on corruption to authorities for appropriate action to be taken.
Consequently, the youth can use facebook, whatsup, instagram, telegram, hi 5, twitter to do online marketing of the goods and services they produce which would boost sales and profits. I am looking forward to a time where the youth would mobilize through social media to discuss national issues and register their displeasure on governance in this country. Arise Ghana Youth for your country…!!!
Amoah-Darkwah Emmanuel
Integrity Ambassador and Associate Chartered Economist