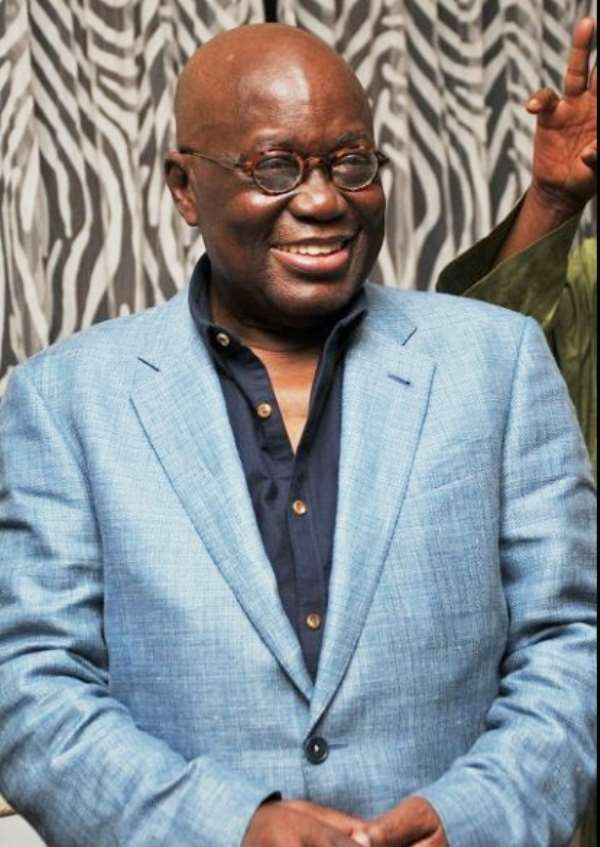 Nana Addo Dankwa Akufo-Addo, the twice defeated presidential candidate of the NPP is well noted for his political fanfare, dribbling skills and antics. Do you remember that Akufo-Addo was going to ride on an elephant from the Kwame Nkrumah Circle to the Independence Square in Accra to be sworn-in as President and Commander-in-Chief of the Ghana Armed Forces if he had won the 2008 presidential elections?
The NDC fraternity knows Nana Akufo-Addo very well. In fact, they know his numbers; therefore, nothing that Nana Akufo-Addo does surprise the NDC. That is why the antics and political dribbling schemes that Nana Akufo-Addo adopted to bury his shame after the Supreme Court justices threw his election petition to the rubbles is no news to the NDC fraternity.
Now we are hearing that Akufo-Addo who has stated repeatedly that he went to London to seek the face of God concerning his political future is finally going to spill the bean on his future political direction on Thursday March 20, 2014. But even before the NPP folks could read into the real intentions of Akufo-Addo, he himself put the cart before the horse that he was on. Akufo-Addo is running for 2016.
And what was the reaction from the NDC? Bring him on! Beatable Akufo-Addo will be beaten again by President Mahama and the NPP will continue to gnash their teeth. If there is any political party that is not so savvy and does not have political strategists who can take deep dives and read between the political lines, I guess the NPP pales to none.
Nana Akufo-Addo is a beaten political horse or an old political dog having nothing new to offer or no new tricks under his sleeves. The NDC family is right with the prediction that the NPP folks will bring Akufo-Addo back on for 2016. I guess the NDC is smiling to the bank. I have said it multiple times that there is no way Nana Addo Dankwa Akufo-Addo will ever be president of Ghana.
I will not only eat my own shoes but promise to eat that of Nana Akufo-Addo's if ever he becomes the president of Ghana. Nana Akufo-Addo has never told Ghanaians why he wants to be president except that his dad was once a ceremonial president, therefore, he thinks it's his right to also become the president of Ghana.
We have a politician who simply thinks that by being critical of past governments gives him the cardinal right to rule the nation. That is why apart from drawing the sea all the way from Accra to Kumasi; Nana Akufo-Addo has nothing good to promise Ghanaians. He simply does not have what it takes to be president except making huge unattainable promises.
I want to repeat that the NDC knows Nana Akufo-Addo's numbers and how they can beat him again and again. Even though the 2016 campaign will be tough because of the unchartered waters the country's economy is going through, Akufo-Addo will be toast at the end of the day.
There are some people who are born to be presidents, but Nana Akufo-Addo is certainly not one of them. He will never be president of Ghana! Period!
[email protected]
http://majjacks80.blogspot.com