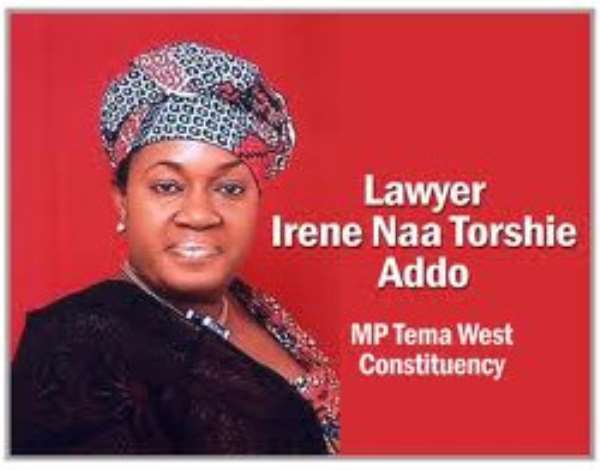 If you are a Member of Parliament (MP) and you are virtually redundant and your constituents hardly see or hear about you deeply thrust in discussions of national importance in Parliament, you tend to make hay in the spotlight when you get the least opportunity in order to let people know that you are still around.
Irene Naa Toshie Addo, MP for Tema West, a lady who never mentions or writes her name without letting everybody know that she is a lawyer has been in the news lately following the property demolition exercise carried out by the Tema Development Corporation (TDC) at Adjei Kojo in January.
A day after the demolition exercise, Naa Toshie who had gone to empathise with the victims at Adjei Kojo played a lot of gimmick that sought to portray that she was even one of the victims.
When Naa Toshie saw the cameras, she realized that it was a good opportune time to play to it in order to get the most out of it. Did you hear a whole MP, a lawmaker and a trained lawyer who goes by the name Irene Naa Toshie Addo slugging it out with the security personnel who have been deployed at the demolition site?
In case you missed it, Naa Toshie started insulting the security personnel and went further by daring the security personnel to shoot and kill her. Hear Naa Toshie in her own words, "I am ready to die, shoot me, and kill me because that is what you are trained to do".
Never have I heard nor will I probably see a lawmaker dropping so low by daring security personnel to shoot and kill her. I don't know what Naa Toshie was thinking, but my guess may be that she was trying to weep more than the bereaved.
And to make matters worse for Naa Toshie, she decided to add things up in order to gain some cheap fame in the eyes of Ghanaians. It is on record that about 60 structures were demolished by the TDC during the exercise, but Naa Toshie multiplied it by eight (8) and stated again, and again, much to the annoyance of her own NPP folks that the TDC demolished over 500 homes. What insincerity!
But just when Ghanaians were beginning to see through the real intentions of Naa Toshie they got the rudest shock by another antic of hers. The Parliamentary Select Committee on Works and Housing held a meeting to deliberate on the Adjei Kojo demolition issue but Naa Toshie who is not a member gate-crashed the meeting and demanded to be made a member of the committee. When that strange and unprofessional behaviour did not fly, Naa Toshie accused the committee of having been compromised and demanded its dissolution.
This is the kind of MP leading the people of Tema West. Apart from making things up to score cut-rate political points, Naa Toshie is jumping everywhere and making mistakes upon mistakes which are badly affecting her reputation and political career. If you have an MP who can lie that 500 instead of 60 houses were demolished then God save you if you happen to live in her constituency.
Nobody liked what happened at Adjei Kojo, but let's face it, Ghana is gradually becoming a lawless country where people flout the laws with impunity. But strangely enough we have a lawmaker who happens to be a trained lawyer cheering those who attempted to steal the land belonging to the TDC.
When the Parliamentary Select Committee on Works and Housing met and concluded that the TDC was justified in demolishing the houses because it has proven beyond reasonable doubt with relevant documentation that the land belonged to the corporation and that those properties that were demolished were developed illegally, Naa Toshie was still making fun of herself by attempting to defend what was wrong.
I am looking for the day that somebody will jump on a land acquired by Naa Toshie and develop it and see what the reaction of Naa Toshie will be. I would like to see if out of "humanitarian" grounds, Naa Toshie will let it pass and not demand her land back by seeking redress.
In Ghana it is gradually becoming a norm for human face to be equated for wrongdoing. Out of nowhere, you will see somebody selling roasted plantain at a certain corner. Not long afterwards, you will see another petty trader joining the fray to sell water. Before long, you will see an illegal structure emerging. Give it two to three years and that small area can qualify for a mini slum.
When these structures are eventually pulled down, you will see all manner of people pleading for those involved in that illegality. I have no one to blame than the municipal authorities who have renege on their responsibilities of ensuring that such illegal structures do not emerge in the first place.
Government spend a lot of money to pay workers of the municipal authorities, but they see these emerging illegal structures and do nothing until it gets to explosive situations before they move in to flatten them. This to me is an act of the highest irresponsibility on the part of these municipal officials. The inactions of these municipal authorities have contributed towards the problems we have about land encroachment today.
But Naa Toshie must not pull behind these land encroachers by attempting to be a heroine. It does not help Naa Toshie and her blatant attempt to remake herself through the backs of these land encroachers.
[email protected]
http://majjacks80.blogspot.com