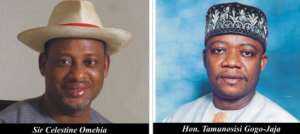 Rivers Ex-Gov, Fmr House Leader Decamp To PDP The exit of Governor Chibuike Rotimi Amaechi and a few of his loyalists from the Peoples Democratic Party, PDP, appears to have opened the floodgate for notable Rivers political leaders and those that were frustrated out of the party to troop back into their former party.
Among the eminent politicians that have staged a comeback to PDP include the former state governor, Sir Celestine Omehia who contested the 2011 governorship election on the platform of the All Progressives Grand Alliance (APGA).
Also back into the PDP fold is Hon. Tamunosisi Gogo-Jaja, the erstwhile House Leader who represented Opobo/Nkoro State Constituency under Rt. Hon. Chibuike Rotimi Amaechi as Speaker.
Hon. Tamunosisi Gogo-Jaja also contested the 2011 election as running mate to Sir Celestine Omehia.
Both prominent politicians and statesmen who allegedly left the PDP previously because of Amaechi's unacceptable leadership style have reportedly registered with the PDP in their various wards.
Information at our disposal has it that the party chieftains decamped from their former party with all their supporters and are poised to ensure that the lofty ideals that made the PDP thick are restored with the exit of Amaechi.

2014-02-12 133037