'ACHIEVING BETTER GHANA AGENDA'; ACCESSING THE PRESIDENT'S PERFORMANCE AFTER ONE YEAR.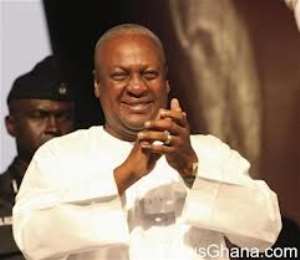 On 7th January, 2014, the president of the republic of Ghana, His Excellency John Dramani Mahama had a press conference at the flagstaff house which brought together senior journalists from far and near to access his performance over the past year. This exercise was a step in the right direction because it deepens our fledgling democracy. Good governance has eight major characteristics which are participatory, consensus oriented, accountable, transparent, responsive, effective and efficient, equitable and inclusive and follows the rule of law. It assures that corruption is minimized, the views of minorities are taken into account and that the voices of the most vulnerable in society are heard in decision-making. It is also responsive to the present and future needs of society.
Our democracy has been hailed by a lot of countries and inter-governmental organizations all because of our commitment to tenants of democracy and good governance. Journalists meeting the president to comment on pressing issues that affects our country falls in line with government's dedication to improve the living standards of Ghana's. But I have some observations to make about this press conference. Firstly, the President in his address made statements like 'I have directed…., I have is asked….., I have issued a…., among others. I am worried about such statements even though it shows that he has control over his government but the question is, do these directives have timelines? Ghana has gotten to a stage where citizens are tired of talks that result in little or no action. A hallmark of a good government is quick response to pressing issues especially those that drain our coffers like corruption. The fight against corruption is not in words but in action. The president must ensure that, his subordinates meet deadlines to improve living standards of Ghanaians.
Secondly, for this country to achieve its economic targets like employment, inflation, gross domestic product, strong economic policies must be put in place because the weak economic policies can't work any longer. Excessive taxation is not the solution to our economic woes. The tax burden on some sectors is just too much but we fail to tax a lot of people in the informal sector. A country of about twenty-five million (25m) people that uses about seventy-four percent (74%) of its revenue to pay its workers. This is highly unaccepted for a lower middle income country even though some institutions have been removed from the wage bill, more can be done to increase our revenues. Again, the ministry of finance and economic planning and other stakeholders must put in pragmatic steps to rectify this anomaly.
Thirdly, we have heard time and again that, our educational institutions should produce graduates that would be readily absorbed by our industries. But let me ask this question, how many government manufacturing factories are still operational? The educational institutions must not only take the blame for graduate unemployment but successive government must be blamed. Is about time government diversify our economy to reap the benefits that comes with international trade and investment. Thousands of graduates are produced every year but only a few end up getting jobs. Its quite unfortunate how expensive education has become in Ghana only to complete and be told there are no jobs.
Consequently, a lot of calls have been made for fresh graduates to go into entrepreneurship but the environment is just not conducive. The cost of credit is just too high in Ghana and we don't have special packages for fresh graduates who want to start their own businesses. I suggest that, the National Service Policy must be revised totally to include a lot of entrepreneurial skills and funding for fresh graduates to create employment.
The private sector is said to be the engine of growth of our economy but it's unfortunate we are killing our own private sector. The escalating utility bills, import duties, taxes and cumbersome regulations at the ports are killing our business. How do you expect businesses that operate under these conditions to survive the fierce competition from China, Europe, America etc.
One critical observation I made about this government is that, government is quick to levy taxes but not interested in accounting for the monies contributed. Going forward, I urge the President Mahama administration to block the numerous loopholes that continue to cost the nation millions of cedis. Institutions responsible for fighting corruption must be empowered to deliver on their core mandates. I wish President Mahama and his government well in office and call on Ghanaians to rally behind the leadership to deliver on their promises to us. Long Live Ghana….
AMAOAH-DARKWAH EMMANUEL
INTEGRITY AMBASSADOR
[email protected]
0245-683297