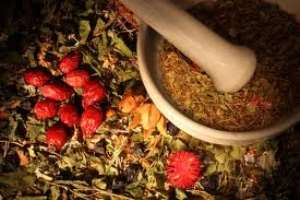 ABOUT FOUR billion people, (80% of the World population) presently use herbal medicine for primary healthcare, the World Health Organization (WHO) has estimated.
Dr. Richmond Amo, a lecturer at the Kwame Nkrumah University of Science and Technology (KNUST) and the first president of the Ghana herbal Medical Students Association (GHEMSA) made this known at the 10th Anniversary celebration of the department of herbal medicine, on the theme: 'The future of herbal Medicine, the Role of students Medical Herbalists -A decade of promoting safe, complementary and alternative Medicine.'
He noted that of 199 plant-derived pharmaceutical medicines, about 74% are used in modern medicine in ways that correlates directly with traditional uses as plant medicines by native culture.
Dr. Amo said major pharmaceutical companies are currently conducting extensive medical research on plant materials gathered from the rain forests and other places for their potential medical values.
According to him, increasing public dissatisfaction with the cost of prescription medications, combined with an interest in returning to natural or organic remedies, has led to an increase in the use of herbal medicines in the last twenty years in the United States.
He said about 600 to 700 plant-based medicines are available and are prescribed by approximately 70% of German physicians. He said, herbal medicine has been with us since antiquity 'because our ancestors used herbal medicines effectively to treat and manage a number of illnesses and it is still being used extensively today.'
He observed that most herbal medicines work effectively and even in some
instances better than orthodox medicines.
Dr. Amo underscored the importance of exploiting   all the knowledge available on herbal medicine in order to develop it and try to regulate the practice and production of herbal medicines.
He entreated the students at the KNUST to build on their potentials one of the most valuable assets and useful groups the country required  to make primary healthcare delivery complete, as they will be very useful in helping to develop the important but neglected system of medical practice.
He revealed that many important and powerful drugs being used in orthodox medicine today were obtained from herbs.
According to the university don, there are other potentially useful medicinal plants which have never been explored and that 'nature is giving us a second chance to take a critical look at its richness, in terms of herbal and natural remedies to treat and effectively manage disease conditions.'
He stressed that in spite of the fact that herbal medicine was culturally more acceptable and preferred by most Ghanaians, it has not been developed to meet the health needs of Ghanaians.
Dr. Amo, however, said the future of herbal medicine has been undermined by some challenges, which he said include poor hygienic practices in their preparation, lack of standardization in producing herbal medicine, the infiltration by charlatans who have tarnished the image of herbal medicine and the unwillingness of our herbalists to subject their preparations to efficacy and safety studies.
Dr. Kofi Annan,  Head of Herbal medical department at the Kwame Nkrumah University of Science and Technology (KNUST) charged the students of Ghana Herbal Medical Students Association (GHEMSA) to be the most valuable assets and useful groups the country will need in order to make primary healthcare delivery complete.
'We should be able to combine the advances made in the field of pharmacology, photo-chemistry, pharmacognosy, microbiology, pathothology, human anatomy and physiology, chemical pathology, molecular biology and modern diagnostic techniques, with their knowledge of herbal medicine in order to derive the maximum benefit from both, which he said is the reason the KNUST established the Degree programme in Herbal Medicine.
Mr. Ebenezer Agyemang, Public Relations Officer of the Ghana Herbal Medical Students' Association (GHEMSA) said the Association was considering partnering with responsible stakeholders to promote safe, quality and effective medicines and to help combat the ''evil'' in the field of herbal medicines.
He said GHEMSA would partner the Food and Drugs Authority (FDA) to embark on numerous activities to educate the consumers as well as the practitioners of Herbal medicine.
Rudolph Mensah, President of (GHEMSA) said a revolution was taking place since the whole industry was turning herbal and that world might turn herbal because it is expected to rely on herbal medications to help solve its health needs.
He noted that the time had come that nature is allowed to cater
for the health needs of the people while the industry brings science to bear on the practice and products.