"If the kitchen is too hot, leave the country" – Nunoo Mensah tells labour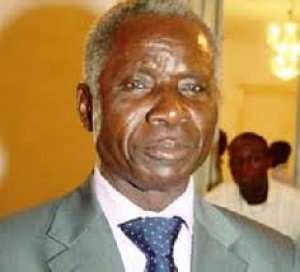 National Security Advisor, Brigadier-General Joseph Nunoo-Mensah (Rtd.), has strongly condemned the increasing number of industrial actions on the country's labour front.
According to him workers cannot be allowed to embark on strike when their salaries have been increased several times under the single spine pay structure.
"When our doctors and teachers call strike every day and issue ultimatum to government then something is going wrong; we can't allow that to happen," he stated.
Brigadier – General Nunoo Mensah said people who cannot sacrifice to help in the development process, should leave the country. "Since the coming into effect of the single spine pay structure most people have gotten salaries three times or more to what they were getting before and we are calling strikes every day.''
"If you don't want the job, Ghana is not a police state. Take your passports and get out of this country and don't destroy the country for us; if you can't sacrifice like what some of us have done, then get out. If the Kitchen is too hot for you, get out,'' he added.
The National Security Advisor was speaking at a ceremony to commission a nine unit classroom block for the Oreilly Senior High School in Accra, a project he personally funded.
Brigadier General Nunoo Mensah said until Ghanaians learnt to sacrifice for the nation, Ghana will never develop
By: Evans Effah/citifmonline.com/Ghana