Rlg Introduces Two Android Phones Across West Africa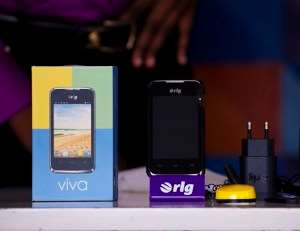 West Africa's biggest ICT and mobile phone manufacturing giant, Rlg, has introduced two new android phones – the Viva and the Fusion Ignite – across Africa.
The outdooring took place simultaneously in Ghana, Nigeria and the Gambia, where the company has a huge presence and commercial patronage.
According to the Retail and Key Account Manager of Rlg Ghana, Keiko Watanabe, the two new android phones were introduced to satisfy the needs of customers.
  'Day in, day out, our customers all over Africa were asking us when we were going to create android phones to meet specific needs, so we first introduced the Viva on a test basis, and it sold in 3 days.' She told journalists at the Rlg Ghana unveiling, which took place at the company's showroom in Osu.
The Viva runs on the Android 4.0 OS, with both 3G and WiFi functions, dual SIM and good battery power to support such functions. It has a 3.5 inch screen, which gives you just enough viewing space for videos, Facebook and other social media, plus a cool camera view. It also comes with a cool blue colour and grip-based back cover, plus a white colour option.
For users who prefer smartphones with big screens, the Fusion Ignite will be a better option, since it comes with a 5.0 screen.
The unbeatable pricing of the product, coupled with its durability, is what Keiko Watanabe believes would set them apart from the other android phones on the market.
The devices are very affordable and very easy to use. It is targeted at the youth mainly, but functionally to all who want a first time smartphone experience. The Viva now comes with a special deal: each package has in it a FREE portable charger called SMART CHARGE – Rlg's very own portable mobile charger.
'It would be very good to have one and use it. It can match with the already existing smartphones which have similar specs,' Djamson Djah, a customer, remarked after he was offered a hands-on experience after the launch.
The Viva 1 and the Fusion Ignite are a part of a host of new products Rlg plans to release before the end of the year.
The launch in Nigeria and The Gambia was witnessed by a large number of people, most of whom were thrilled by the quality of an African brand.
Last year, one of the company's products, the G51 TV Phone, was adjudged the Product of the Year by the prestigious Chartered Institute of Marketing Ghana (CIMG).