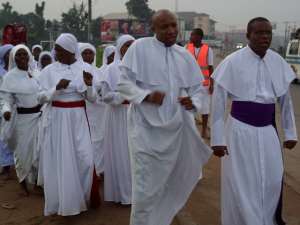 Former Chairman, Caretaker Committee of Ukwa West Local Government Area of Abia state and Brotherhood of the Cross and Star Leader's Representative for the state, Apostle Michael Ikeokwu Nwankwo has charged people of the state to obey the voice of God in order to enjoy his blessings.
Nwankwo gave the charge during a National Missionary Crusade organized by the Abia state wing of Brotherhood of the Cross and Star, in conjunction with the National Missionary Crusaders' Fellowship at Abai Community Primary School, Aba, Abia State.
According to him, the surest solution to the problems of the state, Nigeria and the world at large is for man to surrender to the will of God and obey his injunctions.
He described love as the greatest of all God's commandments, even as he urged the brethren to recognize and worship God in spirit and in truth.
The Abia Leader's representative described the Aba Missionary Crusade as spiritually significant, arguing that the exercise has subdued the forces of darkness in the area.
Also speaking, Field Marshal of the Brotherhood of the Cross and Star Missionary Crusaders' Fellowship, Bishop Isaac Ekeh charged members of the Fellowship on discipline.
According to him, 'Crusade Executive Council members should spend more time in inculcating more discipline in the brethren. Once they are disciplined and embrace the teachings of the Holy Spirit, they will overcome all challenges.'
He further advocated for regular training Sessions in order to equip the brethren for the daunting tasks ahead.
Adding his voice, Chairman, Universal Missionary Crusade Fellowship, Nigeria, His Lordship, Bishop Joseph Dike described evangelism as 'a way of witnessing testimonies, testifying of the goodness of God, and a means of showing appreciation to God for selecting us and calling us into His Kingdom.'
According to him, without evangelism, the word of God cannot go round and the children of God cannot be blessed.
He drew his witness from: John 24, adding that the message of the new Kingdom shall be preached to all nations and be a witness to all people before the end shall come; and Matthew 24:14. He described Evangelism as a source of God's blessings.
Highlights of the event were: visitations to dignitaries, Open- Air Service with the theme, 'Follow Peace and Holiness,' with Bible texts drawn from John 2:29, 14: 6; 2nd Timothy 2:19, 2nd Peter 1:19 and Matthew 21: 32 to the end; radio discussion programme on NTA, BCA on the existence of Brotherhood of the Cross and Star, group procession round the major streets of Aba and a two by two evangelism, covering the length and breadth of the state.
The event was attended by very important dignitaries, among whom are: His Lordships, Bishop Joseph Dike, P. U.T. Ibeabuchi (BCS Spokesman), Salem Edosonwan, Ikpeme Johnson, Isaac Ekeh and Spencer Oyibo; Editor of the New Kingdom Trumpet, Senior Christ Servant Walter Duru, members of the Abia State BCS Executive Council, among others.