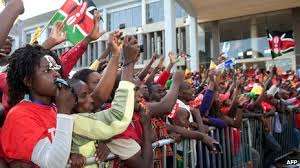 Thousands of Kenyans would be trooping the Moi International Sports Centre on Tuesday to witness the swearing-in of President-elect Uhuru Kenyatta and his deputy William Ruto.
Mr. Kenyatta becomes the East Africa country's fourth President, following a Kenyan Supreme Court declaration upholding preliminary results of the March 4 election.
His main challenger, Raila Odinga, had contested the poll numbers, claiming that rigging had contributed to an outcome in which Kenyatta avoided a run-off by just 8,000 votes.
But the Supreme Court asserted the election was free and fair, rejecting claims by the opposition candidate that the electoral process was tainted by rigging.
Mr. Odinga accepted defeat at a press conference, bringing to a close weeks of uncertainty following the polls.
Significantly, Ghana's judicial system has been on a spotlight as the Kenyans swiftly dealt with the election contest in court.
"The greatest criticism about Ghana was the fact that the Supreme Court didn't have a time limit to make a judgment of the Presidential petition", stated Emmanuel Onyuago, an online Sub-Editor of the Daily Nation Newspaper.
According to him, the Ghanaian case was cited during Kenya's two-week window for the Supreme Court to issue its verdict on the election dispute.
"In as far as we look up to Ghana as a role model, I think this was one area that people faulted the Ghanaian system", he added.
Ghana's Supreme Court has set April 16 to begin the trail of the Election Petition filed by Nana Akufo-Addo, presidential candidate of the opposition New Patriotic Party (NPP), his running mate, Dr. Mahamudu Bawumia and the party Chairman, Jake Obetsebi Lamptey, challenging the 2012 presidential election results.
Tuesday's inauguration of Mr. Kenyatta has been described as a day of pride for Kenyans as traders within the city centre of Nairobi cash in on the portrait of Uhuru Kenyatta. For many, the day could not have come any best way, especially after the lessons of the 2007 polls.
"Kenyans should be excited!" exclaimed Caleb. "I think there were sufficient efforts to deter violence and to make people manage their expectations and disappointments properly without necessary resorting to violence and I'm happy to see this day".
Amidst the celebrations are high expectations for the new president to reach out to political opponents as well as addressed what has been described as "deed ethnic animosity" for the country to experience continuous peace.
Story by Kofi Adu Domfeh… in Nairobi-Kenya