Rhino Population Increase In Assam's Kaziranga National Park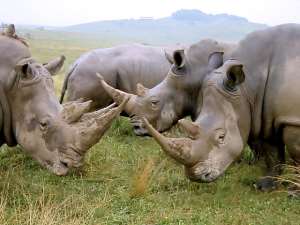 Guwahati, March 27 : While Assam's Kaziranga has continued fight against poaching activities as poachers killed 39 rhinos since the year 2012, the world heritage site get a remarkable achievement as increased the one horned rhinoceros population by 39 in a single year.
The recent census report said that, the rhino population in Kaziranga National Park (KNP) is now 2329, an increase of 39 in the past one year from 2290.
The last census of rhinos in Kaziranga was concluded on Monda (March 25).
The park authority said that, another healthy observation that has come out of the survey is that, 810 matured female rhinos, 645 matured male rhinos, 135 below one year calf were found.
"179 matured unidentified gender rhinos, 97 non-matured male rhinos, 99 non-matured female rhinos, 88 non-matured unidentified gender rhinos and 276 rhinos of the age between 1 to 3 years were also found during the survey," a park official said.
In other hand, the Assam forest minister Rockybul Hussain said that, it is an achievement in wildlife conservation.
"We are very satisfied with the recent survey outcome and hope to reach magical target of 3000 by 2020 set by the Indian Rhino Vision," the Assam minister said.
Kaziranga has lost 17 one horned rhinos in this year, which were poached.
In the year 2012,poachers killed 22 rhinos in the park.
Recently, the state government said that, a total of 143 rhinos were killed in Kaziranga in past 12 years.
From 2001 to 2013 up to February, total 143 one horned rhinos had been poached in the national park.
During the period, poachers killed 10 rhinos in 2001, 5 in 2002, 6 in 2003, 5 in 2004, 12 in 2005, 9 in 2006, 19 in 2007, 12 in 2008, 14 in 2009, 8 in 2010, 9 in 2011, 22 in 2012 and 12 in 2013 up to the month of February.
The state forest department said that, during the period, forest guards killed 54 poachers and apprehended 549 poachers in anti-poaching operation in Kaziranga.
"Forest guards apprehended 32 poachers in 2001, 22 in 2002, 12 in 2003, 36 in 2004, 56 in 2005, 57 in 2006, 35 in 2007, 40 in 2008, 31 in 2009, 49 in 2010, 20 in 2011, 148 in 2012 and 11 in this year up to the month of February," Assam forest minister Rockybul Hussain said.
To protect wild animals and fight against poacher, the state government and forest department had recently deployed 300 jawans of Assam Forest Protection Force (AFPF) in Kaziranga.
(Report By Hemanta Kumar Nath)