March 14, 2013
|
Business & Finance
Wonda World Constructs World Class Houses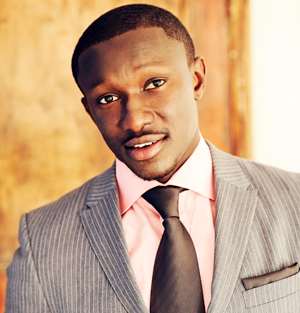 Nana Kwame Bediako, Chief Executive Officer (CEO) of Wonda World & Petronia, a real estate developing firm, is the new kid on the block as far as the construction of modern city estate and town houses of the likes in Monte Carlo and Miami, USA, are concerned.
Nana Bediako, who started life as owner of a night club in Accra in his mid 20s, is eyeing the construction of a $4.5 billion estate development project in Takoradi, which involves thousands of classy units.
Nana Bediako, who is now in his early 30s, recently launched his exclusive Lincoln Court apartments by Wonda World Estates behind the British High Commission in Accra.
Speaking in an interview with CITY & BUSINESS GUIDE recently at his plush office at Mövenpick Hotel in Accra, Nana Bediako explained: 'We have a commitment. Our commitment is based on an inspiration based on a basic principle of transformation and to transform communities across Africa from 'Third World' to 'world class' communities.
He continued: 'Our vision is to attain undisputed continent-wide market leadership through dedication and excellence. Our mission is to exceed customer expectation by remaining tightly focused on delivering the highest quality at the lowest price in a competitive market.'
The astute business man, who said he used to build between 40 and 60 exclusive apartments every year, stressed that his outfit was bent on turning Ghana into the preferred hub in West Africa.
Petronia City project
Commenting on Petronia City's 2,000-acre project strategically located at Takoradi, he said it was planned for 30,000 inhabitants for the country's oil and gas sector as well as professional foreign immigrants from the sub-region and beyond.
'We are building this city for people who might want to expand into Ghana and make Takoradi one of the biggest cities in Ghana.
'We want to be known for effectiveness and efficiency.
'We want to fill virgin lands with functional residential and commercial real estate. Our innovation makes our designs timeless and the simplicity of our designs is our mark of imposing dignity.'
Petronia City, also known as 'The Oil & Gas Capital' by Petronia City Development Limited, is a Wonda World sister company.
With his team of professional surveyors, architects, structural engineers, contractors, soil testers and technicians, landscapers, etc, Nana Bediako works to ensure thorough attention is given clients' specifications. Also, the tastefully done interiors compliment his company's artistic prowess in exterior design. 'We never compromise on quality,' he said.
La Beach Front Apartments
He indicated that Wonda World & Petronia will also be building houses along Ghana's seas.
The 274 apartments along the La Beach will be known as the La Beach Front apartments and would be completed within a period of 18 months.
'You see, we value our clients, so we concentrate on their needs. We work with them to conceptualise their dream property, help them to visualise it and we translate that vision into reality. That way they value what we have created together. We create value for our clients by employing best practice and standards in building technology.
'From start to finish, we ensure that only the best skills and materials go into our projects. We make land more valuable by optimizing its usage.'
Nana Bediako further commented: 'At the very core of our homes are the finest kitchen furnishings. Soon to be Accra's most prestigious address is the ultimate residential and office development coming up in La, Accra.
Kwarleyz Project
On the Kwarleyz Project, he noted: 'It is a clean representation of beauty, resilience, conquest, contemporary architecture in a class of its own, an exclusive office tower coming up on the Aviation Road, Airport Residential Area, Accra.
Asked why he decided to switch from the entertainment industry to the real estate industry, the Wonda World CEO said: 'I didn't plan to do that. Trassaco gave me some units to develop opposite his estates. When I did that, people like Muntari and other renowned national personalities expressed interest in them so I developed apartments for them. Thereafter, I decided to reach into prime areas to build town houses.'
Nana's inspiration
'I realized that between 2008 and 2015, there would be more people looking for rent. My market wasn't targeting Ghanaians. It was 80 percent foreign. But now, I am trying to bring people together to create an ambience that is nationally acceptable. And I must admit that my brand is more important to me than my income.
Africa is the only continent that is left to be developed and so there is more room for improvement.'
 By Samuel Boadi