Set the pace for foreign investors - Aliu tells Ghanaians resident abroad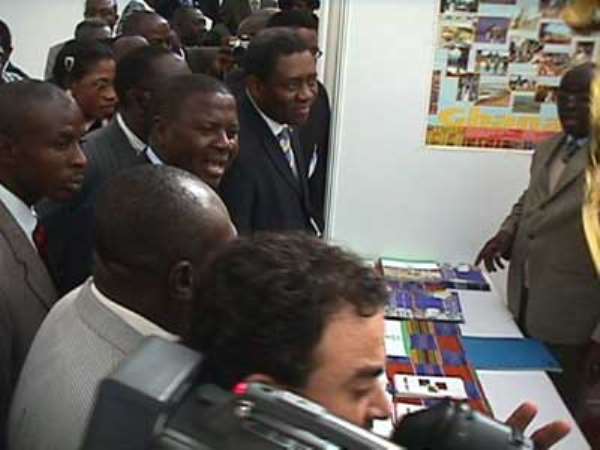 London, Oct. 19, GNA - Vice President Aliu Mahama has urged successful Ghanaians living outside the country to invest to spur foreign business people to also do business in Ghana.
He said: "It is not only foreign investors that we are targeting. Our country needs all of you. Indeed, foreign investors will be more enthusiastic to invest in our country if they see Ghanaians leading the way."
Vice President Aliu Mahama, who was speaking at a fund raising dinner dance hosted by Otumfuo Osei Tutu II, therefore, urged them to take advantage of the numerous investment opportunities in agro-businesses and processing , manufacturing, mineral exploration, tourism infrastructure and other areas with business opportunities.
The dinner, which was in aid of his Education fund, was attended by Mr Paul Boateng, Britain's Chief Secretary to the Treasury, Dr Ada Adler of the United States' State Department for Trade, Dr Erieka Bennett, Vice President of Africa Business Roundtable, Minister of Trade, Industry and Presidential Special Initiatives, Mr Alan Kyerematen and other dignitaries.
It also was also part of Ghana EXPO 2003, the exhibition and investment seminar, which showcased Ghanaian businesses and products to the UK and Europe at large to attract investors to Ghana.
Vice President Mahama assured prospective investors that an attractive investment package with incentives had been put in place to ensure that they reaped maximum returns on their investments. In addition, he said the stable macro-economic environment achieved, the respect for the rule of law and the commitment of the government to pursue and good and transparent governance guaranteed the safety of their investments.
An independent and vibrant media, he said, had also kept the government on its toes and facilitated the process to entrench democracy.
He also briefed them on efforts to strengthen and improve the capacity of the Police Service with the provision of 600 vehicles and improved conditions of service and commended Ghanaians in the UK for their assistance toward that goal through the "Five Pounds No Balance" Appeal Fund, launched by High Commissioner Isaac Osei.
Vice President Mahama said a national health insurance scheme had been introduced to increase the accessibility to health care, especially for the vulnerable, while heavy investments were being made, particularly in basic education to ensure that the nation attains a well-trained manpower to manage affairs.
He, therefore, commended Otumfuo Osei Tutu for his contribution toward the provision of education for especially the needy.
Ghanaian-born cabinet Minister, Boateng, on his part, encouraged beneficiaries of the Ghanaian educational system to make sacrifices to support education for the benefit of the young and future education. Mr. Boateng, who said he was a beneficiary himself stressed the relevance of quality education as the key to national growth, adding, "we owe a great depth of gratitude to our forefathers who made it possible for us enjoy quality education and we have to pay them by giving back to our society."
He announced that the conference of both private and public sector stakeholders in education was to be held soon under the auspices of the Commonwealth Education Fund to improve support to education of member countries.
He commended the government for the great strides it had made toward good governance and economic stability domestically and its remarkable leadership on the continental level, saying Ghana was gradually resuming its leadership role in Africa.
Mr Boateng lauded the excellent relations between Ghana and Britain, saying free and fair trade would be foundation of the bond for the mutual benefit of both countries.
High Commissioner said the fair had provided a good platform for the exhibitors to establish links and partnerships for the growth of their businesses.
He said those whose sales level did not meet their expectations should not be discouraged as trading is not the main focus of exhibitions.
Mr Osei said they should take advantage of the exposure provided and undertake research in marketing, pricing, packaging and standardisation to improve on their business practices.
Nana Otuo Acheampong, Publisher of Ghana Review International gave the background of the Otumfuo Education Fund, established in 1999, saying it had provided furniture to some school, supported school infrastructure and awarded scholarships to some needy students at various levels of education across the country. He, therefore, called for support for the fund.
Some funds were raised through the auctioning of some souvenirs. Nana Tuffour, Pat Thomas and the Daughters of Glorious Jesus entertained the over 300 people, who dined with the Asante King.