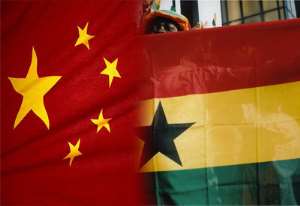 China-Ghana Partnership
As part of its growing power in virtually all regions of the world, China is often the topic of internal political conflict and argumentation among different political groupings within a polity. This is often even more marked in an impending democratic election.
In the 2012 Presidential elections in the US, for instance, China featured markedly in the 3rd and final debate, which was on foreign policy differences between the contendants, President Barack Obama and Governor Mitt Romney.
In African democratic electoral processes, China, which has in only a little over a decade become the largest investor and trading partner in Africa, is increasingly featuring prominently in the election discourses. Zambia's President Michael Sata famously ran an anti-Chinese electioneering campaign, promising to throw out the Chinese if elected. Of course, he has not done that since coming to power in September 2011 but that discourse underlies how prominent China's influence is in Zambian politics.
Ghana, arguably Africa's most democratic nation and indeed one of the most democratic nations in the world, where presidential elections sometimes end in a nail-biting finish requiring even a "third round" of voting, is yet undergoing another hotly contested presidential electioneering campaign with voting slated for December 7, 2012.
What countries are increasingly influencing the electioneering discourse in Ghana? Is China one of them? If so what are the main issues? So far, two main countries, US and China, have played prominent roles, positively and negatively, in Ghana's electioneering discourse.
Ever since President Obama's visit to Ghana in July 2009, mainly to encourage and endorse Ghana as an oasis of democracy in a region beset with dictatorships and civil wars, Ghana's politicians have often pointed to the need to maintain the same high standards that earned this endorsement from the world's superpower.
This is a positive influence to a large extent. But the negative aspect of this event and the general American influence is that the Ghanaian political discourse often verges on aping the US democratic culture.
Just because the US presidential system has a four year term, Ghana also apes a four year term. And just as we have a two term limit for Presidents in the US, so do we also ape the same in Ghana. Are there two main political parties in the US? Bingo, Ghana also has the same.
More significantly, one of the main parties, the New Patriotic Party (the NPP), a wannabe Republican-style party, even apes the party symbol of America's Republican Party, the elephant. Imagine that!
But it is China that has the most sustained influence in Ghana's 2012 electioneering discourse. While the temperature will not boil as high as the Zambian situation referred to above, China is indeed a divisive topic in the general elections, especially the discourse between the two main contending Presidential candidates: incumbent President John Dramani Mahama of the National Democratic Congress (NDC) and Nana Akufo-Addo of the main opposition NPP.
What are the issues? There are two main issues involved here, one a positive contribution from the Chinese government, or at least it should be, and the other a negative contribution from some Chinese in Ghana.
In the first half of this year, Ghana successfully negotiated a huge loan of 3 billion US dollars to invest in its nascent oil industry. This should be a positive contribution from China but the most important issue of contention between the main parties is how to make optimal use of the facility without too much interference from China.
Even before the loan was granted it had to be approved by the Ghana Parliament - another rare instance of top-class African democracy practiced in Ghana - and already there were opposition charges that the sitting NDC government is auctioning Ghanaian resources to China through unfavourable loan terms.
But so far the most contentious, for not to say vexatious, issue in this election from the perspective of China's influence revolves around illegal mining. Opposition politicians are constantly battering the sitting NDC government on this issue.
There is currently a large Chinese population in Ghana of not less than 50 000. Many are involved in legal businesses spanning manufacturing, fishing, retail and restaurant sectors that employ a substantial number of Ghanaians.
However, quite a number are also seen by the general Ghanaian populace to be engaged in illegal businesses involving prostitution, gambling and, most notoriously, illegal mining. Ghanaians especially those whose farmlands are destroyed in this process, which is most acute in Obuasi and environs within the Ashanti Region, appear to be very unhappy with the corrupt law enforcement authorities and Chiefs or traditional rulers who are custodians of the land for doing little to contain the rapacious Chinese actors in this sector.
For instance, during a heated discussion on one of Ghana's popular FM stations, Joy FM, on September 5, a contributor said in frustration: "The security forces have failed us; the Chiefs have failed us!".
This was in reference to the collusion between the Chinese and these groups of people who can't seem to resist bribes from the Chinese, thus allowing them to grab land at will from powerless villagers to practice their illegal surface mining.
This scenario of opposition battering has pushed the government into a corner, with the need to do something quick or lose votes on this issue. Not surprisingly, in October 2012, in a raid, the Ghanaian military police was reported to have killed a Chinese, with about 40 Chinese deported from Ghana, leading to a substantial diplomatic row between Accra and Beijing.
There are, of course, many other minor and incidental issues involving China, such as opposition claims that Huawei, a Chinese company operating in Ghana, is consorting with the NDC government to give them political advantage over the main opposition NPP. However, the issue of illegal mining involving Chinese constitutes the most important bone of contention as far as China's involvement in Ghana's 2012 electioneering discourse is concerned.
China, as a 21st Century global power, will continue to be the subject of much electioneering discourse in many parts of the world. We have already seen that in the just ended US Presidential elections and we are going to see more of that in the current Ghanaian Presidential elections all the way until the December 7, 2012 polls and beyond.
----------
Professor Adams Bodomo, a native of Ghana, is currently Director of the African Studies Programme at the University of Hong Kong, and, from September 2013, Chair Professor of African Languages and Literature at the University of Vienna, Austria. He is a leading scholar on African Linguistics and Global African Diaspora Studies, and author of the first book on the African Diaspora in China (Africans in China, Cambria Press, 2012).