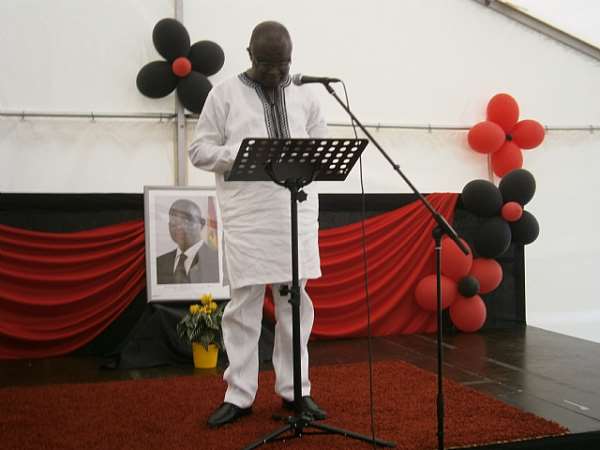 The Ghana Ambassador to Germany, H.E. Paul King Aryene in conjunction with his working staff, colleague Ambassadors in Berlin, Ghanaian community, Christian churches, Muslim Brothers and Sisters led by Chief Imam (Halid Hussein) as well as other German and African Nationals, over the weekend, Saturday 25 August, gathered at the Ghana Embassy premises (backyard compound) to observe the Memorial and Thanksgiving service for the late President of Ghana, H.E. Prof. John Evans Atta Mills.
As tradition demands, several Ghanaians living in various German cities have conducted similar observance in their own simplified and impressive ways to express their love and honor to the late President.
The officiating pastor who preached the sermon was Pastor Kinsley Nimo of International Christian Church-Berlin. His word of God centered on salvation and Life after death, while pastor Owusu led to pray for the bereaved family, the Government and the good people of Ghana.
Mr. George De Souza read the late President's Biography while Mrs. Comfort Owusu Boampong read a tribute on the behalf of Ghana women Association in Berlin respectively.
Full text of Ambassador H.E. Paul King Aryene's speech delivered at the thanksgiving service.
"Good afternoon,
I wish to welcome you all to this afternoon's event. On behalf of the staff of the Embassy, and in my own name, I wish to express my sincere appreciation to your Excellencies, reverend Ministers, Chief Imam, Chiefs, Queen mothers, my fellow Ghanaians and Friends of Ghana who are here this afternoon.
We shall forever be grateful for this show of support in our hour of grief. We are gathered today to give thanks for the life of Professor John Evans Atta Mills, our late President, whose sudden death, on 24th July came as a great shock to many, if not all Ghanaians, and I dare say the whole of Africa.
Death, as we all know is a necessary end and as aptly described by William Shakespeare, "Seeing that death a necessary end, will come when it will come".
Without death, there could be nothing new. No new generation, no new species and no new perspectives in the world.
Prof. Mills is gone but he left Ghanaians a legacy we should all be proud of.
Prof. Mills was a humble, incorruptible, honest, selfless human living whose respect for human beings irrespective of rank, color, and creed speaks volumes.
These are qualities rarely exhibited by many of us. Even as a politician, he never lost these qualities. His only interest in politics was to strive to improve the life of Ghanaians. He never saw political office as a means to amass wealth.
Above all, he was a very genuine peace-loving person who never believed in violence as a means of settling disputes.
He pledged and endeavored to change politics in Ghana by his words and deeds. As he pointed out several times during his tenure, "Throughout my political life, I have pledged that I want to make a change, different from politics of vilification."
President Mills was very true to these words. He never for a moment thought about vilifying anyone even in the face of very extreme provocations.
The least Ghanaians can do to keep his legacy alive is to emulate the life Professor Mills led.
Once again I say welcome and thank you".
God Bless our Homeland Ghana.
Report by: Chris Mensah Dekportor (Hamburg)
www.topafric.com Tel. +49(0)17634165647

H.E. ARYENE GIVING SPEECH

LEFT-H.E. ARYENE & RIGHT - MENSAH DEKPORTOR