President Mills from 21st July 1944 to 24th July 2012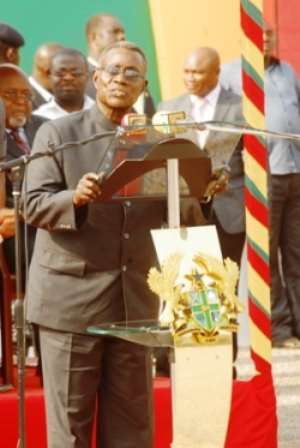 Accra, July 24, GNA - President John Evans Atta Mills, was born on July 21, 1944 and hails from Cape Coast in the Central Region.
He launched a lifelong of learning at Achimota Secondary School, where he completed the Advanced Level Certificate in 1963.
To further his education, Prof Mills attended the University of Ghana, Legon where he received a bachelor's degree and professional certificate in Law in 1967.
While earning the Ph.D. in Oriental and African Studies from the University of London, Dr. Mills was selected as a Fulbright scholar at Stanford Law School, USA.
Prof. Mills' first formal teaching assignment was as a lecturer at the faculty of law at the University of Ghana, Legon.
He spent more than twenty years imparting his acquired knowledge to students, and rose from the position lecturer to a senior lecturer to associate professor.
Prof Mills' contribution to the University was remarkable, having served on numerous boards, committees, and schemes.
Also during those twenty years, Prof. Mills travelled as a visiting lecturer and professor to the Temple University USA, and Leiden University, Holland, and presented research papers at symposiums and conferences throughout the world.
He has more than one dozen publications to his credit, including:
Taxation of Periodical or Deferred Payments arising from the Sale of Fixed Capital (1974)
Exemption of Dividends from Income taxation: A critical Appraisal (1977)
Report of the Tax Review Commission, Ghana, parts 1, 2 & 3, (1977) and Ghana's Income Tax laws and the Investor. An inter-faculty lecture published by the University of Ghana.
Prof Mills' expertise goes well beyond the classroom, and is evidenced by the various examiner positions he held with finance related institutions throughout Ghana such as the Institute of Chartered Accountants, Institute of Bankers and Ghana Tax Review Commission.
As an advocate for recreation, he has supported the community through groups such as the Ghana Hockey Association, National Sports Council of Ghana, Accra Hearts of Oak Sporting Club.
The following are a few of his activities and projects:
Member of the Ghana Stock Exchange Council
Board of Trustees, Mines Trust
Management Committee of Commonwealth Administration of Tax Experts
United Nations Ad Hoc Group of Experts in International Cooperation in Tax Matters
United Nations Law and Population Project
Study on Equipment Leasing in Ghana
Casebook preparation on Ghana's Income Tax
Review of Ghana's Double Tax Agreement with the U.K
Prof Mills had a track record of financial knowledge and strong professional credentials that led to his several important appointments.
In 1988, Prof. John Evans Atta Mills became the Acting Commissioner of the Internal Revenue Service of Ghana and named Commissioner in September 1996 and in 1997, Prof. Mills received another important appointment.
On January 7, 1997, he was named the Vice President of the Republic of Ghana.
He is married to Ernestina Naadu, an educationist.
GNA