GOODLUCK JONATHAN AND A NATION UNDER REPAIR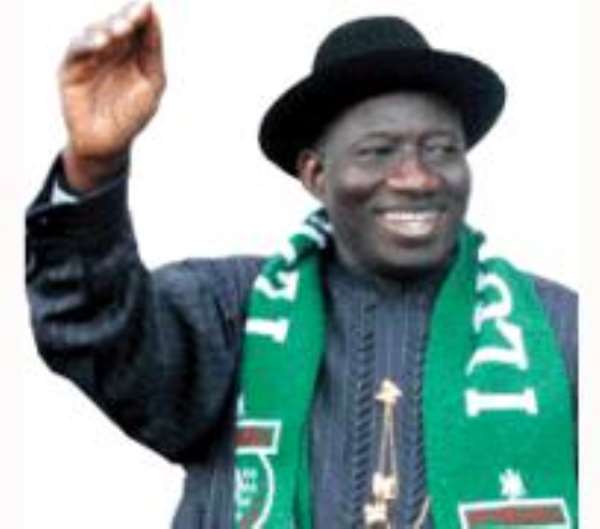 In the past few weeks, the pen industry otherwise known as the Press have been awash with opinions from every angles especially the opposition camp all X-Raying the various areas the Jonathan's administration has made progress and where it has failed monumentally. Some have been constructive, some abusive yet others are outright pungent but all have been about GEJ's leadership style in the last one year otherwise known as 'Short term report card' of his administration. Distractions and constructive destructions have not abated and they are many indeed, ensuring that the transformation agenda of the president is either delayed, none functional or being put in reverse gear, do not see the light of the day.
But what is the use of a midterm report card of a leader? Is this a new inclusion in the annals of political jargons in Nigeria? I am afraid not. Reports cards are to show case the activities of any one within a given period of time. It may be a success or failure report. But either way, it remains a guide for those benefiting from it to review and redirect their energies where necessary for the remaining part of their service period. President Barrack Obama had his report thrown at him in the face a short while ago. Even his party gave him no room for maneuvering! But the world did not end. Even now that he has taken a nose dive by accenting to the Gay marriage (which will make him loose my vote if I were to vote in America), he is still making progress in other areas. Such report therefore ought not to hurt the leadership or followership of Nigeria the way it is.
Many have pointed out more than 1000 errors of the administration, and the person of Mr. President has suffered unprecedented humiliation some say for lack of knack to act when the push comes to shove. I cannot agree less that there is one fundamental fact about the state of the nation – we are all not happy and are tired of promises. And no one is happy indeed. The Boko Haram apologists are not happy because over the years, they have been short changed and so, the dividends of democracy are not felt in their region. To express their displeasure, they have taken the wrong side of the divide to express their grievances. By the way, they have informed all agencies that the worse is yet to come as the government has remained adamant to their claim and the killing of former DIG of Police in Kano recently is a statement not to be ignored as prominent personalities are now being torched with the senseless killing and wasting of human lives.
The Treasury looters are not happy, not because they are sorry for the common man whose money they steal black and blue, but because the long arm of justice is getting shorter as the Goodluck administration through internal machination, is closing in on almost everyone involved in ill-gotten wealth aqusition. Why? Now head or tail they lose. The banks are no longer safe haven in and outside Nigeria, Europe and America are no longer safe either. Funds saved in those countries are being monitored with eagle eyes and questions are being asked about the source monies are being paid into, or out of accounts. Worse still, public officers are now being careful that their next trip overseas may not only be their last, but would land them in jail. They should ask Chief James Onanefe Ibori former governor of Delta state. For them, the only way to look onto is the prison with anxiety because there are no hiding places anymore. If that seem not to be a hard sell too, the common man through the organized Civil Right Group are just waiting in the wing to lynch the thieving rulers. The organized private sector leaders and elder statesmen and women are not happy because they have at different forum offered selfless advices which have been taken with the pinch of salt yet they pay heavy bills to remain afloat in business. No wonder businesses are migrating to Ghana and other neighboring countries, yet no one cares that we are grinding to a halt! The common man is not happy because all they hear – including yours sincerely, are Radio, Television and News paper statements. No seeming real action anywhere. So the question to ask is – Is President Goodluck Ebele Jonathan, the number one citizen and the Commander in Chief of the Armed Forces of the world's most populous black nation happy that one year after, the transformation agenda seem not to have taken root? The answer is a loud NO! So can you now read the mind of GEJ when he daily read the embarrassing raid of local and international views in print and electronic media about his administration and the man seem to yell STOP this !!!. Yet again no one responds to his pathetic plea?
The good things good about midterm result as said earlier is that they help leaders appraise their performance, reflect on them, redefine their direction by applying desired changes. To do this, the diverse views of the various groups involved in any way are encapsulated. Views from the organized private sector – the thankless engine room of the economy, international communities, and because no man is an island, political opposition groups, who should be putting the government on the burning hot seats daily (but in Nigeria rather than constructive criticisms, opposition teams prays for the failure of the leadership so they can come to power). But what goes for the goose… . But I can understand the views of the opposition because by their defeat, their plans are suspended. They are in pain that their programme has been shifted four or eight years forward, and may not be able to clinch the next slot for the desired post. I can imagine the pain of Rtd Gen Muhammdu Buhari in this light. He has been on the receiving end since 1999.
Going back to the drawing board, what did GEJ promise Nigerians? TRANSFORMATION! My dictionary tells me that transformation is all about "a complete change into something with an improved appearance or usefulness". If Nigeria is to be transformed therefore with improved appearance, much work needs to be done knowing that we are a nation in decay. What was the situation in the country before the entry of Goodluck Jonathan? What measure of success was achieved by past leaders before him? What was the moral state of the people before and what is it now? Where on earth have there been repairs without injuries? Do we really deserve a balkanized Nigeria, a non-performing nation and people? Or a nation with effective, prudent and efficient organs? The choice is necessarily ours! And either side, the choice we make will not produce any easy result. The repair of anything is harder that to buy or build a new one. We coasted into our present predicaments in over forty long years. Why do we expect that the magic wand of a transforming Jonathan would bear fruit in just twelve calendar months of a forty eight month expected rule? As in passing any examination, an excellent student burns his oil at midnight while others are fast asleep. Excellence in any sphere of human endevour is a function of hard work.
If we seem to be celebrating nothing now Ok. But with the current spate of mindless killings in the north, what would have been the situation in a Nigeria today without the Amnesty programme? Were men to have remained in the Creeks and Boko Haram remains the indomitable Northern albertrous, what would the situation be? By the way, the killings have taken more sinister dimension. Recently, the personal detail of a Governors' wife was beheaded. Just to reconfirm supremacy, a senior but retired Police Officer was killed. And as I write, a retired States Security personnel has been gunned down in Yobe. Need we say that the war is closer than we think?
But it was Julius Ceaser who said that he wanted men around him that are fat. Lean and ugly men such as Caecius had an ugly look. The president knowing his onion, choose men and women he thought would drive his dream. He returned an Ngozi Okonjo Iweala from the World Bank. By the way, the other day, while the whole world was endorsing our own daughter for the lofty position of the Managing Director of the World Bank, it was our own people who were shouting her down! She has been seen as fit, proper and able person to fill the post. Even the Americans and their candidate knew that they were half baked. But we were busy disallowing her because she is closing all the holes in the economy for quick cash. Other Ministers in the cabinet were equally x-rayed before endorsement. Today, they have also shown their reports and "ThisDay" newspaper did us great good by chronicling the performance of all the ministers. Their performances have also shown those who are paying lip service to the president agenda and so need be changed and those who are on their wits' end. Without prejudice, the none performing MDA heads know themselves and it will only be strange if they are not removed and replaced.
In a democracy, leaders act through people. Jonathan took the middle way to ensure that all decisions had inputs from the public. Hence at every bend, he sets up a committee for every work. It is a tough way to deal with issues, but it remains an option as well. Someone said the other day that a war time Libya is better than a peace time Nigeria. Why? While the war raged in Libya, the roads were in excellent shape, water remained flowing, Hospitals functioned with excess drug supplies and electricity didn't blink! But these all are a function of long term planning in a stable economy. Do we have one? Beside the recent desire of Libyan to have a change of leadership due to the arrogance of the off springs of Gadaffi, when did that country suffer war of any kind?
A nation under repair certainly would face tasks. England was in repair after the Second World War, and that lead them to becoming a trade nation instead of a manufacturing nation like Japan. Beside all rhetoric's, all hand need be on the deck for desired result. It will be counterproductive if while some are working assiduously, others by their loot are destroying the works through outright stealing and getting away without prosecution and jail.
Finally, President Goodluck Ebele Jonathan, with knocks and kudos from all parts of the divide depending on your hold, has seen, read and heard the views of his leadership style etc. the only option left for him now is to advance the nation in this coming second year with a purposeful, focused and fast tracked repair by ensuring that he is Doing the Right Thing.
Mike O. Akpati is a Public Affair Analyst based in Port Harcourt
08036757067
[email protected]