REVOTIONARY JERRY JOHN RAWLING, DON'T RIDE YOUR HORSE INTO THIS DITCH – JUMP OFF IT
OPEN LETTER TO FATHER RAWLINGS – 'FOUNDER' OF THE NDC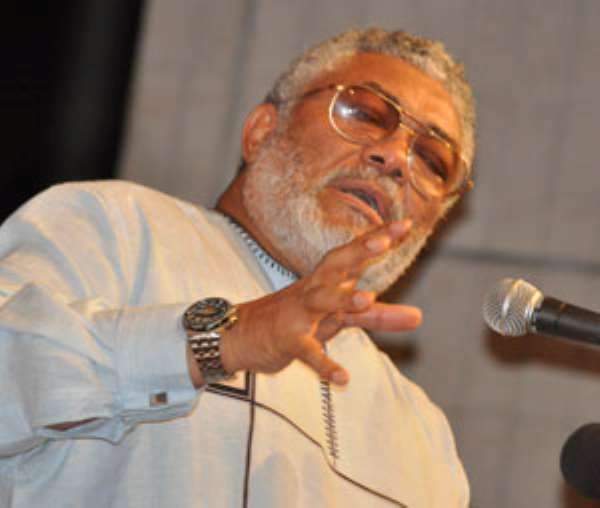 "…We are by nature stubbornly pledged to defend our own from attack, whether it be our person, our family, our property, or our opinion…We may surrender, but rarely confess ourselves vanquished…
"…We like to continue to believe what we have been accustomed to accept as true, and the resentment aroused when doubt is cast upon any of our assumptions, leads us to seek every manner of excuse for clinging to them. The result is that most of our so-called reasoning consists in finding arguments for going on believing as we already do." James Harvey Robinson, in his essay "On Various Kinds of Thinking"
Politics in Ghana, of late is becoming very-very interesting. Developments, especially within the National Democratic Congress have been so entertaining to the ears of Ghanaians who don't ever want to hear the name of that party.
The main theatrical actor in the episode is what even makes it more interesting. A very towering figure in the current political generation, he has effectively been retired in governing this country – but not barred from talking politically, socially and many other areas he chooses to be expert.
The man, JERRY JOHN RAWLINGS, is a name that resonates with mixed reactions depending on the political divide one is coming from in Ghana. A book which best described the persona of the man who ruled Ghana for nineteen years, is John Westwood's "THE AMAZING DICTATOR".
He has raised political dust of discomfort in the NDC which has affected almost every body within the party. I am one of them who have had sleepless nights which has prompted me to send this communication to him. Here I go:
Dear Father,

I am compelled to request your attention this time round, because I thought of engaging your attention after the June Four celebration. It was to enable me study and analyze what you would have said, before taking up this self-imposed assignment, because nobody is paying me.
I know you have shared my open letter to Mom, on MOTHER DAY, almost on the same subject-matter I am about to discuss with you. I believe you have – because I got a comment posted against my write-up which was titled, "Friendly Open Letter To Mother Nana Konadu – Minus JJ Rawlings".
Well, the comment I am talking of came this way as captured in caps, "WE DON'T NEED THIS SHITTY ADVICE FROM YOU. IF YOU HAVE ANY ADVICE, GO GIVE IT TO THE GREEDY BASTARDS RULING GHANA…MILLS, WOYOME, AHWOI, MAHAMA AND CO. STOP TRYING TO CON MY WIFE…YOU ARE ANOTHER FOOLISH MAN LIKE YOUR PRESIDENT". EFO JJ RAWLINGS.
I have tried convincing myself you are not the author of this comment. However, granted that you did post it, I can only feel more than rewarded that you read me. Thank you for the honour done me.
As I stated, my intention was to engage you after this year's June Four anniversary celebration. I have hastened to do this because I do not know what you could be saying at that memorial which could be more negative than what you said at the 30th Anniversary celebration of the 31st December Women's Movement.
Before the occasion referenced above, you have, at the least opportunity taken the current administration to the cleaners, accusing it of CORRUPTION and whatever ills you claim to bedevil it.
To be very frank with you, some of us have actually observed certain things that are developing within the government which are not tasteful to us. But Father, the last thing some of us would succumb to – is to follow you and hand-over the destiny of this country to the people you say are our "perceived enemies".
Many people have already asked you as to how so clean your administrations of the Provisional National Defense Council and the first National Democratic Congress were. You mean to say that in these administrations corruption never showed its UGLY head – but BEAUTIFUL face?
From 1983 of the REVOLUTIONARY process, we commenced the retardation of its progress at the time we had 'VULTURES' creep into it, thus turning the wheel of our progressive journey to a destiny of success. Yes, we allowed them in – and they became more 'revolutionary' than those who started with you. The true ones were therefore, emasculated in order to give way for the old order to take root again.
When that 'success' was choked, we embraced the Britton Wood's exploitative financial institutions to dictate the course of our progress. And that was how we abandoned the local technology of soap-making which was popularly called albeit later, AZUMAH BLOWS, in honour of the legendry boxer.
It was in the early days of the revolution that apart from dams, I got to know what a fish pond was like in far away Bongo in the Upper-East Region. People were thought how to breed fish. Many other local initiatives were introduced which could have helped us to become self-reliant.
All these lofty undertakings were curtailed under your revolutionary leadership, when you allowed faceless owners of these international financial institutions to engulf us with their exploiting tentacles.
It was at that stage, Father, that the anti-clockwise movement of the revolution begun. And you, the revolutionary leader at the time was in the seat of supervision. Remember, that those who spoke against the move were hounded out of the country.
These 'VULTURES' of imperialistic standing, in tandem with these so-called expert global financial institutions then prescribed several bitter pills for the Ghanaian economy which you took and forced it on us. That was how come we embarked on the divestiture of State-Owned Enterprises in which exercise we are told more than four hundred of economically viable establishments were 'given' away.
Father, just last week, the Government of Ghana has taken back full ownership of the strategic Tema Shipyard and Dry-dock which your administration gave out to the Malaysians at a pittance of Four Million Dollars. Can you tell me there was not some corrupt under-pinning in that transaction?
It was in the course of diversifying these viable state asserts that my mother's 31st December Women's Movement, got some of them at 'take-away' prices, without recourse to CONFLICT of INTEREST which was conspicuously at play as she was then the First Lady.
Indeed, "…We are by nature, stubbornly pledged to defend our own from attack…" For in the absence of STUBBORN defense of our actions where, in your case fear was also induced, people would have put to you strait where you went wrong.
Unfortunately for us, but fortunately for you, your over-bearing nature made us clip our mouths from talking against some of the ills of your reign. Those who had to open their mouths and talk could only do that because they were praising you in situations you did not deserve appellation. Nothing corrupts a system than when people have to sing praises just because they have to do it.
The question is, what do these praise-singers get in return? Traditionally they are paid. Is it the case that political praise-singers are not paid? What could then be the motivation to keep singing the praises, when sometimes they are worthless?
Father, to me I think you were born blessed – and for that reason GREAT. For you have been able to tower yourself effectively through hurdles no political leader has been able to wade. And so for almost two decades you managed through difficult times, especially in the early 1980s when the country suffered a drought environment, coupled with the deportation of non citizens of Nigeria where over a million Ghanaians fell victim.
That was when the real revolution had gathered momentum and with the zeal of patriotism, we walked through them successfully and bore the pride. After that, and as I said, the smuggling in of the International Monetary Fund and the World Bank, turned things almost upside down with their introduction of the ECONOMIC RECOVERY PROGRAMME.
Thus the revolutionary path to self prestige was sold out. We crawled along on their direction till 1992, when we, again, succumbed to Western governments dictates to go the multi-party system of governance – their choice.
It was at that stage that developments towards the formation of the National Democratic Congress became a reality, culminating to your being made the Founder of the party. I do not want to take you too much back to the difficulties that cadres went through to give birth to the party.
But before then, you realized cadres had become disillusioned with the whole process which culminated in the Cape Coast conference in 1991 to evaluate the Ten Years of the Revolutionary process in the country.
At that conference, clear disappointment was written on the faces of cadres. I vividly remember socialist scholars in the persons of Professors Atta Bretum and Kwesi Botchwey , who tried without success to rekindle our spirits to have hope in the new multi-party system we were about embarking.
We refused to get excited because we felt the revolution had failed us, and we were not in the mood to work as BABOONS for MONKIES to chop.
You had intelligence report as to what was happening. When you came to address us – and in your usual charisma you managed to melted stones. The lecture theatre became a thunderous closet in our applauding you.
Yes, in your usual self you tricked us to believe that you were not going to lose anything if we did not help in charting the new course. You told us you were ready to go to the Afram Plains to engage in farming. But it was we, the cadres that you had concern for. If we refused to organize towards the new order, therefore, we were to suffer and not you.
You cautioned that if we allowed the old political crooks to take over power from us, we can never get it back. And the toil throughout the years would come to naught. Thus, with this fear of 'giving power back to the enemy', we felt energized to work towards the formation of a political party.
Several clubs sprang up prior to the formation of the party after the Cape Coast conference. Prominent amongst them was the Eagle Club which had a mainstream membership of Cadres of the Revolution and which had coverage of the whole country. We advocated we did not want to have anything doing with members and functionaries of the PNDC, but wished you to be our leader and presidential candidate for the 1992 general elections.
As a matter of concern some of us could not decipher the difference between you and members of the PNDC. But those who mattered in the PNDC and saw the danger ahead of the alienation threat, took a proactive move by poaching the liberal Eagles, and brought in other friendly clubs but smaller ones to form the party.
The radical Eagles stack to their guns and held on to the current headquarters of the NDC, only to be whipped out of the place by police allegedly sent by Obed Asamoah. This category of the Eagles is what came to be known as the EGLE PARTY.
So, for your sake all this had to happen. Are you not therefore, blessed beyond your own expectation in life?
But Father, the question you must answer is, what has the core cadre community, benefited from all that we did to keep you in power till you handed over power in January, 2001?
Admittedly, the cadres who were sent out to some European countries to study were initiatives that are worth commending. However, you fell short in tapping them for leadership positions in your government.
It was disappointing, Father, that at the Kumasi commemoration of the June Four Up-Rising, you claim to have regretted not pushing many cadres to leadership positions. You came to this realization only when Mommy is desirous of un-making the President in order to lead the party.
Was this not another Cape Coast trick to galvanize cadres for your course only to damp us later again. This time round, Father, we will not go down there with you.
In my letter to Mommy, I stated clearly that she does not captivate us as you do. You are exceptionally gifted to the extent that those who do not like you – upon seeing you, melt down their hatred for you. That is why we keep saying that if the Constitution is changed today, allowing you to contest the presidency again, you will win.
This luck you have can only be shared with her – but she cannot have it as an individual. This is the naked truth she has to accept and expel her ambition of becoming president of this Republic.
Father, in her anxiety to becoming this country's leader, she has, in team with you, worked very negatively against the party. She is on record saying, she does not care if the party goes into opposition.
Well, she does not care, but I, and I know thousands of cadres would not like to sink the party with her – whether with your support or not. For we know how we toiled through the bushes day and night organizing to give birth to it.
No one, in normal reasoning will pull down a whole family house just because there is a crack. What I wish you know is that, as I told Mommy, is that the party which loses this year's elections will break up. The New Patriotic Party was more vulnerable to this threat. But the NDC has now wrestled itself into it due to your negative undertakings.
What you do not know is that the NPP is more divided than the NDC, but has been able to manage this ugly affair due to the intervention of MEN of WISDOM, some of whom are even revered MEN of GOD.
The NDC should have stood out as indeed, a party with a distinct appearance, because it was not formed in business man's house. The only thing the party did which was not a mistake, but is seen to be a mistake today – is your being made the FOUNDER of the party.
Father, the NPP which you are seeing as the "perceived enemy" which you do not have the necessity to deal with now, but getting rid with the "TRAITOR" – is an area most of us would resist. I am forced to caution you that if you think you can send the party to opposition in order to repackage and bounce back to electoral focus, would be the worst ever MISTAKE you would have made in your life-time.
You are currently playing into the NPP bowl for consumption. That is why all the opposition media houses and their personalities have all of a sudden made friends with you through their reportage and utterances. Yes they are hailing you, but you need to pause and ask yourself as the Osagyefo did anytime the Western media praised him; "What have I done wrong to my people?"
You must start asking yourself what you have done wrong against the NDC of late to warrant this sympathy from the opposition. Do not fall in this box of reasoning where "…We like to continue to believe what we have been accustomed to accept as true , and the resentment aroused when doubt is cast upon any of our assumption – leads us to seek every manner of excuse for clinging to them…"
Father, I know all is not well with the current administration when it comes to prosecuting alleged wrong-doers. You want people jailed for one reason or the other, and they are from the opposition. This is where you need to be very careful sometimes when you must talk.
Your Koforidua declaration, in which you asked the then Kuffour's administration to rehabilitate the prisons well because when the NDC takes power you were going to jail them was in bad taste. By so-doing, you put the Atta Mills' government in a challenging stand.
In democratic governance you cannot jail 'BY-HEART'. And you are aware that the judiciary is not friendly to us, how were you to jail them then? This statement has actually helped those you were wishing to be jailed.
And if you were the president of Ghana today, you cannot do what you are expecting the sitting president to do, by massing "perceived" wrong doers to the courts and asking for jail terms for them. Be it, as it may, the very people you advocated jail terms for them now feel so comfortable with you and you think that is TRUE LOVE? I think you are too matured to be tricked this way.
In conclusion, I wish to state that no matter what the problem may be, there ought to be a solution. You cannot keep ignoring all the prominent people who have come to you asking that 'you swallow blood and spit out saliva'. It will not help the course.
Father, let me leave you with 19th century Philosopher, H.L. Menckem who once said: "…The world always makes the assumption that the exposure of an error is identical with the discovery of truth – that the error and truth are simply opposite. They are nothing of the sort. What the world turns to, when it is cured of one error, is usually simply creating another error, and maybe one worse than the first…"
This is where I can see you moving to. For in your case you are trying to use a crude method in solving a problem. It can only lead you to creating a bigger – and maybe a GARGANTUAN one that no solution can ever be found. If you and Mommy succeed – God forbade, in pulling the NDC down, it will be the end of your political empire.
Let me use this open interaction with you to say a word to my fellow cadres. I wish to call on all of us to stand up and protect the party from a premature death and burial. The NPP organized an obituary for it in 2OO1, but the Party resurrected and moved on to VICTORY.
But if we ourselves decide to organize a funeral ceremony for our own party, the NPP can only do well, just as they are doing – to help us do just that.
Father, let me finally end by stating, that "A Word To The Wise" is never "Enough" until it is acted upon. On this note, I thank you for reading me.
Camillus Maalneriba-Tia Sakzeesi
[email protected]
Tel: 0266223333 and 0248433700