Millionaires in Ghana: Who is Who?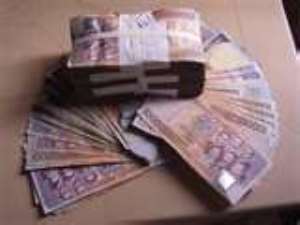 When I was young, I thought anyone who had one million cedis was a millionaire. Many young people thought so. Who then is a millionaire? He or she is a person whose material wealth is valued at more than one million dollars, pounds or euros, or better still, a person whose wealth is counted in millions. In much the same way, a person who is worth more than one million new Ghana cedis can be called a millionaire in Ghanaian terms. One million Ghana cedis may not be worth much but it is still a lot of money for many people in Ghana who cannot dream of ever having such money. For the purpose of this article, I will define a Ghanaian millionaire as someone whose total assets are worth at least ten million GhC. There are quite a few millionaires in Ghana by that definition. They will be called millionaires even in dollar or euro terms.
Blay Leak, who compiles lists of great achievers in Ghana, declared in his compilation in December 2011, the following Ghanaians as the top ten millionaires in the country. According to him, the majority of them, politicians, got their riches through kickbacks from military hardware procurements, wheat and rice imports, and kickbacks from other contracts to foreign companies. They declare their incomes and pay their taxes, correctly and on time.
He confirmed the following as those who gave complete access to their riches: Top on the list is Dr. Kwame Addo Kufuor who is reported to be worth $1.2 billion. This makes him the richest man in Ghana. He is the brother of the former president, Mr. John Agyekum Kufuor. Born 72 years ago, he trained as a medical doctor in the United Kingdom. He became Ghana's longest serving Defence Minister. He is followed at a distant place by Dr. Sam Jonah with a net worth of $500 million. As President of Anglogold, he shares the strategic leadership of the Company with its current CEO, Bobby Godsell. He supervised the transformation of Ashanti Goldfields into a multi-national and oversaw its listing as the first operating African Company on the New York Stock Exchange. Dr. Kwasi Nduom (59) comes third with a reported worth of $300 million. He is a business consultant and a politician. He earned a Doctorate degree in something called Service Delivery System from a US university. His business interests are concentrated in the hospitality industry. Nana Akufo-Addo is fourth with a cool $250 million. A lawyer and a politician, Nana, born in 1944, is a founding member of the NPP, and presently its flag-bearer in the 2012 general elections. He is a UK trained lawyer, called to the English and Ghanaians bars. He has a thriving law firm. Nana is closely followed by Dr. Yaw Osafo Marfo, $220 million. He is an Engineer and a project analyst by training. He is a consultant to the World Bank, African Development Bank and UNDP. A former member of parliament and NPP guru, he served many ministerial positions in the Kufuor government.
The following complete the top ten list: Kwesi Botchway (lawyer and former government official), $200million; Dr. Kwaku Afriyie (politician, former government minister in the Kufuor regime and currently board chairman of the Electricity Company of Ghana), $180 million;.former President. Rawlings, (now "only" 65 years old), $50 million. The last in the top ten is the cigar-thumping Kofi Wayo, the show-boy of Ghanaian politics. He is reputed to be worth $30 million. The source of this man's wealth is the stock of many vile rumours.
However, Prof. Nana Kofi Osei Tutu, who made his own research and compilation, placed the Asantehene, Otumfuo Osei Tutu II, on top of the millionaires list with a whopping net worth of $1.6 billion. No Ghanaian appears on Forbes Magazine's top 40 richest people in Africa first issued last year even though the Asantehene's wealth would seem to put him there.
All the millionaires named above are over fifty years. However, in places like the USA and the UK, people can become millionaires even before they reach 30. Examples include Michael Jackson, and Taylor Lautner, and Daniel Radcliffe of Harry Potter fame. I wonder whether in the next century something like this will happen in Ghana. The fact is that the Ghanaian society seldom rewards skilled and talented people by signing contracts for advertisement of products. Our economy is simply not big enough to sustain such things at a high level. Our culture does not allow for that kind of hero worship that will transform celebrities into multi-millionaires on account of their celebrity status. Agya Koo could easily have become a millionaire if he was an American.
Apart from Sam Jonah, the top ten is made up of politicians. When Rawlings came to power in 1979 through a coup d'état, he preached against corruption. Many rich people were suspected of corruption and their properties seized. He was the man of the people and he had extreme hatred for corruption. He preached against people who became rich through corrupt means in the midst of widespread poverty and hardship. His followers did many bad things in his name. It is ironic that Rawlings, who did not reprimand his men for looting and whipping naked women in public for allegedly being corrupt because they were perceived to be rich has, today, become one of the richest men in Ghana.
Even though many pastors in Ghana are extremely rich, none of them is considered a millionaire. It is a known fact that most pastors shift the total wealth to the church, while they declare little salaries for themselves. Yet they drive fancy and luxurious cars and live worldly emperors. One wonders whether these pastors are serving God and the people or they are serving themselves.
There are some Ghanaian rich men who are actively working their way towards the top ten. One of such persons is Herman Kojo Chinery-Hesse (the Bill Gates of Ghana). As a brash, ambitious and optimistic person, Herman Chinery-Hesse had already accomplished what many thought was impossible – building a technology business in Ghana. He was a 43 year old entrepreneur whose ambition was to create a tech company with the aim of reshaping the business climate for entrepreneurs in Africa. He is a technological software entrepreneur on a technologically barren continent. Mr. Herman Chiery-Hesse, the African Dream, co-founded SOFTtribe Ltd. twenty years ago. It may not be as popular as Microsoft but its impact in Africa is very extensive and remarkable. SOFTtribe Ltd has designed a voice analysing software which detects stress levels and other metrics from a person's voice to determine whether a person is telling the truth or lying. SOFTtribe's products have been providing cost-effective and practical business solutions to both private and public sectors in Ghana and parts of West Africa.
It must be here noted that there is nothing, in principle, wrong with a few citizens being extremely rich while the majority are wallowing in abject poverty. After all, we all know that all the fingers are not the same. That is the natural way of things and everybody cannot become a millionaire. What we should be here concerned with most is how the rich in society become rich and the effects of their avarice on the rest of society. In Ghana, the worrying fact may be that too many of the rich are politicians - a line of activity that is not directly linked with the actual production of goods and services. If politicians are rich because of their political activities (or inactivity) then society's resources are not being optimally allocated to areas where they will be most beneficial to the entire society. The same effect is achieved if the non-politically rich obtain their wealth by cheating the system or exploiting the loopholes in the system. Even outside Ghana, it will be difficult to find a self-made millionaire who has not, somewhere along the line, cut a few corners. Even Bill Gates and Steve Jobs may have ridden rough-shod over some people on their path to their billions. The problem arises where such acquisition of wealth is based solely on chicanery, outright theft and bullying without a corresponding creation of anything. Enterprise, talent, hard work, daringness, all need to be amply rewarded even if the beneficiaries become stinking rich. They contribute to society through direct creation of wealth or through some form of the so-called creative destruction. Outright theft should not be rewarded.
There is so much the rich in Ghana can do to improve the lot of society. They can establish businesses that can create jobs. They can go into areas where others cannot go since they are already rich and will not be too bothered about losing a few millions. They can encourage brainy young Ghanaians to set up new businesses or start-ups by providing them with venture capital.
The rich, if they acquired their riches through clean means, can act as role models to the young in society to also strive to achieve similar feats. This role model factor is best served by the rich who use their riches well rather than those who only flaunt them because our society fawns over the well-endowed.
A very important role of the rich in Ghana will be the initiative they take in charitable acts. Those Ghanaians who have more money than they can ever make use of can set up charitable foundations to address specific issues in society. Even in the developed countries where everybody is supposed to be okay, the beneficence of the very rich is seen through their contributions to worthy causes, sometimes even anonymously. The Asantehene is providing leadership in this direction. He has set up an educational fund which provides full financial aid to the less privileged in society to have education from primary to the university level. Even though he is the Ashanti King, any orphan or less privileged from any region can apply to this fund. Other areas such as rural electrification, providing boreholes and many more could be taken up in various regions by the rich.
Are Ghana's millionaires up to the task or do they think only of themselves and their immediate family members? Your guess is as good as mine.
Written by: Stephen Atta Owusu
Author: Dark Faces at Crossroads
Email: [email protected]