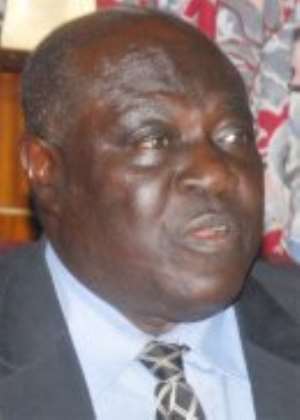 Professor Edward Akaho, Director General of Ghana Atomic Energy Commission
The Director-General of the Ghana Atomic Energy Commission (GAEC), Professor Edward Akaho, and 36 security men of the commission are in the grip of the police for allegedly causing unlawful damage to the property of a construction firm, Anaina International Company Limited, at Kwabenya in Accra.
Prof Akaho is alleged to have instructed the security men to set ablaze two bulldozers, an office apartment, 15 laptops and three polytanks belonging to the company over a parcel of land being claimed by the two parties.
Other items destroyed in the blaze were office furniture, a vehicle, a temporary dormitory housing workers of the company, air conditioners and personal effects running into thousands of Ghana cedis.
According to Corporal Bright Danso of the Public Relations Office of the Greater Accra Regional Police, the arrest followed a distress call to the police by some residents and developers at Kwabenya early yesterday on the activities of the security men assigned by the GAEC Director-General.
He said policemen detailed to the scene found machetes and containers suspected to have been used to carry petrol to burn the equipment and other property.
He said the police would arraign all the suspects in court as soon investigations were completed into the incident.
The commission recently vowed not to compromise Ghana's nuclear safety and security by ensuring that illegal structures on its lands were demolished.
The stance of the commission follows the siting of the proposed International Business District being put up by Anaina International Company on a 163-acre land said to be the property of the commission.
According to officials of GAEC, the project, being undertaken by some foreign investors, violated Ghana's nuclear safety regime, particularly when plans were far advanced for the construction of a Nuclear Power Research Institute and other nuclear-related facilities on the said land.
They said the business district project, if carried out, could pose serious problems for emergency evacuation in the event of any nuclear accident.
In that light, GAEC recently pulled down some illegal structures which officials said might put the country's nuclear safety at risk.
The Communications Director of Anaina International, Mr Kwabena Asante, who described the incident as unfortunate, expressed the hope that the police would bring the perpetrators of the action to book.