Ghana Must Go: The Aftermath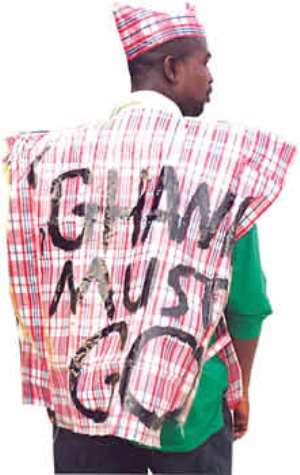 When Ghanaians were first expelled en masse from Nigeria in 1983, most of them hurriedly packed their belongings in a big silk bag with red and blue stripes. The Nigerians, either by affection or ridicule, began to call this bag (which is really made in China and sold even in Europe), "Ghana must go". This name gained a fast currency in Ghana and up till today, that hold-all bag is identified by that name. Today, Ghanaians are no longer going to Nigeria to find jobs. But they still have to visit the numerous embassies that are located in far away and tortuous "Abuja", the Nigerian federal capital. Many small European nations have found it prudent to locate one embassy in Nigeria that caters for many West African countries including Ghana.
I arrived in Ghana in early December. Together with my wife, we boarded the ABC Transport in Accra the following day which was to take us to Lagos from where we would continue to Abuja, our final destination. It is interesting to note that most of the big transport companies doing the Accra-Lagos road are owned by Nigerians. The other companies include Chissco Transport and The Young shall grow Transport. The latter operates with small buses. The other two use very comfortable buses like the VIP buses in Ghana. These two companies serve free food on board – just like on any long distance flight. It was a long and tortuous journey from Accra. Any passport which is being used for the first time through the borders is described by the officers at all the border points as a ''virgin passport''. A special "fee" is demanded at all the border entries for such passports. No receipts are given. Is ECOWAS aware of this? Are we not supposed to have a protocol on free movement of people in the sub-region just like in the Schengen Area of Europe? A Ghanaian with a foreign passport had a Nigerian visa. That was not enough according to the officers at the other borders and he had to pay for transit visas on entering Togo and Benin before he was allowed to join us in the bus. No receipts were given out to him. Such actions by the officers created unnecessary delays for our journey.
We arrived at ABC transport yard in Lagos at 7 pm, very hungry and tired. We were made to understand that no bus leaves Lagos to Abuja in the night due to risk of armed robbery on the Abuja road. I went out of the yard to check if there was any restaurant open. A few metres away from the yard, a fast greeting of "Menua, mema wo adwo" in clear Twi flashed my ears. I turned to respond. I saw, to my surprise, that the woman had big tribal marks all over her face. I asked her whether she had lived in Ghana before since those Yoruba who lived in Ghana could speak the various Ghanaian languages very well. "I am a Ghanaian," she said - still speaking in clean Asante.
I became very curious to learn why she had Yoruba tribal marks. She told me she came to Nigeria in 1973. It became difficult, according to her, to find a fitting accommodation since she had no job. She told me she met her husband in a departmental store in 1975 and they fell in love with each other. Her life changed for the better. The man, a Yoruba, was extremely rich, and already married to two Yoruba women. According to the woman, the man loved her more than her rivals. She added that the man built a 3-story building in Kumasi for her.
I was still interested to know why she had tribal marks. She said that in 1983 when Ghanaians were ordered to leave Nigeria, the husband suggested to her that she should get the tribal marks so that she would look more like a Yoruba woman. The man did not want to lose her. When the sore healed, she was happy she remained to enjoy the riches of her husband. She spoke Yoruba very well.
She told me, almost in tears, that in 1998, her husband was going on a business meeting in New York, when the plane he was travelling in developed an engine problem. The plane broke into two in midair. No passenger survived. Her husband was dead. When this unfortunate story of her husband's death reached her rivals, they planned to move her from her matrimonial home. The relatives of these women joined in and they finally succeeded to drive her out. She said she felt it would be a disgrace for her to go back to Ghana due to the tribal marks.
I wanted to know if there were still many Ghanaians working in Nigeria. He said the Naira has fallen so much that not many Ghanaians are interested in working there any longer. However, she knew of a Ghanaian who is heading two schools at the same time. He has managed to get three Ghanaian graduates each for his schools. These schools advertise that they have Ghanaians on their staff. That is enough to attract more children to the schools.
We parted company and I went back to the yard again very hungry and tired. The passengers were sleeping in the ticket hall so we joined them there on student mattresses (50 Naira per mattress). In the morning we took some breakfast which was bread and soya milk, before we joined the bus which was going to Abuja. It was a long journey to Abuja. We finally reached there in the night and had to sleep. We woke up to a beautiful Monday morning, washed and dressed up. After a light breakfast, we decided to take a promenade and catch a glimpse of the city before going to the embassy.
Abuja, situated almost in the geographical midpoint of this vast nation, is a very beautiful city. Built from the scratch, it is very well planned. Beautiful flowers and trees line the neat streets. One could easily mistake Abuja for a city in Europe. The serene atmosphere of the federal capital is a far cry from the noise and chaos that is Lagos, which still remains the commercial capital. My dear reader, we will just have to give it to the Nigerians: there is simply no place in Ghana as beautiful as Abuja!!! If you have lots of oil money, you can build anything you like - almost anything. I wondered what a wonderful country all of Nigeria could have been with better management, less corruption and more tolerance for each other! We finally reached the Swedish embassy at 8 am. We were called in. To our surprise, the officer asked, "Where is the boy? We will need to take a new picture of him since he was too little when the first picture was taken. Everything is ready except his picture, so you will need to go back and bring him another time". What a wasted journey!!! Ghana must go, indeed!
Written by Stephen Atta Owusu
Author: Dark Faces At Crossroads
Email: [email protected]