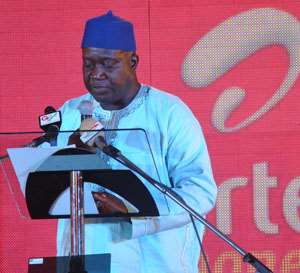 Ernest Attuquaye Armah, Deputy Minister of Communications launching Airtel Money on Wednesday
Zap from Airtel, the e-commerce service that allowed customers to use their mobile phones as 'mobile wallets,' has been re-lunched as Airtel Money.
This time around Airtel Money is offering improved services to customers as Airtel, a telecommunication giant seeks to introduce its customers to unique banking services for the first time in the country.
Under Airtel Money, customers are at liberty to transfer or receive funds from their accounts, access services only previously available in banks as well as pay bills and transfer airtime on and across networks.
'The enhanced Airtel Money service will provide millions of people with access to banking and has the potential to transform banking in Africa and drastically increase access to financial services,' Philip Sowah, Managing Director of Airtel Ghana said at the re-launch of Airtel Money in Accra on Wednesday.
He said Airtel is partnering other service institutions including banks, supermarkets and utility service providers to 'bring convenience to the people through Airtel Money.'
'Airtel Money offers a complete one-stop shop experience so customers can purchase and send airtime to other numbers and even access bank accounts and send money,' he said.
Mr. Sowah said 'the service is convenient, easy-to-use, secure and affordable, the aim of Airtel is to deliver relevant and innovative mobile solutions to help customers overcome their daily challenges.'
'Our goal is to make communications banking, payments, retail and infotainment affordable and accessible to all in Africa.'
Kola Sonola, M-Commerce Director of Airtel Ghana, explaining the capabilities of Airtel Money, said Airtel Money, then Zap which was solely a mobile money platform, has evolved into mobile commerce platform offering mobile money mobile top ups, money transfer, mobile banking  and financial services.
'Airtel Money provides customers with a 'mobile wallet' which allows them to use their mobile phones in much the same way as a bank debit card. It provides customers with increased security and flexibility, reducing the need to carry cash and ensuring prompt payment of bills, goods and services,' he added.
Ernest Attuquaye Armah, Deputy Minister of Communications, who launched Airtel money, said the government was inspired by the manner in which mobile telecommunication services are being deployed in the country.
He said even though the mobile penetration rate is currently 67 per cent, the telecommunications companies could still do more to ensure improved living standards of the people saying 'let us all work together to ensure that it is accessible for all.'
The deputy minister also urged the telecommunications companies to support government's efforts to clamp down on people who are using ICT, particularly the internet and mobile phones to perpetrate fraud.
He commended Airtel for re-launching the product and said 'the product has far reaching advantages and you must make it very effective.'
By William Yaw Owusu