December 16, 2011
|
General News
Get To Bottom Of Cocaine Issue - Veep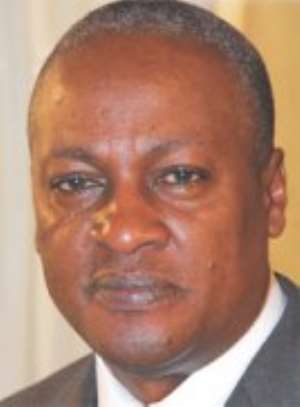 The Vice-President, Mr John Dramani Mahama, has directed the Inspector-General of Police (IGP), Mr Paul Tawiah Quaye, to an initiate immediate and thorough investigation into the circumstances that led to the substance which had allegedly tested cocaine to turn into washing soda.
He said the investigation should find out all those involved in the change of the substance and warned that all those who would be found culpable would face the rigours of the law.
The directive followed a publication in the media that an Accra Circuit Court was puzzled as to how a substance alleged to be cocaine which was seized from an accused person, confirmed by the police to be cocaine after testing and weighing 1,020 grammes later turned out to be sodium carbonate (washing soda) after another test by the Ghana Standards Board (GSB).
Mr Mahama gave the directive in Accra yesterday after handing over 35 Toyota Land Cruisers to the Ghana Police Service.
The vehicles are to support the patrol operations of the police, especially during this year's Yuletide.
The substance had been in the custody of the police for the three years that the trial had travelled.
Following the twist, the court acquitted and discharged the accused person, Nana Ama Martin, of the charge of possessing cocaine, after it had upheld a submission of 'no case' made by counsel for the accused.
The Vice-President said the government had fought the cocaine trade in the country since coming to power three years ago and had redeemed the image of Ghana.
Therefore, he said, it would not relent in its efforts at maintaining that image.
"The IGP must launch an early and thorough investigation to deal with anybody found culpable," he stressed.
On the vehicles, Mr Mahama said they were to support the police in preventing crime and enforcing traffic regulations to reduce accidents on the roads.
He said the vehicles had come in a timely manner during this festive season which normally witnessed increased crime and road accidents.
He, therefore, charged the IGP to deploy more police officers on the roads to enforce traffic regulations in order to reduce road accidents to prevent the loss of lives and property this festive season.
The Minister of the Interior, Dr Benjamin Kunbuor, said the handing over of the vehicles was in line with the government's commitment to support the police and other security services to discharge their responsibility of maintaining peace, law and order in the country.
He said the police had succeeded in reducing crime in the country and expressed the hope that with the coming of the new vehicles, they would be encouraged to do more to fight crime.
The IGP said the vehicles would go a long way in assisting the police in their fight against crime in the country.
He appealed to the motoring public to exercise restraint and obey traffic regulations, since "that is the only way to bring down the accident rate".