Police delay CJ's probe into missing cocaine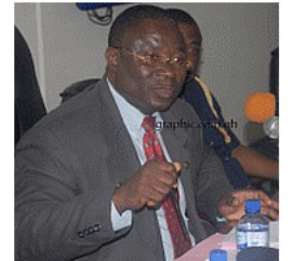 The Police administration has been accused of delaying proceedings in day one of a public hearing to unravel the mystery behind the missing cocaine exhibit.
A four-member panel constituted by the Chief Justice Georgina Theodora Wood to investigate the circumstances that led to the turning into Sodium Bicarbonate of a cocaine exhibit in a Circuit Court began sitting Thursday and has a week to make its report available.
Joy News Editor Samson Lardi Ayenini who was present at the Supreme Court, venue for the public hearing, reported proceedings have been delayed for hours to the utter disgust of panel members, lawyers and journalists.
The police, one of key actors in the saga and who have vehemently trumpeted their innocence are largely to blame for the slow proceedings, Lardi reported.
For hours, the panel sat waiting and periodically called the attention of the fully packed auditorium to see if the police representatives had arrived, but all to no avail.
Robert Kingsley Yeboah, who is lawyer for the Judge in whose court the controversy unfolded appeared visibly frustrated with the delay and did not spurn the opportunity to let Lardi know his disappointments.
He said he had other equally important engagements but had to appear at the hearing due to the exigency of the situation.
Meanwhile, the judge, Mr Eric Kyei Baffuor is convinced he did not err in allowing the defence the right for a re-test of the exhibit.
The Police claim its chain of custody ended the very moment it handed the exhibit to the court for it to be tested in open court.
Some have also questioned the basis and propriety in the judge allowing the exhibit to be re-tested when all parties had initially agreed the substance was cocaine.
But Judge Eric Kyei Baffuor told Samson Lardi Ayenini his decision has its foundation in law and can therefore not be faulted.