Sunyani Municipal Assembly elects Presiding Member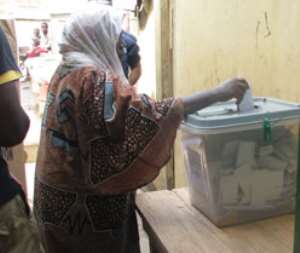 Sunyani, Nov. 30, GNA – Sunyani Municipal Assembly on Tuesday finally elected Mr. Yaw Senyo Agbedra, a 33-year-old bio-statistician at the Regional Hospital in Sunyani as its Presiding Member.
The 51-member assembly failed to elect a PM on six different occasions after its inauguration 10 months ago as none of the contestants was able to secure the two-thirds votes required.
In the election conducted and supervised by officials of the Electoral Commission, Mr. Agbedra, Assembly Member for Baakoniaba, secured 31 votes but could not obtain the two-third votes for the position, whilst Mr. Otu Essel, a legal practitioner, secured 17 votes. Three Assembly Members were absent.
Immediately officials of the EC announced the commencement of the second round of voting, Mr. Essel, a government appointee, withdrew from the race, which paved way for the Assembly Members to vote and confirm Mr Agbedra after obtaining 37 votes.
Addressing the members prior to the election, Mr. Kwasi Oppong-Ababio, Municipal Chief Executive, noted that failure of the Assembly to elect a PM had affected the development of the municipality.
He appealed to the Assembly Members not to allow their parochial interests to over-ride the development of the municipality and added "the image of the Assembly has directly been exposed to public ridicule and disrepute".
Mr. Oppong-Ababio reminded the members that the district assembly concept did not allow partisan politics and urged the Assembly Members to avoid and bury their political inclinations for development to thrive in the municipality.
Mr. Agbedra thanked the members for the confidence reposed in him and pledged to work in tandem with the Assembly's standing orders.
He said without unity and togetherness the Municipality would not progress and appealed to the Assembly Members to unite and deliberate on issues that could push the Assembly forward.
GNA