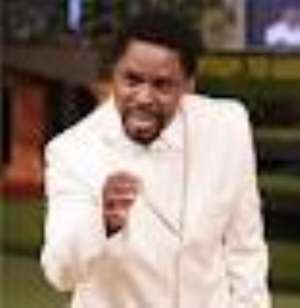 The General Overseer of the Synagogue Church of All Nations (SCOAN) Prophet T.B. Joshua last Sunday, that's October 23, 2011 called on all Ex-Presidents of African Countries to denounce their political affiliations and declare their neutrality in spearheading developmental issues in their respective countries.
Speaking on the way forward for Africa as a continent at the headquarters of SCOAN in Lagos, Prophet T. B. Joshua stated that the best way political turmoil could be handled on the continent is when all Ex-Presidents form a group of statesmen or elders to provide counsel for current or sitting presidents "This however could only be achieved when these ex-presidents have denounced their political groupings and pledged to speak for the masses instead of their parochial political interest", noted Prophet T. B. Joshua.
The Prophet acknowledged that sitting presidents were reluctant to consult ex-presidents because of their suspicions that such counsels would be based on their personal political interest instead of national interest.
T.B. Joshua counseled that there is power in neutrality and that draws the masses towards a common and defined agenda when it comes to issues of national interest.
Admittedly, this advice though difficult is what Africa needs at the moment to be able to solve its political, social and economic problems. The power that this group of neutral ex-presidents could wield in dealing with continental problems cannot be over-emphasised. They could become the obvious peace-brokers in all nations. Just as the Prophet said, "No country would disregard the opinion of such a respectable group of neutral ex-presidents wielding such huge power of influence across nations, not even Libya's ex-leader Col Muammar Qathafi"
Ghana for instance has two living ex-presidents coming from the two major political parties. We have ex-president J.A. Kufuor of the New Patriotic Party (NPP) and J.J. Rawlings of National Democratic Congress (NDC). These two ex-presidents would have had greater impact on the nation should they have declared and displayed their neutrality in approaching national issues and agreed on a common goal of moving the country forward in collaboration with the sitting president. They could have become the solid mouth-piece for the masses instead of just a political group.
As it stands right now, no matter how wise or prudent the counsels of our ex-leaders would be, the sitting president and his team would certainly be suspicious and possibly ignore it for fear that they might be described as lacking ideas.
I am waiting to see if any ex-president on the continent could take up the challenge to dissociate himself from his political affiliation and declare his neutrality for national interest. In fact, truth be told, I doubt if any African ex-president would really do that.
T.B. Joshua said that's the only way forward for the continent in seeking for solutions to our problems. Prophet, could you please consult God to find an alternative way for us? This sounds too tough for our ex-presidents, especially in Ghana!