GHANA: FRIMPONG BOATENG THE PATRIOT AND THE POLICISATION OF EVERYTHING. THE FATAL MISTAKE OF AFRICAN POLITICS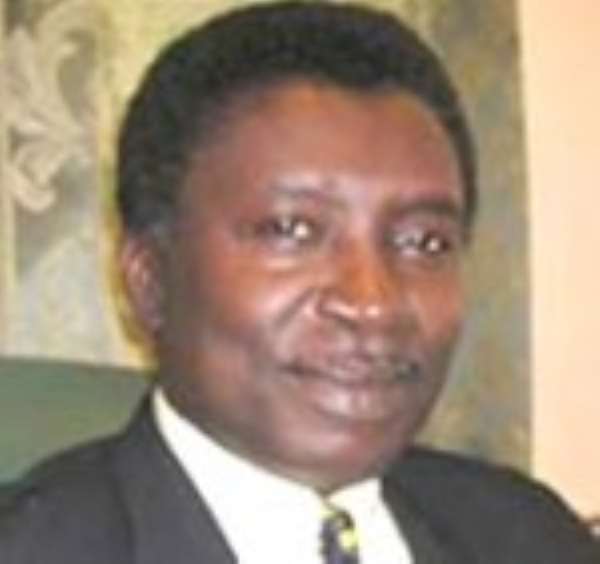 In the past few weeks, the name Prof. Kwabena Frimpong Boateng has made news which is continuing – and one wonders whether it would abate soon. It is a bizarre development! And that is so, because the 'MONSTA'; known as POLITICS is the conduit-force of the cargo.
That is why the saying that "Politics is a dirty game" must be taken serious in order for one to keep a distance from it if one must preserve one's dignity.
The good Professor, to me is such a great gentleman that when I first heard of his intention to contest the Presidential candidature of the New Patriotic Party (NPP), I felt sad. Don't get me wrong readers, for my reason is not because he went the NPP way. It is that he shouldn't have dabbled in active politics.

His ambition in straying into politics, however, was not totally misplaced, but the environment in which politics is done in Ghana and Africa – is what should have kept him off. It should have so, because the little I know about the Professor for a short-while in 1991 – 1992, has not changed that much when I monitored his bid to lead the NPP for Election 2008.
I read the manifestos of almost all the then aspirants and I must confess that Prof. Frimpong Boateng stood tall, followed by his fellow medical practitioner, Dr. Arthur Kennedy and Mr. Agyarkoh. I can conveniently vouch that the Professor meant what he put on paper because, his casual discourse with somebody like me who had the privilege of getting closer to him said it all.
Way back in the early 1990's till date he has not shifted from the concerns he had for Ghana, as observed in his manifesto. His love for science and technology as the bedrock of Ghana's industrialization has been over-trumpeted - with nobody hearing.

"A man who is good enough to shed his blood for his country, is good enough to be given a square deal afterwards. More than that – no man is entitled to and less than that – no man shall have".


Theodore Roosevelt, (1872 – 1970) 26th President of USA.

Some years back, "The Mirror", a Ghanaian public weekend entertainment newspaper reported on the Professor. In that reportage, the paper highlighted him assisting a then 'Junior Secondary School drop-out who invented an automatic switch board from our main electricity source to a generating set when power goes off.

A doer as he is; he first purchased a set of the device, tested it and in a way was sponsoring the young lad financially and bringing him to the media spotlight via the "The Mirror".

His uncountable visits to the Suame Magazine in Kumasi and his passionate write-ups on the people there reveals his PATRIOTISM beyond the medical field.

Prof. Frimpong Boateng is more than fit to be the president of this dear nation. But the plain fact is that despite his burning desire to take the country forward, it would remain a mirage.

I don't normally do this – but I trust state that I am a supporter of the National Democratic Congress (NDC). What I am doing is an exercise in Ghana's interest and not political PARTISAN interest. Readers should therefore indulge me to say what I know about him without a partisan lens.

THE MAN I KNOW
The privileged period at which I got to know the man, then known as Dr. Frimpong Boateng was in 1991-92, as stated earlier. This was when I was seconded to Ministry of Health's Central Co-ordinating Committee of the Committee for the Defence of the Revolution (CDR).

My first contact with him was in the consulting room of one Dr. S.K. Boateng at the Chest Diseases Dept. of the Korle-bu Teaching Hospital. It was later that my friend Dr. S.K. Boateng told me about his determination to establish the National Cardiothoracic Centre.

I was told the difficulties he was going through. Much of the challenges were not political. They were frustrations that emanated from the medical profession. 'Tonnes' of anti-departmental (Cardio Centre) write-ups did the rounds in governmental circles.

Some of the authors of these circulations were renowned medical specialists who mainly lectured at the University of Ghana Medical School. They preferred the centre to be under its control but when Dr. Frimpong Boateng put his foot firmly on the ground against such machinations, his ws begun to worsen.

One of such authored materials was anchored by a well known Professor in Urology, who, after the attempt to have the Centre controlled by him and his colleagues failed, resorted to something else. According to him it was not after all a novelty, since cardiac surgeries had been performed before in Korle'bu.

Prof. Frimpong Boateng, was, therefore, not going to be the first to perform such surgeries in Ghana. That was the level of pettiness and lameness at such high professional levels.

The then middle-aged Dr. Boateng was not daunted. But his detractors meant business and were not ready to give in at his firm stance. It is at this level that when I think of what has happened to him over the years till date I sometimes cannot hold back my tears.

For I have seen the good medical professor put on an over-all working gear, jump into a forklift and carting his own equipment to his now well established Centre. This development was against the fact that the operators to these equipments who were to undertake this task were there.

When I got a bit closer to him, he stated all that he was going through – but elaborated that the government of the Provisional National Defense Council (PNDC) was very morally helpful. The problem was just with his fellow medical colleagues.

What I have said so far about him, should have been enough for him to abandon course and go back to Germany for a lucrative practice. This he said – No! He stayed, with the belief that "…. If Ghana is not worth dying for – that is why we must die for Ghana…" as he told Paul Adom Otchere on September 6, 2011, in the latter's programme, Good Evening Ghana.

• I was in bed watching and listening to it, and this particular statement forced tears out of me. This is the man called Prof. Frimpong Boateng.

UGLY POLITICS
I have always maintained, within myself, that a handsome man becomes ugly if he goes womanizing. A beautiful woman becomes same, if she goes gallivanting with men 'restrictlessly'.

Politicians are no gentlemen to me. That is because the moment you become one, your 'gentlemanness' evaporates from you. Reference can be made to Chiluba, who, as a trades unionist and an evangelical Christian – swapped these good qualities of a human being to something else when he became president of Zambia.

Close friends of mine know what I said about the Professor, when I first read a promo article in the "Daily Graphic" by a friend of his to the effect that he was coming into politics. I told friends if is true, then this patriot is about taking the wrong course in his life. For the man has so much toiled for this country to be swayed into this 'dirty' area. I would have preferred he stood on the pedestal of Apostle Dr. Yaw Safo. The Prof. is on record to have paid several visits to the man's plant.

As stated in the fore-paragraphs of this piece, Professor is a good material for Ghana's presidency. But he can never get there. He can't, because people are not looking at manifestos and the ability to deliver – but how popular you are and how 'musical' your style of speaking can be.

It is about how handsome /beautiful one can be, which the Professor has, maybe in abundance. But in spite that he can't still make it.

If the electorate were that politically informed and to vote – based on brilliant manifestoes, Prof. would have been president by now. If we had the objective ability to search and research individuals, the electorate could have been referred to the 'revolution' that took place in Korle'bu when he became the Chief Executive Officer.

His singular ability to build a fence-wall around the vast expanse of Korle 'bu land acquisition is a novelty. And it is said that this was done without engaging consultants.

These are some of his engagements that make him a DOER – but not a talker. They are some of the attributes why he should have been seriously considered becoming the president of Ghana. UNFORTUNATELY, that is not how Ghanaians reason.

Since the NPP did not consider Prof. to be their flag-bearer, it is the party's delegates at the primaries that I can fault, not the entire electorate of Ghana. Maybe the delegates did not know of all that I have said of him. And if they are not aware – how could they select him to lead?

However, what I have said about him, no living soul within the highest management team of MINISTRY OF HEALTH can say with chest out that they don't know of what I am talking about.

What has happened recently to Prof. Frimpong Boateng, is a rejuvenation of what happened to him when he was struggling to establish the Cardiothoracic Centre. They are acts of professional (hidden though) rivalry, which must necessarily draw-in politics.

They have succeeded, for they have been able to draw in a whole sector Minister to do their bidden. But as the Prof. posited, it is not his going that is painful to him, but seeing to it that the centre becomes autonomous.


People have asked why he wants the centre to be autonomous from the management of the Teaching Hospital. Those who have worked in Korle 'bu before, know the sort of ugly politic that take place. I am not in a position to digress into that area.

My plea, is to the President of the Republic of Ghana, that he intervenes personally by granting the centre, its autonomous status. An action of the sort would not only determine the perpetualness of the it – unwarranted interference would also be warded off.

To you Prof. Kwabena Frimpong Boateng, let me conclude by asking you to go back and read my opening quote. I know you would understand it better than I do. If you do – stand on it and stay blessed.

Camillus Maalneriba-Tia Sakzeesi
Tel: 0266223333 /0249488120
Email: [email protected]