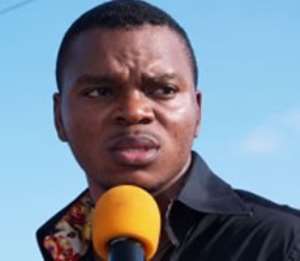 Bishop Obinim said on radio he rendered the innocent child crippled
A Tema-based herbalist and spiritualist, Togbui Amuzu, has set the stage to cause a stir in Christian circles when he declared his capacity to reverse the curse invoked by embattled Bishop Daniel Obinim on his former girlfriend's child.
After dazzling a group of journalists in Accra with his spiritual prowess, Togbui Amuzu, who calls himself a professor of the spiritual realm, also announced he is ready to heal the 3-year-old child who had become physically challenged as a result of the machinations of Bishop Obinim.
According to Togbui, he was directed by the Holy Spirit to come to the aid of the innocent child who was unnecessarily embroiled in a conflict it had no power to disentangle from itself.
Bishop Obinim, the Head Pastor of the International God's Way Ministry, admitted on radio he cursed the child.
The child in contention has since its childhood been unable to walk or function as normal child.
According to the Bishop, he took the action because the child's mother had deliberately maligned him with the intent of collapsing his church and marriage.
But to Togbui Amuzu, who claims to have cured numerous people of different ailments, the physical challenge the child is suffering is not a problem at all.
"I am committed to [saving] the child who has a bright future," he stated.
And to make real his assertion, the herbalist held a group of journalists spell-bound with his spiritual exploits by pouring water into a folded newspaper without the paper getting wet and later commanded the water to pour out of the newspaper into a red glass.
Whether Togbui can live up to his promises remains to be seen.
But the spiritualist, who is known for using his services to promote the interest of businessmen and politicians, insisted that since "Bishop Obinim used spirits to cripple the innocent child, I will also use spirit to reverse that spell."
He said that since pastors were finding it difficult to heal the child, he would perform that task to give glory to God.
Asked where he derived his powers from, he said "we all worship the same God. The Almighty God gave us strength and wisdom and directed us to use herbs to cure, but not to destroy with those gifts."
Togbui Amuzu, who owns the Great International Temple at Michel Camp in Tema, claimed he has used herbs to cure similar ailments and assured that "God's name will be praised."
Story by Daily Graphic/Ghana