Writing: Is it a Profession or a Hobby?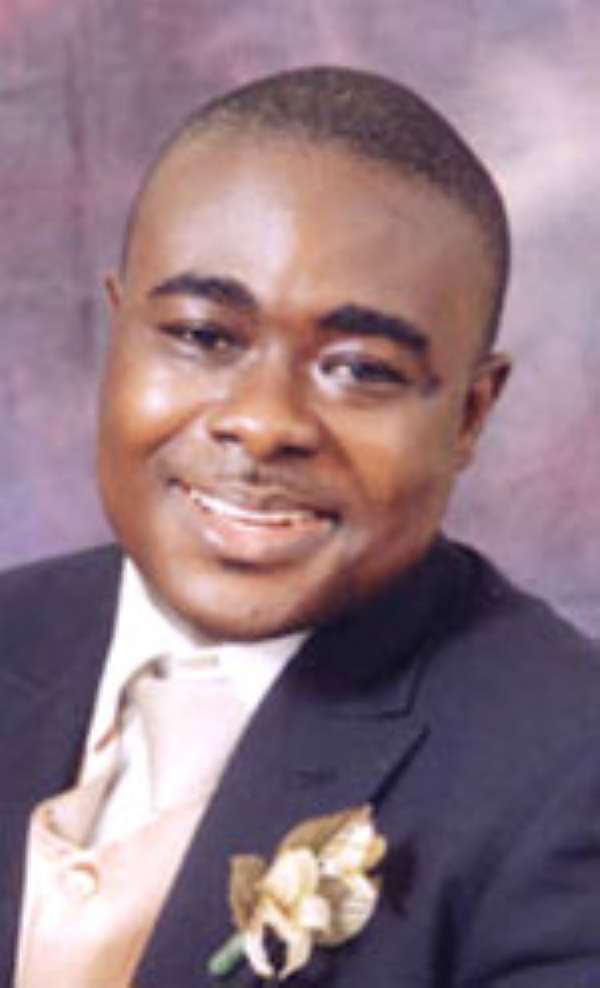 There is this wakye joint in my area I rarely miss on Saturday morning. Apart from the irresistible taste of the food, I also enjoy the VIP treatment I receive from the wakye seller. And I'm convinced that extra-ordinary treatment is reserved for loyal customers whom she notices with time. When I failed to show up one Saturday, she asked me the following Saturday whether I had travelled.
But there was one morning I didn't enjoy the treatment. I have realized that there is difference in value between GH¢1 and ¢10,000 if you're buying food such as wakye. So that morning I stressed 'ten thousand cedis' and what I received was certainly more than GH¢1.
She then asked what else I needed. She said it so loud that all the ten or so customers waiting for their turn heard it. I'm sure it is a trick these food vendors employ to 'extort' money from stingy customers. And on such occasions, it takes extraordinary courage to say you wouldn't buy any accompaniment, especially when the well-polished descendants of Eve are around, as in my case.
But on this day I was grimly determined not to spend a pesewa above the one Ghana Cedi I had budgeted for the wakye. And I didn't. 'That's all,' I told her. But that attracted me various looks which carried different messages I had no time to interpret. The price of stinginess!
It was still a virgin morning and my expenditure had already exceeded trice the minimum wage. Besides, had I not learnt in the primary school that beans gives protein? As for carbohydrate it is the last nutrient I'll ever lack. Luckily, I had two of my Saturday newspapers tucked under my armpit. So I removed and held them as if tell those disdainful eyes that I made worthier investments.
The Saturday editions of the Daily Graphic and the Weekly Spectator are papers I do not miss and will be prepared to sacrifice my wakye for those papers.
In their book titled Journalism Today, Donald Ferguson and Jim Patten say there is no better journalism textbook than a good newspaper.
newspaper writings
Though I have my own reservations about newspaper writings in this country, it is the columnists who compel me to buy newspapers.
On Saturdays I buy the Weekly Spectator because of Dr. Doris Yaa Dartey's The Watchwoman column and Merari Alomele's Sikaman Palaver. When it comes to the Daily Graphic, it is Joe Frazier's blog that makes the Saturday edition of the paper more irresistible than my wakye.
It therefore came to me as a surprise when I read Joe Frazier's column of the August 7, 2010 edition of the Daily Graphic. Among other pertinent issues Mr. Frazier raised for and against the Daily Graphic was the issue of compensation for columnists.
He mentioned that the paper, at the end of the year, feted its advertisers and does not leave out newspaper vendors.
But columnists for the paper were left out.  A discussion with his editor, according Mr. Frazier, yielded no result.
He said he wrote the column 'pro bono.' To be sure what he meant exactly, I consulted my Oxford Advanced Learner's Dictionary. But the fat book I stopped carrying to school after getting a laptop was helpless. Jimmy Wales' Wikipedia was, however, ready to help. The phrase is 'pro bono publico' usually shortened as 'pro bono'. It is a Latin phrase meaning for the 'public good', used to describe a professional work undertaken voluntarily without payment.
To be sure of the general situation, I called some of the columnist to find out how they were treated. They said they were writing largely for free. For free?
Why must writing be free? When I asked a man why he charged so much for repairing my laptop he told me that it was the source of his livelihood. 'This is what I spent four years studying in the University. How do I survive if I do it for free?' he asked me.
After four years in a journalism school, not everyone would be a gifted radio presenter like Kwami Sefa-Kayi of Peace FM, Kojo Oppong Nkrumah of Joy FM or Cecil Nii Obodai Wentum of GBC's Uniiq FM. If you put me on air as a presenter, the result will not be different from making Kwami Sefa-Kayi the lead singer in a singing competition. The services of radio and TV personalities are not free. So why newspaper columnists.
I have not been exposed to newspaper early enough to recount some of the good old columnists who have blazed the trail in our national dailies. However, I took very keen interest in newspapers when I entered the Ghana Institute of Journalism (GIJ) four years ago. And it didn't take me a long time to realize that what made me read newspapers were the features and articles.
I could not just afford to miss Kofi Akordor's From My Rooftop on Tuesdays. I was later to discover that I was not the only one who would sneak into the library on Friday to read George Sydney Abugri's Letter to Jomo while lectures were ongoing.
Later, there was confusion in the GIJ library when students were asked to deposit their student ID cards before they could read a newspaper. When I enquired, the library authorities said the features pages of the Daily Graphic was always stolen, leaving many students who needed the paper because of those pages stranded.
So if anybody cares to know why one must deposit one's identity card before reading a newspaper in GIJ's MacMillan Library, the reason has to do with the features pages of the Daily Graphic.
It was, therefore, not strange when a GIJ student asked George Sydney Abugri, when he was invited by the Student Representative Council to interact with students, whether he was paid 'something extra', apart from his salary as a staff of Graphic.
Indeed, in today's world of radio and internet, it is columns, features and articles which keep newspapers in business.
All major stories and exclusives carried by newspapers can be heard during the numerous newspaper reviews on radio every morning. One does not need to buy a paper to know what is inside. Such stories can also be obtained online and one does not need a computer with internet connectivity.
You can read and listen to discussion on those stories at the same time while in your trotro. Thanks to a cell phone.
features and articles
But in Ghana features and articles are usually not discussed during newspaper reviews. The news websites hardly cull them from the papers. Even if they do, most articles are very well researched and readers would want to keep copies for reference. So they buy newspapers.
What is more, features and columns give life to newspapers. In Ghana, newspaper writing style is as monotonous as the rhythm of Francophone music. Creativity has been killed by the this-is-how-we-do-it-here syndrome.
The features department of the newspaper should, therefore, be an important one and the necessary treatment must be given to regular contributors.  As Joe Frazier stated, it should not be the perception that if one refuses to write a column, others are prepared to write for free. We have writers and we have writers.
I hate reading health issues, but I've never failed to read anything written by Sodzi Sodzi-Tettey, the General Secretary of the Ghana Medical Association. I was also not enthused about sports news and writing until I discovered Ackah Anthony's Candid Corner in the Mirror and John Vigah of the Ghanaian Times.
In my secondary school days, even if I missed GBC news bulletin, I would still do everything humanly possible to listen to the News Commentary segment. And if I tuned in the middle of the of a news commentary, a sentence or two were enough to know which script is written by Roland Affail Monney, the GJA Vice-President.  And I wished he wrote every day. Unfortunately he has 'stopped' writing. Ask me the front page banner headline of the Daily Graphic on a Thursday and I may not be able to tell you. However, I can quote some lines in Yaw Boadu-Ayeboafoh's column. There are writers and there are writers.
My Level 400 Advertising lecturer in GIJ once rebuked me because he thought I wasn't a serious student. He was right but wrong.
He had realized that I was not paying attention to his lecture. My eyes were glued to my laptop, my face twitching with smiles and suppressed laughter while he lectured.
Though a combined class of Journalism and Public Relation students, we were only about sixty and so he noticed it and came over to me. The no-nonsense lecturer told me he had very little patience with students who were not serious.
'Sir, he is our SRC President oo,' one lady said teasingly. And this stung him like a scorpion.
'SRC President and so what,' he retorted. He then went ahead to recount a number of student leaders who had become 'worthless' just because they allowed their positions to get into their heads. After that he advised me, the kind of advice a concerned lecturer would give to a student who doesn't know why he's in the university. I was so embarrassed, to say the least.
But the truth is that I wasn't the type of student he thought I was, though I might have my own flaws. I had logged on to Kwaku Sakyi-Addo's website and started reading one of his spell-binding pieces when the lecturer entered.
And I could simply not stop midway through the article. And no one who values good literature could. Unfortunately, Kwaku Sakyi-Addo has 'stopped' writing.
So is the boy from Albert Abongo's Bongo saying he must be paid for what he publishes? No! If famed columnists such as Joe Frazier are writing pro bono, it will be irrational for the nameless ones like me to make such demands. For now the byline is enough to offset the time and cost of research I need to keep the ink flowing.
And as I've often been told, 'writing is a way of marketing yourself.' So I'm marketing myself. When I'm well 'marketed' I'll quit the field for greener pastures as many my senior colleagues have done. I don't want to die a popular pauper.
In Ghana writing is a hobby not a profession.
The writer is a freelance journalist.
Email: [email protected]
Website: www.maxighana.com