Dr Mary Chinery-Hesse Wins International Award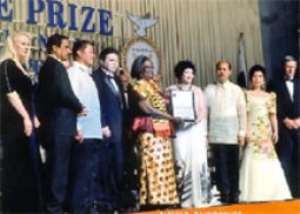 Dr Mary Chinery-Hesse has been awarded the Gusi Peace Prize for International Diplomacy and Humanitarianism. Dr Chinery-Hesse, an advisor to former President J.A. Kufuor, was honoured alongside other 17 distinguished individuals and groups world-wide for exemplary contributions to human rights, scientific discoveries, performing arts, medicine, economics, and internationalism.
The award, which has been referred to as the Asian equivalent of the Nobel Peace Prize, was presented to her at a gala event in Manilla, Philippines, last Wednesday.
The event was witnessed by many of her colleagues from all over the world, as well as representatives from numerous international organisations and countries.
The citation accompanying the award to Dr Chinery-Hesse reads: 'Mary Chinery-Hesse has had distinguished careers in her country's civil service and at the United Nations. In the UN and in numerous other organisations, she continues to be an important voice on economic development issues, an ardent defender of human rights, particularly women's rights and gender equality, as well as an active advocate of African imperatives.'
A graduate of London University, she also holds an Honours degree in Sociology and Economics and an honorary Doctorate of Law (honoris causa) both from the University of Ghana, making her the first female product of the university to be so honoured.
She undertook post-graduate programmes in Development Economics at the University of Dublin and also at the World Bank Institute in Washington D.C., where she was made a Fellow of the Institute.
Mary Chinery-Hesse's first post at the UN was that of Resident Co-ordinator of the UN System and Resident Representative of UNDP, serving in New York, Sierra Leone, Tanzania, the Seychelles and Uganda.
She was the first African woman to be appointed to that position. She was then appointed as the first woman Deputy Director-General of the International Labour Organisation (ILO), a position equal to the rank of Under Secretary-General of the UN.
She also served as the Chairperson of the UN's Consultative Committee on Programme and Operational Questions for several years, and was as well the Chairman of the Commonwealth Expert Group of Eminent Persons on Structural Adjustment and Women.
Mary Chinery-Hesse's studies and experiences led logically to her appointment to the high office of the Chief Advisor to the President of the Republic of Ghana.
She also was Vice-Chairperson of the National Development Planning Commission and a member of the board of the Centre for Policy Analysis. She also served on the board of the Centre for Conflict Resolution in Cape Town, South Africa.
Mary Chinery-Hesse, who is the current Chairman of Zenith Bank, has received several prestigious awards and decorations both nationally and internationally, including the highest national award, the Order of the Star of Ghana.