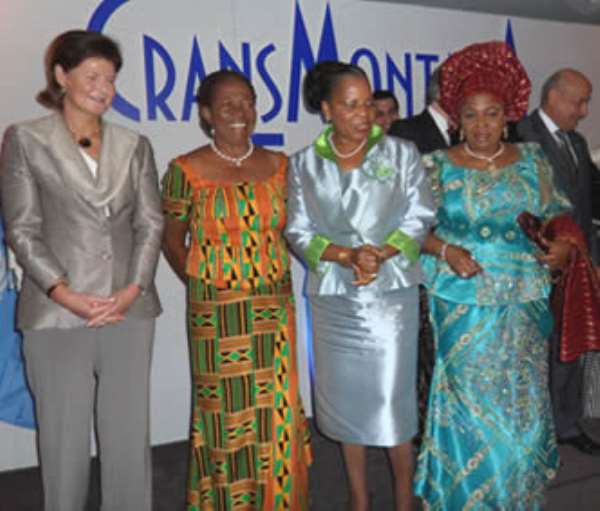 Mrs. Naadu Mills and some of the First Ladies at the Crans Montana Forum

First Lady of Ghana, Mrs. Ernestina Naadu Mills, has reiterated that investing in the education of the girl child is key to the development of any nation.
Speaking in Brussels, Belgium, a 3-day Crans Montana Forum, Mrs. Mills said that it is a matter of fact that giving education to girls is key to any nation building programme.
According to Mrs. Naadu Mills, the Government of Ghana is going to be unrelenting in the area of increasing enrolment of girls at the basic level of the educational strata and giving them all the necessary assistance and push for them to climb up the education ladder.
Speaking specifically to concrete steps taken by the Government of Ghana to increase enrolment figures, Mrs. Naadu Mills said that in some very deprived areas in the three Northern Regions, girls are given free bicycles to enable them make the long journeys to and from school.
"Investing in girl-child education has immediate and long term benefits. It does not only build the assertiveness of the girls, it also builds self-confidence and empowers them to properly position themselves to be active participants in nation building," Mrs. Mills said.
"As an educationist, my joy knows no bounds when I see girls excel and as First Ladies and agenda shapers of our respective countries, we must resolve to continue to give more meaning to girl-child education and not only pay lip service to it." Mrs. Naadu Mills added.
According to the First Lady, there is also a continuous advocacy programme which has been in place since the Girls Education Unit of the Ministry of Education was set up in 1997, to ensure that social and cultural practices that are inimical to giving formal education to girls, are knocked down to the barest minimum.
"It is the aim of the Government of Ghana to bring girl-child school enrolment figures to parity with that of boys by 2015 and so we are going to tackle the issue from all fronts and in very holistic manner," Mrs. Naadu Mills said.
Also present at the forum, was Mrs. Nana Konadu Agyemang Rawlings, one-time First Lady of Ghana, who pictured her 31st December Womens Movement as a case study of empowering women to be key players in the socio-economic development of Ghana.
Others included; Mrs. Chantal Campaore, First Lady of Burkina Faso, Mrs. Maria da Luz Dal Guebuza, First Lady of Mozambique and Mrs. Patience Goodluck Jonathan, First Lady of Nigeria.